Sony A550 Review
August 20, 2010
|
Mark Goldstein
|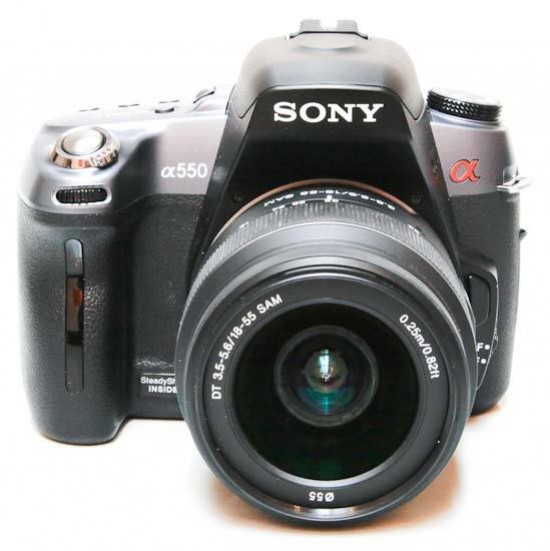 Conclusion
Virtually identical to the A500 model, the Sony A550 marks a return to form for Sony in the mid-range DSLR market after the backwards step of the A330 / A380 models, offering more megapixels, faster 7fps burst shooting and a better LCD screen than its cheaper sibling.

Live View mode is an area where we didn't expect too many improvements, but Sony have made several advances that puts their system even further ahead of their main rivals. Face Detection and Smile Shutter may be squarely aimed at beginners, but they are useful technologies for the uninitiated, while the new Manual Focus Check Live View is a real boon to accurate focusing for macro shooting. The A550 makes a great choice for a compact camera user looking to upgrade to the scary world of DSLR photography, with the excellent 920k dot screen a real pleasure to use.

Equally excellent is the A550's image quality, with the 14.2 megapixel CMOS sensor and improved BIONZ processor combining to produce great looking images all the way up to ISO 3200, equalling the A500's performance. The Dynamic Range Optimizer reliably improves shadow detail and highlights, while the new High Dynamic Range Optimiser combines two exposures into one image and produces quite natural HDR images (if you could ever call HDR images 'natural').

Our main criticisms of the Sony A550 are what it doesn't offer, namely a large and bright optical viewfinder and any form of video recording. The first issue is a necessary by-product of the excellent Live View system, which leaves the OVF rather small when compared to other DSLRs, even those with a similarly sized sensor. Manual Focus Check Live View partially alleviates this problem, but is no substitute for a better OVF.

The second issue is also presumably a technical limitation of Sony's Live View, and one that is even more pressing now that many competitors offer 720p video and even full 1080p. It's obviously not a problem if you have no interest in using your DSLR for moving images, but Sony must be losing customers lured away by all the excitement surrounding video on a DSLR. With the Photokina photography show literally around the corner, it surely can't be too long before Sony introduce a range of video-capable DSLR cameras...

The final downside is the significantly higher price compared to the A500. If you don't need the slightly faster burst mode or 2 more megapixels, the A500 is a safer bet despite that gorgeous screen. Even so, despite these shortcomings, there's no denying that the A550 is another user-friendly DSLR camera from Sony that delivers excellent results for both beginners and shutterbugs alike, and is still easily worthy of our Highly Recommended award.
Ratings (out of 5)
Design
4.5
Features
4.5
Ease-of-use
4.5
Image quality
4.5
Value for money
3.5