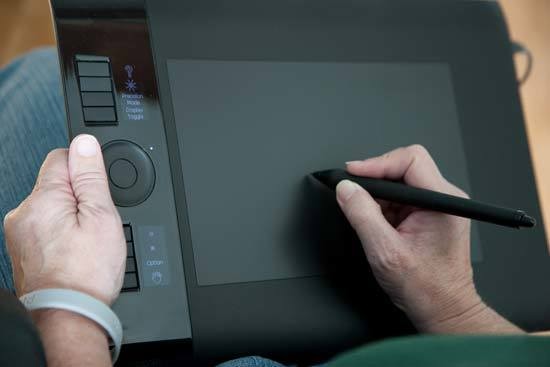 The mouse has also been enhanced to track both direction and orientation of the mouse. The five mouse buttons and the scroll wheel can be customized through the tablet control panel settings.
Setup is very straightforward. The supplied driver CD is installed, and when prompted, plug the tablet in. If you'll be using it in left hand orientation, you'll go ahead and set this option during installation (you can change it at any time in the control panel). To access the bundled software for the Intuos 4, you'll need to go to the web site, and when the tablet is registered, you'll be given the option to download two of the three software choices – Adobe Photoshop Elements, Autodesk Sketchbook Express, or Corel Painter SketchPad. Also included with the tablet are Wacom Brushes, a collection of brushes for Photoshop, and a custom version of Nik Color Efex Pro 3.
The Control Panel is familiar to anyone that has used a Wacom tablet in the past. There are various settings for the tablet, the pen, and the mouse that can be customized, either on a global level or at the application level (Figure 4).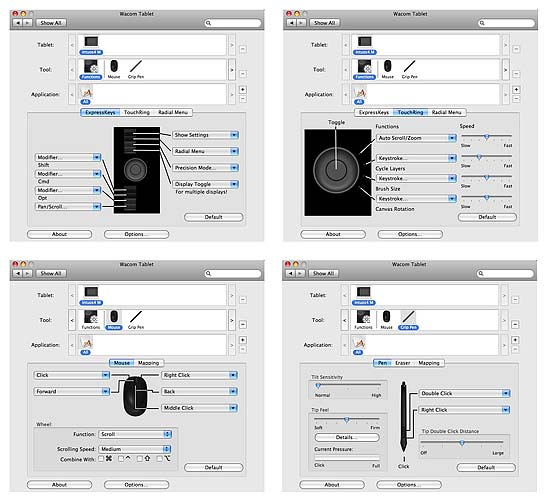 Figure 4
One of the more interesting new features on the Intuos 4 is the Radial Menu. Accessed by one of the ExpressKeys, this menu pops up a list of commands that can be selected (Figure 5 and Figure 6). Like other functions, the Radial Menu can be assigned application specific settings.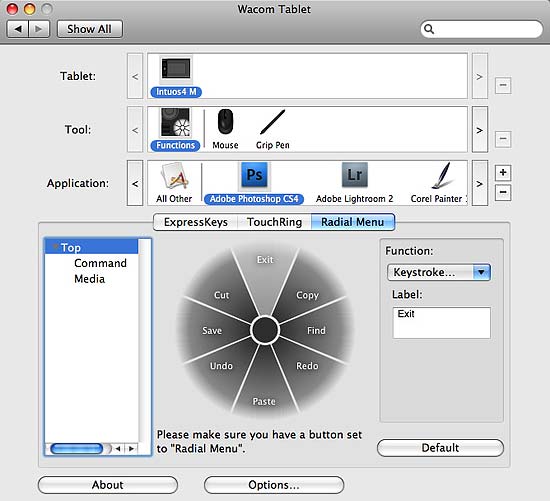 Figure 5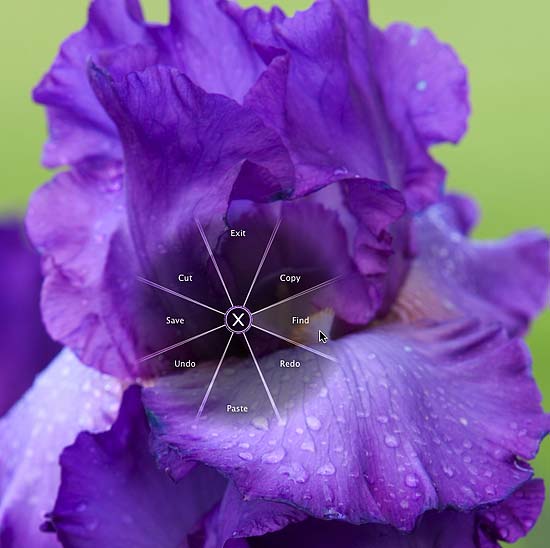 Figure 6
Having the OLEDs available at all times makes it much easier to work with different settings, especially for someone like me that works in a number of different applications and has a difficult time remembering what settings I've selected for any particular app. Along with the OLEDs, the on-screen help (Figure 7) is also a great feature.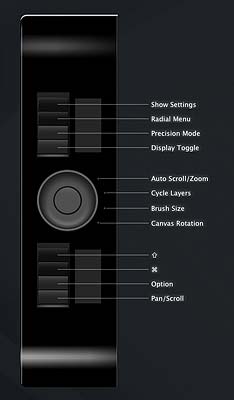 Figure 7
The new tablet also feels more comfortable in the hands thanks to a lighter weight and thinner profile. In use, the tablet is very much like the previous models, but with the greater sensitivity in the pen, it's easier to make very fine lines or selections. The tip also feels a bit more natural with less resistance than before. It now feels much like a pen on paper would feel.
Conclusion
The new Intuos 4 is a strong upgrade to the Wacom lineup. The ability to work well for left or right hand users, the OLEDs, Touch Ring, and increased sensitivity have made this new tablet into a must have for the serious artist or photographer working in Photoshop. It's pretty darn useful in other applications with handwriting support, including Mac OS X and Vista too. The price range is $229 to $789. For photography, I find the medium size, with a retail price of $349 to be the perfect compromise between size and usability for my work style.
Ratings (out of 5)
Design
5
Features
5
Ease-of-use
4.5
Value for money
4.5
Your Comments