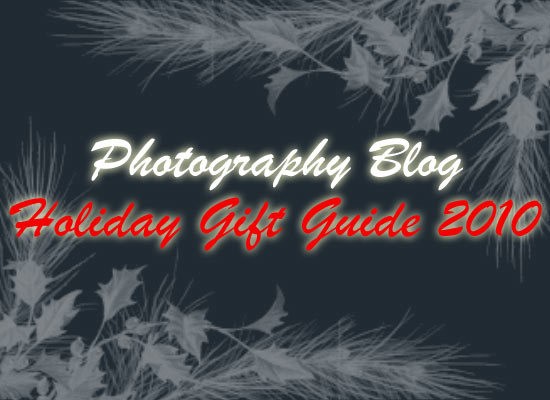 We've selected our top picks for this year's Holiday season, all the way from the cheapest digital compact up to the most expensive DSLR and everything in between. So no matter what your budget, make sure that you consult the Photography Blog Holiday Gift Guide for 2010 before splashing out your hard-earned cash.
Digital Compact Cameras
The digital compact camera is very much alive and kicking, with once high-end features quickly trickling down to the bottom of the market.
Whilst image quality has largely remained the same, zooms have grown longer, screens have got bigger, high definition video has become ever more ubiquitous, and GPS and even 3D have become more widespread. Virtually every compact camera now offers at least 720 video recording, something that would have been scoffed at just a few years ago.
The camera manufacturers have also been drastically increasing the zoom ratios of their compacts, with 15x the new minimum for any self-respecting travel-zoom and an amazing 35x the new high-water mark for the bridge-camera sector.
Budget Digital Compact Cameras

Fujifilm FinePix Z70
"...the Fujifilm FinePix Z70 is a very capable, solidly built pocket point-and-shoot with an almost throw-away price-tag, making it perfectly suited to rough and tumble family life."
Read Review


Nikon Coolpix S5100
"While its feature set may be no more impressive on paper than slightly cheaper rivals, the Nikon Coolpix S5100 is one of the best compact snappers in its broad price range for image sharpness and quality, so worth paying a modest extra for in our opinion."
Read Review

Panasonic Lumix DMC-ZX3
"The combination of an ultra-compact, lightweight and well-made body with the 8x, 25-200mm lens remains a real winner, with few real rivals from other manufacturers."
Read Review
Mid-Range Digital Compact Cameras

Canon Powershot S95
"The Canon PowerShot S95 addresses virtually all of the issues that detracted from its predecessor - most notably the lack of HD video and sky-high price - whilst further improving the handling and customisation. Current S90 owners won't find too many reasons to upgrade, but the S95 is an even more attractive proposition as a serious compact for serious users."
Read Review

Samsung WB2000
"The Samsung WB2000 / TL350 is a very well-specified and importantly a very well-realised compact camera that should appeal to still photographers and videographers alike. The ability to take 10 RAW photos in a second and capture full HD video footage using the same pocket-sized camera means that the WB2000 has few real rivals."
Read Review

Panasonic Lumix DMC-TZ10
"The Panasonic Lumix DMC-TZ10 is an excellent travel-zoom camera, with the notable additions of manual shooting modes and GPS tracking sure to continue the TZ success story, albeit at the real expense of a higher price-tag than the previous TZ7 model."
Read Review
Premium Digital Compact Cameras

Canon Powershot G12
"If you want an all-in-one camera that offers a tried and trusted user interface, speedy performance, excellent image quality and a versatile screen, the Canon Powershot G12 is very easy to recommend."
Read Review

Fujifilm FinePix HS10
"With a wealth of innovative features, shooting modes for every experience level, not to forget that amazing 30x zoom, the Fujifilm Finepix HS10 is one of the best super-zooms around and also a viable alternative to a DSLR camera."
Read Review

Samsung EX1
"The EX1 is a serious photographic tool that concentrates on delivering high quality images with the minimum of fuss, yet can still be carried in your pocket. The lack of any HD video mode or burst RAW shooting are annoying, but the refined handling, bullet-proof build quality and great photos more than make up for the EX1's few real deficiencies."
Read Review
Your Comments