How to Choose and Use Wide Angle Lenses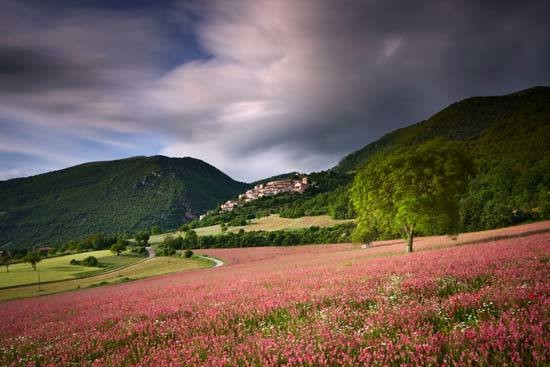 Take my 17mm f4 L TS-E tilt and shift lens. Basically it's a handy bendy lens capable of contorting itself into strange shapes by shifting up and down, right and left, and tilting backwards and forwards. Why? Shift movements are handy for correcting converging verticals, and with a bit of tilting we can achieve massive depth of field without having to stop down to a minimum aperture. Now I could talk to you about Scheimflug's Principle concerning the intersecting lens, sensor and subject planes but I can hear you nodding off from here. In a nutshell by tilting the lens forward almost infinite depth of field can be achieved.
How much tilt is needed? You'll have to read up on Scheimflug and practice. It takes a bit of thought and fiddling about, but the rewards are significant. Firstly, the lenses themselves are bighting sharp, in Canon's case arguably the sharpest lens you can bolt on a 5D mkII or 1Ds mkIII. Secondly the option of using tilt to deliver the required depth of field whilst working at a mid range aperture without diffraction rearing its ugly head means that premium lens performance really shines through. Of course auto focus is out, and TTL metering goes to pot when movements are dialled in. They also cost an arm and a leg. Nothing's ever simple in this life, is it?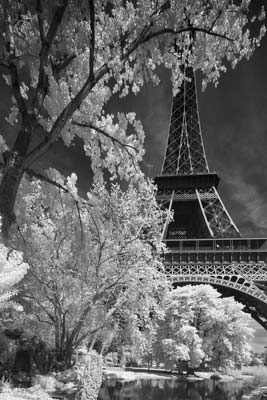 The Eiffel Tower in spring, Paris, France. Canon 1Ds mkII converted for infra red, 17mm f4 L TS-E lens, ISO160, 1/80 sec @ f11
There's no doubt tilt and shift, or perspective control lenses to give them their proper title, are incredibly handy for architectural, travel and landscape work. They're also expensive, are only available in a few focal lengths and relatively bulky. But the promise of almost infinite depth of field combined with the very best optical performance is just too tantalising to pass. Now for my landscape work the 17mm and 24mm tilt & shifts are de rigueur.
That's all well and good, but in a crowded market place in Laos auto focus and a fast maximum aperture are the order of the day. Back to square one. More compromises to be considered. Do you know what I'd recommend? Ignore all this, get a useful flexible wide-angle lens you're happy with and get on with the business of making stunning, perceptive, unique pictures. That's what it's all about.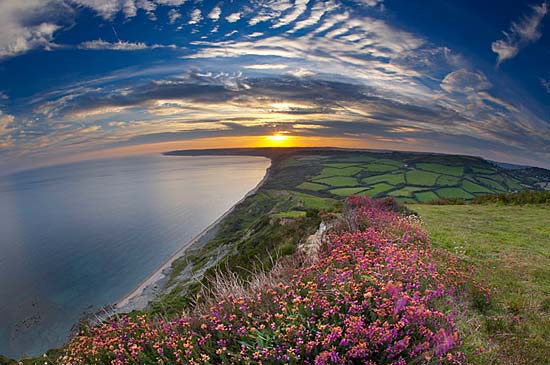 The Jurassic Coast from Golden Cap, Dorset, England. Canon 1Ds mkII, 15mm fisheye lens, two exposures, f16
Biography
Born in England in 1957, David spent much of his youth travelling with his family between the UK, California and Canada. After leaving school David joined the Navy in search of further travels and adventures – and it was while sailing the seven seas that his interest in photography grew. After several years at sea he decided to pursue his passion for photography and returned to study in Gloucester, England.  After leaving college in 1985 he began work as a freelance photographer specialising in landscape and other travel subjects, which over the last 25 years, have taken him to almost every corner of the globe.
David is now established and recognised as one of the UK's leading landscape and travel photographers. His images sell all over the world – both as fine art photography and commercially in advertising and publishing. He has won international awards for: British Gas/ BBC Wildlife Photographer of the Year Awards in 1985,1989 & 1990 and also writes regularly about landscape and travel photography for a number of national and international magazines. David has worked for numerous clients including British Airways, Sainsbury's, Geo, Toyota, Qantas, Sunday Times and the Telegraph.  During the last twenty years he has also worked extensively for the National Trust covering much of the UK's landscape and coastline, which has featured in many high profile publications and several highly acclaimed photographic exhibitions. Most notably:
'New Vision' Contemporary Art Photography – AOP Gallery
'The Coast Exposed' – Maritime Museum Greenwich and the Lowry
'Climate Change – in Britain's Back Yard!' – London, Nottingham, Wales, Belfast, Bristol
"l'm still passionate about photography. All aspects fascinate me; from capturing the first light of day on a frosty landscape or making the most of a bustling market in Vietnam to portraying the dignity of a wrinkled face in China."
David spends much of the year travelling with his wife Wendy. When not travelling they live in England, near Sherborne in Dorset.
All images in this article © David Noton
Your Comments