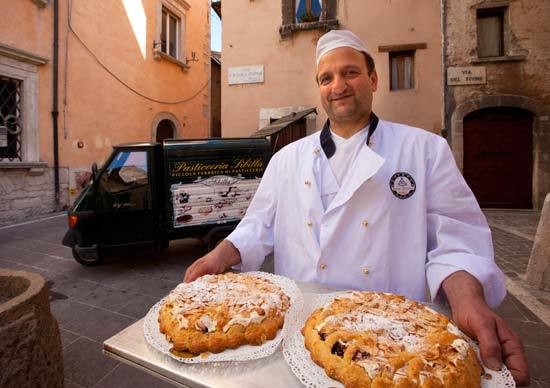 Can I be my own boss?
There is a moment that every photographer knows. You've been beavering away in the office for days, working on the never ending processing backlog, catching up with the books, paying bills, sending out e mails. After days of the same you're bored with your own company and losing momentum with the endless tedious tasks. The phone hasn't rung, nothing's happening, you've no bookings for next week, no one loves you. Beside you on the desk are a pile of photo mags, all featuring incredibly successful, busy, creative photographers doing amazing things. Desperate for some human contact you ring a photo-mate. He's heading out on a shoot, full of the buzz, riding a crest of enthusiasm; the sod. Your morale hits rock bottom. What's next for you?
In a nutshell how you deal with moments like this will determine whether you are to be successful or not. It is so easy to descend into a vortex of doubt. Having the resilience, faith and fortitude to keep plugging away, trying to make things happen is what self-employment is all about. Really the difference between success and failure as a photographer is often just sheer bloody minded persistence. Pretty soon you will know from experience that it only takes one phone call or message to completely change your perspective. It's possible to go from the doldrums of despair to soaring elation in just a few minutes. This game is a psychological rollercoaster ride. You will have to just keep plodding on pursuing your dream through thick and thin.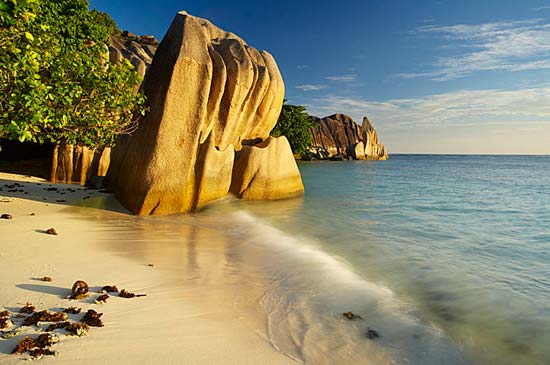 Anse Source d'Argent, La Digue, the Seychelles. The perks of the job are obvious, but the first commissions may not be so exotic as shooting tropical paradises.
Am I happy with my own company?
Let's face it not everyone is suited to self-employment. There are many fine photographers who have fallen by the wayside because they simply couldn't adapt to being their own boss. Persistent productive grafting always pays off; it's as simple as that. What's difficult when working alone is determining what is and isn't productive. It's so easy to spend a day tinkering in Photoshop or comparing different printing paper, but is it really going to help you generate some income? You'll need self-discipline, a robust work ethic and a clear vision of what needs to be done today, tomorrow, and next month; easier said than done.
All photographers know well the highs and lows of self-employment. We're all unemployable, too many years of being our own bosses has ensured that. The beauty of working alone frees you from distractions, pointless meetings and office politics to get on with what really matters. But there are times when having someone around to bounce ideas off or just exchange jocular banter is vital. Being a photographer can be a lonely existence. But it is not mandatory to work alone.
My business now has 9 people who keep things ticking over, not all employees but definitely part of the team. Back when I started working on the kitchen table in a shared house in Gloucester I could never have imagined being in this situation; it's just kind of evolved. But employing Sharyn our office manager 10 years ago was a breakthrough for us; I very soon wondered why I hadn't done it sooner. Being responsible for someone else's livelihood seems like an impossible burden to a sole trader, but the right person should help you earn more than they cost. Of course it's not an option when first starting, but a bit of part time help with the admin for a few hours a week could be the best move you make, whilst providing a touch of relief from solitary confinement.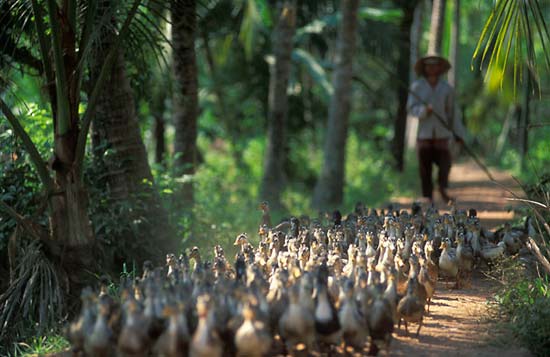 A farmer with his ducks in the Mekong Delta, Vietnam. There is far more to this job then just cameras and lenses.
Do I have the necessary skills?
Do you notice that as yet I've not mentioned photographic talent?  Well, the world is full of good photographers, but unless you've the necessary business and marketing skills you might as well forget it. You're going to be launching yourself into a crowded marketplace choc a bloc with hungry young blood. How are you going to stand out from the crowd, carve a niche and establish a reputation?  It's all very well to think that over time you'll be recognised for the quality of your work, but if you're not getting the work in the first place it's not going to happen.
The good news is you don't need to be Alan Sugar or Richard Branson; this business stuff is mostly common sense. Few of us have been trained in marketing; we just get on with it, learning as we go. It all comes down to relentlessly pursuing ideas as to how you can make your photography pay. Many ideas don't work, but some do. Ideas are the vital currency that will keep your business solvent, but only if they are converted into reality. Most photographers need to have something of the entrepreneur in them; there will be times when you have to speculate to accumulate.
And, as if all that's not enough, you'll need good people and communication skills both sides of the lens. I don't care if you're a wildlife specialist who spends weeks in solitary hides watching furry rodents breed, sooner or later you'll have to deal with people to get what you need to do your stuff with big lenses. You'll need to enlist all sorts of people's help and persuade them to do things they really would rather not, all for the greater good of your images. Persuading a farmer in the Mekong Delta to drive his flock of ducks down a certain backlit track, placating an irate farmer on who's land you are trespassing, coaxing a smile out of the world's grumpiest woman, gaining access to a roof top viewpoint, helping a bride to relax, posing a craftsman with an attractive backdrop, pleading with a pilot to load all of your gear, communicating with crusty peasants with whom you've not a single word of common language; it's all part of the game. And after the buzz of the shoot, back in the real world cultivating markets and opportunities you'll need to continue being a communicator, persuasive and lucid as you drive your crusade forward. Unless you haven't got the message yet, there is far far more to this game then just making pictures. But let's not forget; it is fun and incredibly rewarding when it all clicks into place.
Your Comments