How to Take Great Winter Close-ups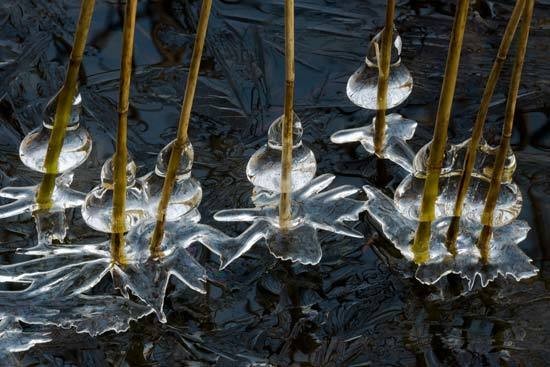 I find longer focal lengths work best, in this case 300mm on a 100-300mm lens stopped down to f20 to give reasonable depth of field. The subject is thin ice at the edge of a wide burn in the Highlands with the colours deriving from a bracken covered hillside and blue sky, giving a striking colour contrast.  It took time and care to find the angle of view that produced an acceptable effect. 
At the edge of St. Mary's Loch in the Scottish Borders, I was fascinated by the ice baubles that somehow had built up around the base of reeds. The most interesting ones were some way out, so again a long lens was advantageous in getting the composition right at the time of taking. As colourful reflections were not a consideration, the viewpoint was entirely dictated by where a clear uninterrupted view could be had - not easy in a reedbed, but a Sony 70-400 mm G lens, on an Alpha 900 did the trick. The subtle pattern on the thin ice on the water surface was initially overlooked but it does add considerably to the image.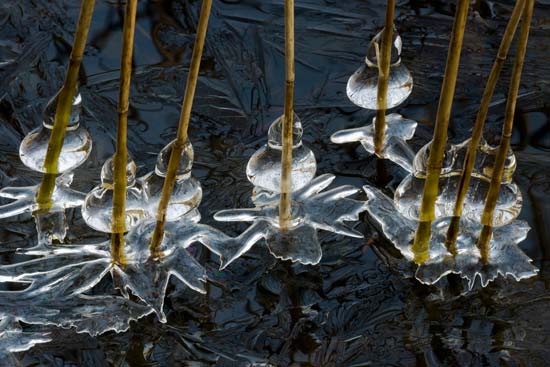 Sometimes you may find yourself standing on or walking across something that could make an interesting image, so it is worth treading cautiously and looking around - avoid damaging something that you may later decide is worth photographing, as was the case with the ice and sand at the edge of Loch Tulla. In fact it was almost overlooked as I concentrated on the wider mountain vista beyond.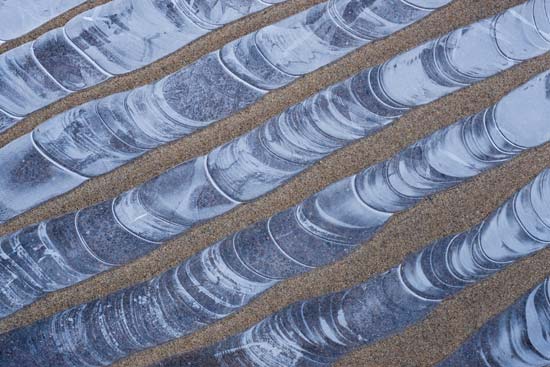 The ice was very thin and unsupported underneath, so care had to be taken to avoid any damage. With no recognisable horizontal or verticallines, the camera was orientated to place the lines at an oblique angle for a more dynamic effect. The abstract result is quite strong with the banding pattern on the ice being reminiscent of a mammalian trachea (windpipe). This is a good example how a short zoom (24-70mm Carl Zeiss SSM) can be very capable of getting quite close to the subject.
Your Comments