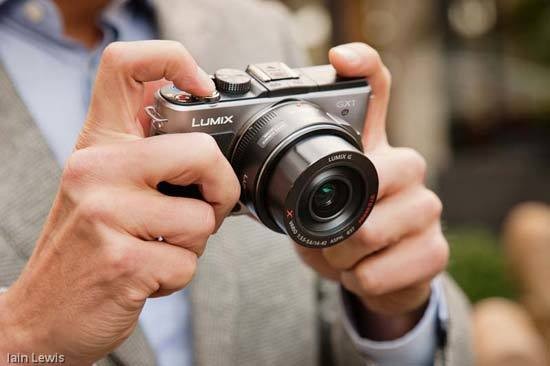 At Photography Blog we were lucky enough to get an exclusive early hands on with Panasonic's newest compact system camera in the Lumix DMC-GX1, which is the rightful successor to the original GF1 and GF2 cameras.
With the 'X' in the model number indicating a new class of Panasonic camera pitched at the photo enthusiast, the GF series will now apparently be exclusively a mass market consumer targeted range, with the Lumix DMC-GF3 its current exponent.
Here's what our chat with Panasonic's UK representatives, who were joined by Panasonic Japan's Advanced Planning Manager for Products Planning Group, Michiharu Uematsu, revealed about the new Panasonic Lumix DMC-GX1.
Photography Blog: Are we to assume that this is 'just' a new camera, or, with the addition of the 'X', in fact a whole new category?
Barney Sykes, Panasonic UK Product Manager for Lumix G: It's essentially a new category. We kind of changed. We intend to take our GF line down the more compact, stylish, mass-market route. And the GX1 will come in and replace the original GF1.
Photography Blog: So the intended audience for the GX1 is the same? Without wishing to pre-empt you, you're sticking with the enthusiast?
Barney Sykes: Yes. So first let me just update you on the UK market situation. The latest data from GFK we have on a full month basis is for August 2011. The total interchangeable lens market is growing. In August there were just under 50,000 cameras sold, which is a 21% increase on the same month last year. Over a 52-week period it's growing at 122% by volume, so it's still very consistent. It's slowed down a little bit during September but is now starting to come back stronger since Canon and Nikon launched their TV advertising campaigns. So they're driving some demand.  Our sales outstripped that of the market. We are a growing brand, a fairly new entrant. And our share reached 13% in August, which is up 4% over the same period last year.
By value it's a fairly similar story, although the value growth is no longer as good as the volume growth, indicating price erosion. The value growth is 13% on the month and 12% on the year. And again our sales are outstripping that of the market although our value growth isn't as strong as our volume growth. We don't have a 7D type product.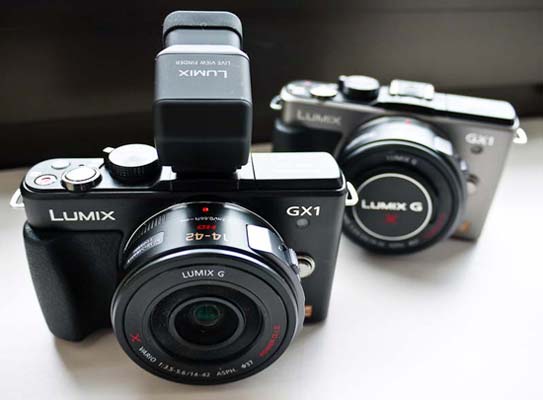 Photography Blog: And so these figures are CSCs and DSLRs lumped in together…
Barney Sykes: Yes. It's interchangeable lens cameras in total. But the Compact System Camera category on its own is growing massively. It's one of the driving forces of the interchangeable lens market. It grew at 155% in August with just under 12,000 cameras sold, which is up 228% on the year. Our growth is still very strong, even as an early pioneer of this market, and we have a 54% Compact System Camera market share for August, up 6% on August 2010, and up 50% on value. So again the value growth isn't as strong as the volume.
Photography Blog: So generally speaking, is it looking like CSC sales are eating into DSLR sales?
Barney Sykes: I think the entry products like the GF3 are helping to grow the market, whereas products like the G3 are starting to eat away at SLR type cameras. I don't think SLR can offer that compact style of body at the moment so that's one of the ways in which that market can grow. Products like the G3, GH2, and G2 will probably take away some sales from interchangeable lens, although that market is still growing. By volume it peaked last Christmas at 26%, but we saw the second highest ever CSC ratio in August at 24%. I think a lot of purchasers will have been influenced by our advertising campaign over that period. The market peaked and our market share peaked. So we're really proud and really want to shout about it. We're now the number three brand for interchangeable lens cameras, behind Canon and Nikon. So that's a fantastic achievement; first time we've ever done it. And that's not something we want to give up either. We want to really attack and bite the tail of the tigers, so to speak.
Photography Blog: This is why you need more new products then.
Barney Sykes: Yes. We need an expanding line up to challenge on more than one front. So while for volume the figure was 9% it was still our highest ever level for interchangeable lens share. The G3 was the third best selling interchangeable lens camera in the industry [Nikon's D3100 and Canon's 550D being the highest] – it's Panasonic's step up product, actually the G2 is our leader product, so to be able to get into that position was frankly beyond our wildest dreams. We're really proud of that and are going to go back on TV in November 2011 and try and replicate that with the G3, but adding the GF3 to the ad too.
Photography Blog: What about plans for the GX1?
Barney Sykes: It won't be advertised immediately. If you're lucky you might get it under your tree for Christmas. It's that type of launch. So that campaign may move into next year. Obviously the G3 we see as a mass product. The GX we don't think will be a mass product, so the advertising campaign that we put together will be very specialist and targeted at specific people. The CSC market puts us in a strong position of 54% in August by volume and 50% by value.
What GFK are going to be doing in the future is producing a new report that tells us which types of camera and lens bundles are most popular. Is it a zoom kit, is it a pancake, is it a twin? And they're going to report the average market price of the kits. For all those type of things we're hoping to get a bit more market analysis, so we can do some much more targeted work.
So the product we're here to show you today… I think we announced back in Rome [European launch of the GF3] that we planned to take the flat body in a premium direction. But at that time it was going to be that we'd take the GF line in two separate directions. And when we introduced the GF3, we said that we planned to introduce a step up. Well today we're here to show you that, but it's not a GF, it's a GX.
So it's very much differentiated against the GF3 [with the change of model name]. It has high image quality and the same sensor as the G3, so it's 16 megapixel. The concept is to target photo enthusiasts who want to shoot pictures with a high performance camera. It has 0.09 ultra high -speed auto focus, it has a shooting assist function with a mode dial, two Fn buttons.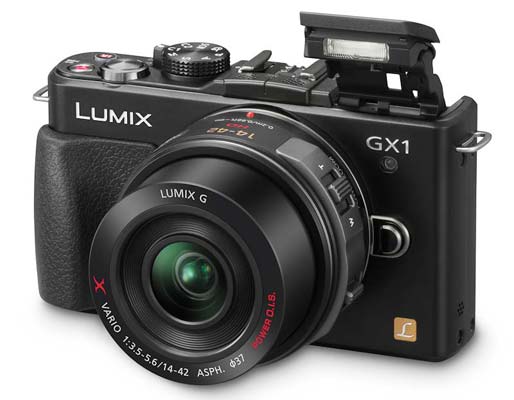 Photography Blog: Just to butt in for a moment. Back in the day with the launch of the G3 and GF3 Panasonic claimed to have the world's fastest auto focus. Is that still the case?
Barney Sykes: We haven't actually heard a numerical claim from rival manufacturers so it's difficult for us to say whether it's the world's fastest or not. While Olympus have claimed the world's fastest I haven't myself seen a number put to that yet. So we have to test and that takes time.
Michiharu Uematsu: [Quoted times are often] some kind of trick, because it's just the detected time, it's not including shutter lag. When we press the shutter, first the camera will detect the focus point. And after that, the camera's shutter has to open and close and it takes a little bit of time. We and another manufacturer also say around 0.1 second [for AF] but actually it will be around 0.2 second because for the shutter to open and close takes a little bit more time.
Photography Blog: So we do have to take these claims with a pinch of salt…
Barney Sykes: What's happened is that manufacturers have thought 'the consumer can easily understand this, let's claim it.'
Photography Blog: And people kind of expect now that each new camera is going to be 'the world's fastest' for something.
Michiharu Uematsu: The important thing is not just to be fast, [but] to be accurate also.
Your Comments