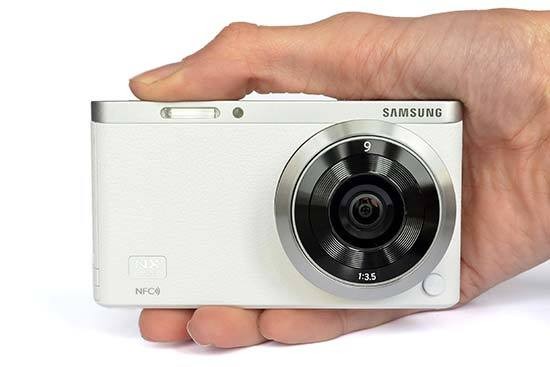 At a recent event held by Samsung at Sandown Racecourse in the UK, we got our hands on the company's new NX Mini system camera.
Despite being an interchangeable lens camera, the NX Mini lives up to its name by being only 22.5mm thick and tipping the scales with a body-only weight of just 158g.
Two lenses are currently compatible with the camera's new NX-M lens mount design: a pocket-friendly 9mm, f/3.5 prime optic and a 9-27mm, f/3.5-5.6 zoom lens incorporating OIS image stabilisation.
Samsung's range of standard NX-mount lenses can also be used with the addition of an optional NX-M Mount Adapter.
Let's take a look at what else makes the NX Mini stand out.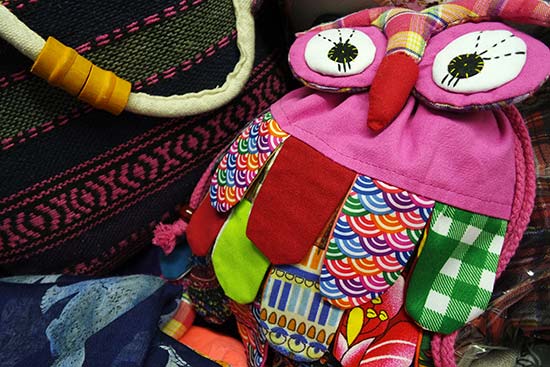 Sensor and Processor
We've become accustomed to seeing Samsung NX cameras packing APS-C-sized sensors, however the NX Mini's diminutive dimensions means it gets a smaller 1-inch size device. It's the same format as you'll find in most Nikon 1-series cameras and certainly provides a noticeable step up in image quality than a traditional compact camera. Back-side illumination, 20.5 megapixels and a sensitivity range of ISO160-12800 further ensure the NX Mini can produce clean, detailed images in a variety of lighting conditions. It's combined with enough processing power to shoot full-resolution shots at 6fps, or record Full HD video at 30fps.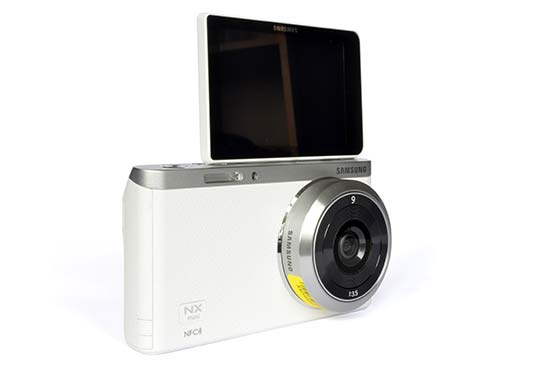 Screen
One thing that's sure to win the NX Mini many fans is its 3.0-inch screen. The 460k-dot resolution isn't particularly special, but it does boast full multi-touch sensitivity so you can tap to focus, pinch to zoom and adjust settings without resorting to buttons. All very nice, but its real party trick is being able to flip up 180-degrees so you can view yourself from in front of the lens to take perfect selfies. There's no faffing around setting a self-timer or fumbling with the shutter release button to do this, as Samsung's Wink Shot feature means you only need wink at the screen and the NX Mini's shutter will fire a couple of seconds later.
NFC
NFC is really starting to make waves in the technology sector, and the NX Mini is equipped to take full advantage of it. Plenty of cameras sport conventional Wi-Fi connectivity to share your images to a smart device, but Samsung's Photo Beam feature lets you transfer photos by simply tapping the NX Mini against an NFC-compatible smartphone. Fancy sending more photos, controlling the camera remotely or even using it as a baby monitor that'll transmit a live video feed with alerts to your phone? NFC creates the wireless connection with just a tap.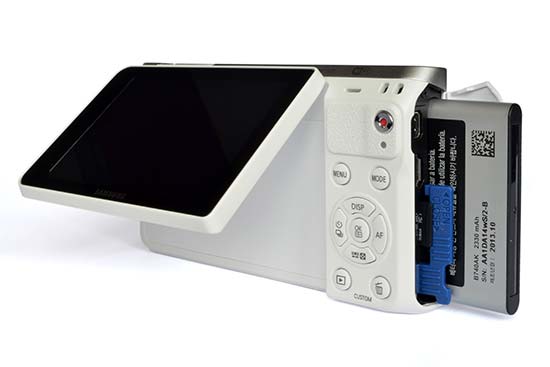 Battery
Batteries aren't usually big news in a new camera, but the NX Mini's power plant is definitely worth a mention. Its whopping 2330mAh capacity gives it roughly twice the juice of your average camera battery, translating to an impressive 650 shots per charge. These figures are based on using the 9mm fixed focal length lens though, so expect the 9-27mm zoom optic to demand slightly more power. But whichever lens you use, you can rest easy knowing the NX Mini will keep on shooting long after most of its rivals require a recharge.
Extras
The NX Mini will keep you entertained not just with its flip-up screen, but also plenty of scene modes and a variety of effects including fish eye, cartoon and sketch looks. You also get some simple in-camera editing controls to crop or tweak colours, but if that's a bit limiting, Samsung also throws in a full copy of Adobe Lightroom 5 worth £100/$150. Finally, if you're particularly eagle-eyed, you may have spotted a small flap on the top of the camera. This conceals a socket that'll receive an optional external flash unit if you'd rather upgrade the built-in flash to something more potent.
We'll be bringing you a full Samsung NX Mini review very soon...
Your Comments