The Difference Between the Taking and the Making of a Photograph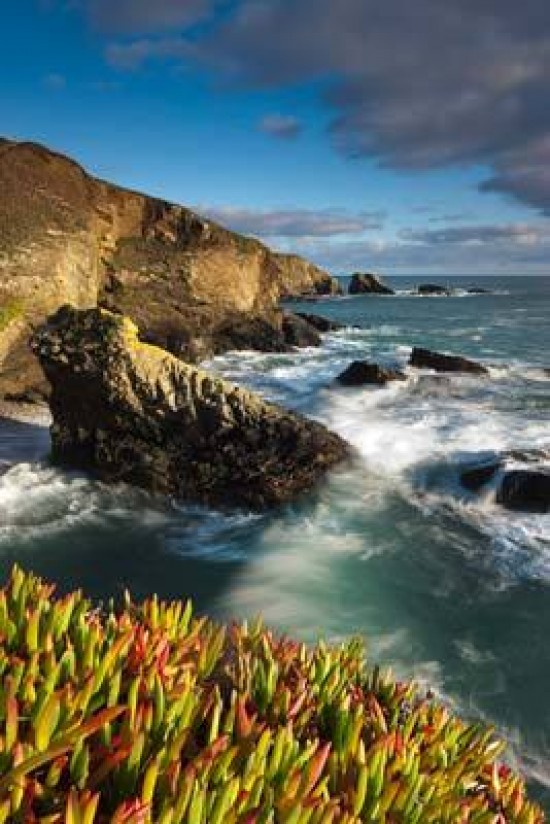 The location was scouted yesterday and we're now in position overlooking England's most southerly point. Despite the fact that autumn is merging into winter the colours in the vegetation clinging to the cliffs are rich and verdant. In the bottom of my frame are green and red jobbies; we have no idea what they're called. As I set up I'm eyeballing the view. I'm pleased with the strong lines, depth and simplicity of the composition, but I need all three of the prime elements; light, sky and waves to come together. That Decisive Moment may well be fleeting. I've done the leg work to be here and compose the shot, now I need to knuckle down and concentrate on the nitty gritty; the timing and camera craft that will ensure this is as aesthetically and technically perfect an image as possible.
The lens I'm using here is a 24mm tilt and shift with a touch of droop dialled in to achieve maximum depth of field. I'm mentally applying the Schliempflug Principle as I calculate the intersection point of the sensor, lens and subject planes. Squinting through the eyepiece confirms what I've calculated; just a notch of tilt is required but it makes all the difference. With the lens focused on infinity that touch of tilt brings the foreground into sharp focus; Bob's your Uncle; lock the lens, time to consider my filtration.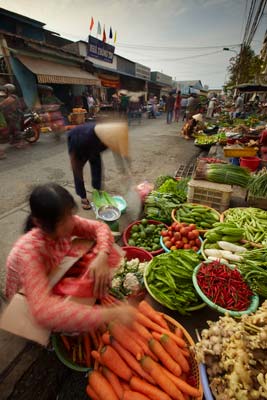 The market at Can Tho, Mekong Delta, Vietnam. Canon 5D mkII, 16-35mm lens @ 16mm, ISO 50, 1 sec @ f16. 0.6 ND grad (soft) & 0.9 ND proglass filters. I'm just imagining attempting this kind of shot in our local farmer's market in Sherborne. I had the tripod set up with the front element of my wide angle lens just centimetres from this lady and she didn't bat an eyelid, she just carried on sorting out her carrots. The markets of Vietnam are a riot of colour and activity; a real stir fried feast for this photographer. Everywhere I turn there are enigmatic faces, conical hats, squatting merchants, motor cycles and colourful produce. To portray the hustle and bustle I used a slow 1 second exposure, hence the tripod and 0.9 ND filter. To quote the famous war photographer Robert Capa who died in Vietnam "if your pictures aren't good enough you're not close enough". I know what he meant.
Firstly the sky; experience tells me a 0.6 neutral density grad will hold back the exposure on the heavens enough, and this is confirmed as I slide the filter into position with Live View activated. It took me a while to see the point of Live View, but now I use it frequently for positioning filters, checking focus points and taking a second look at a composition. Now I need to consider what shutter speed to use. I want a touch of movement to be recorded in the wave motion, but not too much. I could reach for the Big Stopper and slow the exposure down to minutes, but that would turn the water into a sea of milk and the clouds into dreamy wisps; it's a look that has its moments, but not today. I want the form and texture of the waves and clouds to be strong elements in the picture, suggesting the raw energy of nature surging around the very point from which in 1588 the Spanish Armada was first spotted. All of this I've pondered beforehand; the hard work of photography is usually done before the camera is out of the bag.  A few test exposures confirm a shutter speed around 0.8 sec is right and with the crisp light of a winter afternoon an ISO of 50, aperture around f16 and a Lee Proglass 0.9 neutral density filter is the combination I need to achieve my desired shutter speed.
Next I need to asses my exposure. Normally I work in aperture priority exposure mode with evaluative metering, but in this case the tilting lens confuses the metering system so I've gone fully manual. A few test exposures soon help me zero in on the ideal exposure. Checking the histogram reveals that in this high contrast situation I've little room for error. Normally I'll dial in as much over exposure as possible to move the histogram to the right, maximising my shadow detail and signal to noise ratio, but any attempt to do that this afternoon will result in blown highlights in the brightest part of the white frothing waves.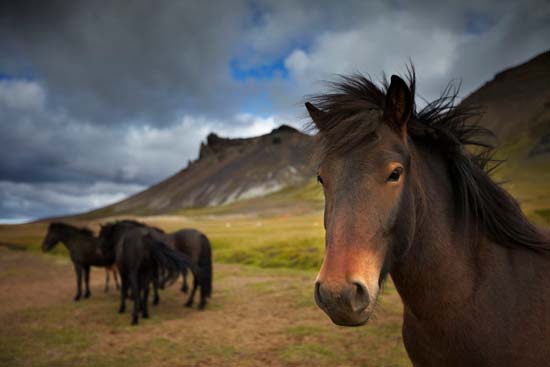 Horses nr Heggstadir, Snaefellsness Peninsula, west of Iceland. Canon 5D mkII, 16-35mm lens @ 35mm, ISO 100, 1/1000 sec @ f2.8. 0.6 ND grad (hard). Whilst working on a story about Iceland's Snaefellsness Peninsula I was struck by the prevalence of the rugged native horses. Along with the glaciers, lava flows and lonely churches they were a defining feature of this beguiling region; a horse portrait had to be attempted. It looks like this pony posed for me, but in fact this was a fleeting moment snatched in the chaos between the jostling, inquisitive animals. I used a wide angle lens to give a sense of place and shot wide open at maximum aperture to separate the subject from the background. A 0.9 ND grad (hard) enabled me to hold on to the mood and detail in the sky whilst exposing to record the maximum shadow detail in the dark horse's face. An ND grad is essentially a contrast control device; here working quickly and hand held it was the only way to hang on to highlight detail in the sky.
I'm ready. All of these considerations and adjustments took just a few minutes at most, now as I wait for the next gap in the clouds to the south west I double check them all again. Light bursts through, painting the Lizard. I expose as waves crash on the rugged rocks, then the clouds close in again. I scroll through the few first frames; it's working. I could move on now, job done, but careful analysis of the best so far reveals how the picture could be better. Occasionally a larger than usual wave breaks below me, giving interest to the normally placid water in the foreground. I've a feeling some interesting clouds are going to drift into play, and the quality of the light should steadily improve as the sun drops. I stick with it, engrossed for another hour as I wait for the perfect combination of wind, light and water. When it comes I know it; the strong diagonals of the plants, wave, rocks and clouds combine for a second and I press the button. Maybe Wendy was right; it really is as simple as that.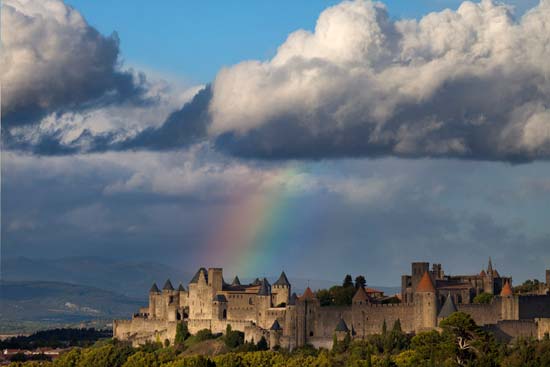 A rainbow over the fortified Cité of Carcassonne, Languedoc, France. Canon 5D mkII, 100-400mm lens @ 200mm, ISO 100 1/60 sec @ f8, polarising filter. Some locations take a feat of endurance to work; not this one. I have to admit this vigil by the tripod was accompanied by a tailgate feast with wine whilst waiting for the light. It's definitely the way to work, particularly when gorgeous evening light is bathing Carcassonne as if to order. The rain clouds of the day were just clearing and lo and behold there was a rainbow over the Cité. Sometimes life is too good to be true. A polarising filter really accentuated the colours of the rainbow.
Biography
Born in England in 1957, David spent much of his youth travelling with his family between the UK, California and Canada. After leaving school David joined the Navy in search of further travels and adventures – and it was while sailing the seven seas that his interest in photography grew. After several years at sea he decided to pursue his passion for photography and returned to study in Gloucester, England.  After leaving college in 1985 he began work as a freelance photographer specialising in landscape and other travel subjects, which over the last 25 years, have taken him to almost every corner of the globe.
David is now established and recognised as one of the UK's leading landscape and travel photographers. His images sell all over the world – both as fine art photography and commercially in advertising and publishing. He has won international awards for: British Gas/ BBC Wildlife Photographer of the Year Awards in 1985,1989 & 1990 and also writes regularly about landscape and travel photography for a number of national and international magazines. David has worked for numerous clients including British Airways, Sainsbury's, Geo, Toyota, Qantas, Sunday Times and the Telegraph.  During the last twenty years he has also worked extensively for the National Trust covering much of the UK's landscape and coastline, which has featured in many high profile publications and several highly acclaimed photographic exhibitions. Most notably:
'New Vision' Contemporary Art Photography – AOP Gallery
'The Coast Exposed' – Maritime Museum Greenwich and the Lowry
'Climate Change – in Britain's Back Yard!' – London, Nottingham, Wales, Belfast, Bristol
"l'm still passionate about photography. All aspects fascinate me; from capturing the first light of day on a frosty landscape or making the most of a bustling market in Vietnam to portraying the dignity of a wrinkled face in China."
David spends much of the year travelling with his wife Wendy. When not travelling they live in England, near Sherborne in Dorset.
All images in this article © David Noton
Your Comments