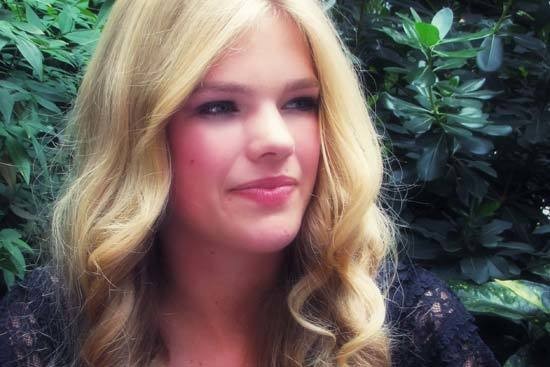 Do you ever get starstruck when you meet a well-known photographer for the first time?
Sometimes, yeah. At the beginning I didn't really know a lot about fashion because I was 15. So I didn't really know who they were. Now they [representatives] tell me if they're really famous and if I have to be good (laughs).
Are there are designers or brands that you dream of working with?
I'd love to do Victoria's Secret, I'd love that.
What are Lavazza like to work with?
They are lovely. It was a really great day because the team were so creative, it wasn't like shooting for a product.
Is there a secret to striking a perfect pose?
No, I think it's just the moment. Spontaneous pictures are the best, it can't happen twice. Sometimes the photographer really likes one picture but if you try and do it again, it doesn't work.
What does it mean to you to be the cover girl for the 2012 Lavazza calendar?
I'm so happy they chose me, it's really good for my career.
Does it mean you've made it?
I don't know, we will see later (laughs).
What's it like as a model always seeing pictures of yourself?
Something like this [Lavazza calendar] is pretty weird because it's really big. Sometimes I'll see little pictures on the internet and it's like "okay" but this is going to be on people's walls so it's quite weird. It's something we work on. If it's a nice day then I'm happy with the pictures. If it's a terrible day but the pictures still look nice then I'm not really into the pictures.
What do you think the calendar means to people?
The calendar is art and I love the pictures of the 2011 calendar. I see them at airports and you can't really get away from them. I think everyone knows about it in some kind of way.
Do you have any tips to any aspiring models? What would you say to yourself at 15?
Just enjoy everything, every minute. You never know when you're too old, when you're out of fashion or when you're not what they are looking for anymore so make the most of it. It's so nice to have the opportunity to travel and live in a great city, it's the best. I live in London and it's the greatest city.
Do you get recognised a lot?
No (laughs), but I love it that way.
Have you ever had a shoot where you feel too much has been asked of you?
Most involve really nice people. Sometimes they can be harder, especially in places like Paris, they're a bit harder with fashion, but in London they're very nice and human. In Paris they sometimes think you're just stone so they don't get you your food so you have to ask for it all the time. If I don't get my food by 2 I can't do anything anymore, I just need food as a human being.
Your Comments