Best Nikon Camera (UK)

4th December 2019 £849.00 This is a compact, lightweight camera that is a joy to use thanks to its deep handgrip, logical control layout, and very good electronic viewfinder and LCD screen. Read the Review.

29th November 2018 £2,100.00 Image quality is fantastic, and it's really only likely to be those that really desire to have a super high resolution sensor to work with that should discount the Z6 over the Z7. There are also benefits that the lower resolution brings – most notably better performance in low light and the ability to shoot at faster speeds. Read the Review.

1st October 2018 £3,399.00 For a first iteration of a brand new system and mount, the Nikon Z7 is really quite remarkable – it's a truly exciting time in the market and it feels like Nikon has got it right this time. Read the Review.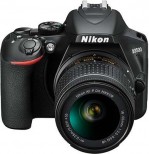 29th October 2018 £499.00 ​The new Nikon D3500 retains the same core feature-set as its predecessor, the D3400, but presents it in a smaller, lighter and more logical design that's very reminiscent of the mid-range D5600 camera. Read the Review.