Best DSLR Camera (UK)
Best DSLR Camera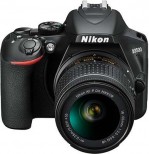 29th October 2018 £499.00 ​The new Nikon D3500 retains the same core feature-set as its predecessor, the D3400, but presents it in a smaller, lighter and more logical design that's very reminiscent of the mid-range D5600 camera. Read the Review.

16th April 2018 £1,799.00 ​The Pentax K-1 Mark II remains an excellent 35mm full-frame DSLR camera, but it feels more like a stop-gap release rather than a fully-fledged successor to the original K-1. Read the Review.

14th September 2017 £3,499.00 Offering a compelling balance of size and speed, the Nikon D850 is the best all-round DSLR camera that we've ever had the pleasure of reviewing. This is really the one camera that can do it all, from landscapes to action, reportage to weddings, the D850 handles it all with aplomb... Read the Review.