Best DSLR Camera (UK)
Best DSLR Camera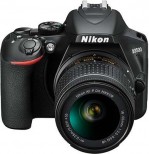 29th October 2018 £499.00 ​The new Nikon D3500 retains the same core feature-set as its predecessor, the D3400, but presents it in a smaller, lighter and more logical design that's very reminiscent of the mid-range D5600 camera. Read the Review.

3rd October 2019 £1,200.00 The Canon EOS 90D is a nice camera to use if you like the traditional styling and handling of a DSLR, while if you're already equipped with a range of EF/EF-S lenses then it makes a lot of sense to make the 90D your next purchase. Read the Review.

16th April 2018 £1,799.00 ​The Pentax K-1 Mark II remains an excellent 35mm full-frame DSLR camera, but it feels more like a stop-gap release rather than a fully-fledged successor to the original K-1. Read the Review.