Best Sony Camera

6th November 2018 $450.00 ​The Sony Cyber-shot HX99 is one of the best travel-zoom cameras on the market, offering a compelling mix of great still and video image quality and an upgraded feature-set... Read the Review.

24th July 2018 $1,200.00 The new 24-200mm literally opens up a whole new vista, allowing you to capture everything from ultra-wide-angle landscapes to close-up candid portraits, all with a camera that you can carry everywhere in a trouser pocket or small bag. Read the Review.

27th November 2017 $1,699.00 ​The Sony Cyber-shot RX10 IV is in a league of its own. No other bridge camera handles and performs so well. Read the Review.

26th March 2018 $1,999.00 The Sony A7 III is quite simply the best camera available at its price-point. It's good enough to tempt some people to stretch their budget further, and even good enough for some to save money by not having to look higher up the range. It may be "basic" in its current positioning at the bottom of the Sony full-frame line-up, but it's definitely outstanding in all other regards. Read the Review.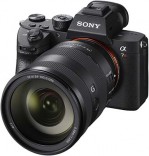 23rd January 2018 $3,200.00 ​The A7R III is the most well-balanced Sony camera to date, offering a compelling mix of resolution, speed and size that also makes it one of the best cameras that we've ever reviewed, be that mirrorless or DSLR. Read the Review.

3rd July 2017 $4,500.00 ...the Sony A9's sheer speed makes it a serious rival to the Canon EOS-1D X Mark II and Nikon D5, two well-established cameras that have long dominated the sports/action segment of the professional market. The fact that the A9 out-performs both of those cameras in certain ways is testament to how far Sony have come in a very short space of time. Read the Review.