500 Street Portraits of Strangers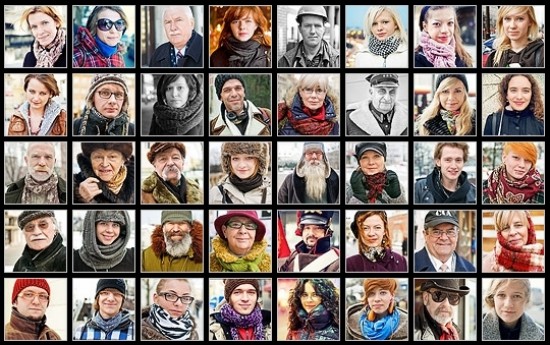 Warsaw, Poland-based photographer Dariusz Majgier has announced that his non-commercial project, Street Portraits of Strangers, has reached an important milestone. Mr Majgier has now taken over 500 consensual portraits of passers-by in the streets of Warsaw, all of which can be seen online at the website below. A smaller selection of his images are currently on display in two Warsaw galleries.
Website: Dariusz Majgier's Street Portraits of Strangers
Press Release
Over 500 Street Portraits of Strangers by Dariusz Majgier
Dariusz Majgier, professional photographer from Warsaw, Poland, had by now done over 500 photos in his non-commercial project "Street Portraits of Strangers".
This is one of the biggest and most popular galleries of portrait photography where the author puts new photos of people he meets on the streets of cities every day.
Unique portraits can be seen at http://dariusz.majgier.pl/portrety/ and in two galleries in Warsaw, where some pieces of the project are exhibited in big format.
"When I walk down the streets, I pass a lot of interesting people. Most of them I would see only once in my whole life, so I want to commemorate them on my photos. I ask for permission and make photos for 5 seconds" says Dariusz Majgier.
The Portraits of Strangers have been mostly created in Warsaw. All of them are done in the same style and form. They are like document snaphots from some life momentum of various people, including celebrities.
"Doing Street Portraits is a very big adventure at times. Interesting stories happen almost daily. Several months ago I met an older lady who denied when I asked her for permission but nevertheless agreed to pose to my photos only after July. I tried more times before July and each time I was very vigorously denied. I really had to be very patient and when I met her again in summer, she agreed instantly" says photographer.
The Project of Street Portraits of Strangers is very well credited throughout the world. Dariusz Majgier is in top 400 most followed users on Google Plus social network with over 25 million users.
Street Portraits of Strangers:
http://dariusz.majgier.pl/portrety/
About Street Portraits of Strangers:
http://dariusz.majgier.pl/portrety/?q=about
Dariusz Majgier on Google+
https://plus.google.com/108439032486286528947
Your Comments