£50 Cash Back on CorelDRAW Graphics Suite X3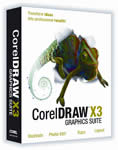 Corel UK Press Release
Maidenhead, UK – 4 December 2006 - Corel Corporation (NASDAQ:CREL; TSX:CRE) today announced its Christmas and New Year offer. Between 1 December 2006 and 28 February 2007, customers will receive £50 cash back when they purchase a full version boxed or download copy of the multiple award-winning CorelDRAW® Graphics Suite X3*. This fantastic offer gives all of Corel's customers even better value for money, whether it's small- to medium-sized businesses updating logos, websites or marketing materials, designers transforming ideas into professional results quickly and easily, or sign makers wanting to update their design software. CorelDRAW Graphics Suite X3 enables them to do all of this and more.
"We all know how costly the festive period and New Year can be for businesses and individuals alike and this offer will help our customers to overcome the financial challenges they are now facing," says Daniel Weisbeck, marketing director for Corel. "At this time of year, businesses often assess what tasks they need to achieve in the New Year and what tools they need to buy or update. Corel understands the challenges its customers face and has all the cost-effective, easy to use tools to make 2007 the most creative year yet."
To take advantage of this offer, customers buying CorelDRAW Graphics Suite X3 (full version box or download) from the Corel Store or from one of the preferred resellers: Amazon.co.uk, PCWB, Misco, Insight - during the time period can simply download a cash-back application form at www.corel.co.uk/cashback. Upon completion and receipt of proof of purchase, customers will receive £50 cash back.
About CorelDRAW Graphics Suite X3
Now with enhanced illustration, photo editing, powerful bitmap-to-vector tracing, page layout, and helpful new learning tools, this integrated graphics suite delivers the ultimate combination of superior design capabilities, affordability, speed, and ease-of-use that cannot be matched by any other graphics software.
Included in the suite
-      CorelDRAW X3: Tackle design projects; from creating a new graphic, logo, business card or sign, modify or retouch an existing image or photo, to more complex document layout and design assignments.
-      Corel PowerTRACE X3: Precise bitmap-to-vector graphic conversion and tracing solution. Take an existing image, trace it, and improve colour, style and background.
-      Corel PHOTO-PAINT X3 Image Adjustment Lab: One-touch controls for professional colour and tone photo management. Cutout Lab: Isolate and "cut out" parts of a photo.
-      1,000 OpenType font styles: An unprecedented choice to fit the style of your designs; plus 35 new WGL4 fonts.
-      Free bonus material: lynda.com training videos, 100 creative templates, Insight from the Experts handbook, RawShooter™ essentials, 1,000 font styles, 10,000 clipart and digital images.
For full terms & conditions or further information, please visit www.corel.co.uk/cashback
Terms and Conditions
1.  *Participants can claim a cashback on CorelDRAW Graphics Suite X3 (International English Full version, Box product or download version only) purchased between 1 December 2006 and 28 February 2007. One application form per person. Applications must be received no later than midnight March 15th 2007. The cashback amount is £50.
2.  The promotion is open to residents of United Kingdom, excluding wholesalers, retailers and other businesses selling any of the promoter's range, employees and the families of the promoter and the promoter's agents, and anyone involved in the administration of the promotion.
3.  This offer excludes purchases of CorelDRAW Graphics Suite Academic version, Upgrade version, Licenses, trial versions and Not-For-Resale versions.
4.  Payment will only take place when the participant has supplied the completed application form, a copy of the Serial Number of the product purchased and original of proof of purchase.
5.  The participant will receive confirmation of receipt of the application form via e-mail within 10 days. The payment will be then made via cheque within 30 days. Payments can only be made to a bank account in the country of the participant's residence.
About Corel Corporation
Corel is a leading global packaged software company with over 40 million users. The Company provides full-featured, easy-to-use productivity, graphics and digital imaging software and enjoys a favourable market position among consumers and small businesses. The Company's award winning product portfolio features popular, globally recognized brands, including CorelDRAW® Graphics Suite, Corel® Paint Shop Pro®, Corel Painter™, Corel DESIGNER®, Corel® WordPerfect® Office, WinZip®, and iGrafx®. With hundreds of industry awards for leadership in software innovation, design and value, Corel's products have built a loyal following of customers and partners around the globe. Corel's products are sold in over 75 countries through an international network of resellers and retailers, original equipment manufacturers (OEMs), and Corel's global websites.
© 2006 Corel Corporation. All rights reserved. Corel, Corel DESIGNER, CorelDRAW, WordPerfect, iGrafx, WinZip, Paint Shop Pro, Painter, Snapfire and the Corel logo are trademarks or registered trademarks of Corel Corporation and/or its subsidiaries. All other product, font and company names and logos are trademarks or registered trademarks of their respective companies.