84.5mm Presents New Line of Photographic Filters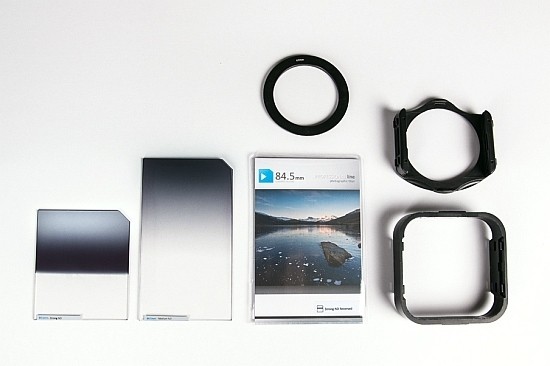 84.5mm has announced a new Professional line of photographic filters. The range includes seven rectangular filters (150x84.5mm in size) that are fully compatible with "P" type filter holders designed for square filters with a width of 84-85mm. The filters in the Professional line are available for €32-€39 each.
Website: 84.5mm Online Shop
84.5mm Press Release
84.5mm presents new series of photographic filters: Professional line
European producer of photographic/cinematographic filters 84.5mm presents new series of filters: Professional line, intended mainly for outdoor photography (landscape, architecture, nature or fashion photography)
Professional line are square shaped filters fully compatible with holders of "P" type square filters (width 84-85mm)
Advantage of Professional line filters comparing to classic filters is mainly in their dimensions thus their big (unlimited) flexibility in real use. While you can move standard filters (size 84x100mm) only few centimeter up/down regarding horizon of photographed scene (which could be often very limiting you in your work), filters from Professional line offer you unlimited flexibility – you can move filter up/down virtually without limitations – 6 and more centimeters up/down because of its size (84x150mm). Would you like to set transition/graduation of filter only few centimeters above bottom of photography or would you like to darken only few first centimeters of upper part of photography/clouds? Really no problem with Professional line filters.
Next advantage of Professional line is fact that you can use every filter as graduated but also as full/solid (one color filter) at the same time – because transition/graduation of filter is situated in half of filter (about 7,5cm)
84,5mm company presents series of Professional line filters in following tones/types: Neutral Density filters with soft graduation: light, medium, strong and Neutral Density Hard – with hard transition: medium, strong, as well as Reversed ND with reversed graduation for shooting of horizons/landscapes during sunset in densities: medium and strong.
Through selected dealers/stockists you can buy also colored filters from Professional line (editions upon special order/request)
Neutral Density filters are designed to increase dynamic range of your photography and it is not possible to simulate them in computer. Because digital cameras have significantly limited dynamic range (e.g. much lower than human eye) almost every time it happens that during outdoor shooting upper part of photography/sky is over-highlighted while bottom part is really dark. Neutral Density filters fully eliminate this problem of digital cameras and offering grandiose, full photos with big depth, atmosphere and realistic third dimensionality.
Usual problem of neutral graduated filters being their color cast which appears on clouds (usually purple color). This is very negatively perceived by photographers. Thanks to more than 3 years of research and using highest quality available materials as: original organic glass CR-39 from patented producer from U.S.A. instead of Chinese equivalents and British optical pigments this negative fact (known from other brands) have been successfully eliminated (no purple cast have been noticed) as evidenced by many reviews and awards worldwide.
Every Filter is individually inspected visually as well as mechanically/optically/digitally in our testing lab, while every one filter is certified by signature of chief of main output control.
Company 84.5mm at the launch of the new series comes with a limited action for the first 100 units sold of each model by means of e-shop with a worldwide distribution http://www.84dot5mm.com/shop/ Filters Professional line for the first 100 customers only 32EUR / unit instead of the standard price of 36 EUR / unit
(This offer is available for all countries in world instead of those where 84.5mm company has dealer / sales network)
Your Comments