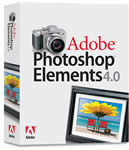 Adobe Press Rlease
Adobe Photoshop Elements 4.0 for Macintosh Delivers Editing Magic to Digital Photo Enthusiasts - New version of No. 1 selling consumer photo-editing software* provides innovative tools to creatively enhance and share photos
London — Feb. 27, 2006 — Adobe Systems Incorporated (NASDAQ: ADBE) today announced Adobe® Photoshop® Elements 4.0 for Macintosh, an all-in-one photo editing and creation solution for Macintosh users. Consistently ranked as the No. 1 selling consumer photo-editing software, Photoshop Elements 4.0 maintains its popularity by merging powerful digital photo editing capabilities with easy-to-use tools, allowing photo enthusiasts to quickly and creatively enhance their photos for sharing. "Photoshop Elements for Mac delivers the features photo enthusiasts need to make their pictures stand out from the crowd," said Deborah Whitman, vice president of product management for Digital Imaging at Adobe. "The Magic Extractor is an example of the power consumers have to seamlessly extract one image out of a photo and easily drag and drop it into another photo, so it looks like it has always been there.  Adobe's continued investment in imaging innovation ensures our customers get the most out of today's powerful digital SLRs and point-and-shoot cameras."
Expert Adjustments in Less Time
New tools such as Magic Selection Brush, Skin Tone Adjustment, Magic Extractor and Auto Red Eye Removal easily correct common photography problems and continue the Adobe tradition of innovation in Photoshop Elements 4.0 for Mac.
The new Magic Selection Brush quickly selects specific parts of a photo for easy colour, lighting, and contrast adjustments; Skin Tone Adjustment allows consumers to get more realistic skin colours in just moments; and the Magic Extractor easily removes subjects from photos and offers advanced edge de-fringing, for scrapbooking and fun composites like adding the pet dog to a family vacation photo. Improved Red Eye Removal instantly corrects red eye in any photo with one click.
For consumers who want more power, Photoshop Elements 4.0 for Mac offers a sampling of the more advanced editing options found in the professional level Adobe Photoshop CS2, such as expanded 16-bit editing and basic Camera Raw support for non-destructive photo editing. Photoshop Elements 4.0 ensures users will be able to open their precious memories for years to come without worrying about proprietary camera formats by supporting the universal Digital Negative format (.DNG).
Photos at Your Fingertips
The File Browser has been updated to the new Adobe Bridge for Elements to make photo browsing quicker and easier. Its Folder View simplifies adding, deleting or moving images in hard drive folders. Full-screen mode, which doubles as a slideshow, enables consumers to easily compare and choose favourite photos from a hard drive or other media.
Adobe Bridge for Elements also supports metadata searches for all photos taken with a flash, with a certain shutter speed or f-stop, or by the camera make and model.  Smart search filters can also be created for commonly searched files or stored as reusable Collections.
Share and Enjoy Your Images
New to Photoshop Elements 4.0, integrated Adobe Photoshop Services make it simpler than ever to order professional-quality Kodak prints and beautiful hardbound photo books. A variety of printing options allow users to create contact sheets and customise picture package layouts for creative sharing.
Photoshop Elements 4.0 is part of a complete family of Photoshop products that meet the needs of a diverse spectrum of digital photographers: the free Photoshop Album Starter Edition for the novice digital camera user; Photoshop Elements for the digital photography enthusiast; and Photoshop CS2 for the professional or the most demanding amateur and professional photographers. Each product offers customers more growth and creative control, giving them access to award-winning technology and options for more sophisticated editing, organisation and sharing options for their digital photos.
Pricing and Availability
Adobe Photoshop Elements 4.0 for Mac (Mac OS X 10.3 or 10.4) is available for pre-order at www.adobe.co.uk and will be available in early March 2006 at other major electronics retailers, including Amazon.com, Apple Stores, Circuit City, CompUSA, CompuSmart, Fry's and J&R, for an estimated street price of £49 (exc VAT). For Windows® users, Adobe offers Photoshop Elements 4.0 for Windows for an estimated street price of £59 (exc VAT).
Information about the other language versions, as well as pricing, upgrade, and support policies for other countries is available on www.adobe.co.uk.  For more information, customers can call 0207 365 0733
About Adobe Systems Incorporated
Adobe revolutionises how the world engages with ideas and information – anytime, anywhere and through any medium. For more information, visit www.adobe.co.uk  
*Source: The NPD Group/NPD Techworld, January 2003 – December 2005