Adobe Photoshop Express Adds Flickr Support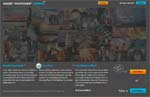 Adobe Photoshop Express has just been updated, adding support for Flickr and Save As functionality. Photoshop Express creates special effects and sends them back into Flickr without leaving the community environment. In addition a new embeddable player will allow users to post their slideshows to sites such as Facebook, Myspace, blogs and more. Photoshop Express is a free website available to anyone who wants to store, sort and show off their digital photos.
Adobe Press Release
Adobe Photoshop Express Public Beta Adds Flickr Support
"Save As" and Embeddable Player Now Available as Community Feedback Drives New Features
London— May 8, 2008 —  Adobe Systems Incorporated (Nasdaq:ADBE) today announced a major update to Adobe® Photoshop® Express beta (www.photoshop.com/express), including integration with Flickr and a "Save As" functionality, two of the most requested features by early adopters. Additionally, a new embeddable player will allow users to post their Photoshop ® Express ® slideshows to sites such as Facebook, Myspace, blogs and more. Released as a public beta in March 2008, Photoshop Express is a free rich Internet application (RIA) available to anyone who wants to store, sort and show off digital photos with eye-catching effects. As the newest addition to the Photoshop family line, Photoshop Express has taken much of Adobe's best image-editing technology and made it simple and accessible to a new online audience. Within the first week of launch, hundreds of thousands of people registered for an account and within the first month, over 60,000 public Web albums were created.
"We're overwhelmed by the positive response to the Photoshop Express beta and all the people who are actively editing and showing off their photos," said Doug Mack, vice president of Consumer and Hosted Solutions at Adobe. "Photoshop Express will continue to evolve over time as we listen to user feedback and build a complete hosted solution that gives people the right balance of performance, convenience and that 'wow-factor' that makes their photos stand out from the rest. We're fortunate to have innovative technologies in our arsenal like Flex® and Adobe Flash® Player that guarantee the overall experience will always be engaging and dynamic."
Enhancements Extend Community, Accessibility and Creativity
Photoshop Express provides convenient access from right within the application to photos posted on social networking sites like Facebook, Photobucket, Picasa and now Flickr. Photoshop Express serves as a complementary solution for people with Flickr albums who want to upload or download photos into Photoshop Express, add special effects and send them back into Flickr to share with the community. The experience is seamless, so users never have to leave their community environment. 
The new "Save As" feature allows users to save multiple versions of an image in addition to the original version. Also new to the lineup is the embeddable player, which lets users post their slideshows to Facebook, MySpace, and other sites to share with friends and family.
A Convenient, Single Destination for Storing, Editing and Sharing
With Photoshop Express, users get 2 gigabytes of free storage, can upload and sort anytime and from anywhere, edit non-destructively to always preserve the original image, and share online in creative ways.
With just a few easy clicks, Photoshop Express empowers anyone to make standard edits, such as removing blemishes and red-eye, converting to black and white, cropping and resizing and much more. Photoshop Express features a collection of creative effects such as Pop Colour, which highlights a single colour in a photo; Distort, which distorts facial features or objects; and Sketch, which makes photos look like artistic drawings. Even users with limited photo editing knowledge can simply select what looks best from a line-up of sample photos with visual hints showing different variations of the added effect. Photoshop Express offers a variety of fun sharing options, including "My Gallery" that highlights collections of user photos called Albums. The unique slideshows feature interactive animation that make photos float and fly across the screen, allowing for an engaging sharing experience. 
Free and Available Now
Adobe Photoshop Express public beta update is available for free via any Web browser, including Firefox, Internet Explorer, Safari and others at http://www.photoshop.com/express. Photoshop Express was created with Flex, Adobe's free, open source framework for building RIAs. Flex applications provide a consistent, rich user experience across operating systems and all major browsers. An Internet connection and an up-to-date Flash® Player 9 are all that are required to experience Adobe Photoshop Express. In its early phases, Photoshop Express is available to US residents-only in English. Users may experience slow performance if accessed outside of the US. Future updates will include availability in other languages and countries.
Your Comments