AirSelfie Now Available to Pre-Order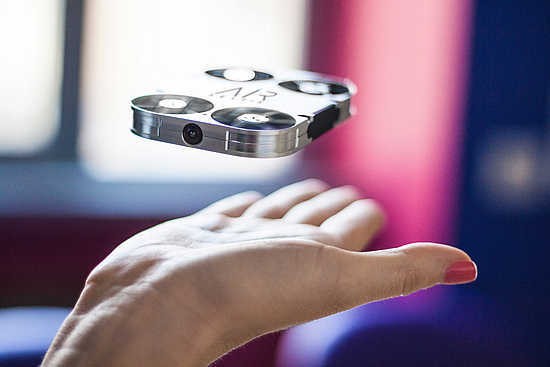 AirSelfie, the first pocket-sized flying camera that communicates with your smartphone, is now available to pre-order. The device is composed of four powerful propellers and a tiny video camera with a 5-megapixel sensor, and can fly vertically up to a height of 66 feet allowing users to take aerial selfies of themselves and their friends. The device connects to the most popular smartphones, including iPhone (6, 6s, 7 and 7 Plus), Huawei P9, Google Pixel and Samsung Galaxy S7 Edge via WiFi. "People have the impression that flying cameras are costly, difficult to operate and unwieldy," says Edoardo Stroppiana, co-founder of AirSelfie. "AirSelfie redefines the space with a device that's small, light and easy to use. We have succeeded in developing a great product, and we can't wait to share it with our growing base of AirSelfie enthusiasts."
Press Release
AirSelfie Pre-Orders Now Available at airselfiecamera.com
Delivery of 2,400+ devices ordered on Kickstarter begins March 2017
LONDON -- (BUSINESS WIRE) -- AirSelfie, the first pocket-sized flying camera that integrates with smartphones, announces the production set up has finished and the Kickstarter pre-orders are effectively slated for delivery in March 2017. The AirSelfie Kickstarter campaign raised more than $600,000 in just over a month.
Now consumers can pre-order AirSelfie on the official website: www.airselfiecamera.com. Buyers have two package choices: AirSelfie + phone cover price $261.50 or AirSelfie and powerbank price $272. Delivery of these devices will commence in May 2017.
"We are thrilled that we exceeded our goal so quickly, thanks to the thousands of people from 81 Countries all over the world who trusted in the project and decided to be part of it making it possible and now we're pleased to be able to produce and ship the AirSelfie," said Edoardo Stroppiana, co-founder of AirSelfie. "We've worked very hard to create a product that everyone can use to live a totally new experience."
AirSelfie debuted on Kickstarter November 17 and reached their fundraising goal of $50,000 in the first 72 hours. The project soon became viral with its videos and photos spreading all over the web. The first 1,000 devices were available for pre-order at the discounted price of $249. Those units sold out in the first 10 days.
AirSelfie is comprised of four powerful propellers and a five-megapixel video camera, is smaller than a smartphone and can fly vertically up to 66 feet, allowing users to take aerial selfies of themselves and their friends. The device connects to the most popular smartphones, including iPhone (6, 6s, 7 and 7 Plus), Huawei P9, Google Pixel and Samsung Galaxy S7 Edge. It includes self-generated WiFi and comes equipped with a rechargeable battery through a cell phone case, as well as the option to purchase an external power bank. Additionally, a vibration-absorber system and in-flight stability systems guarantee stable, clear, flowing images.
"People have the impression that flying cameras are costly, difficult to operate and unwieldy," said Stroppiana. "AirSelfie redefines the space with a device that's small, light and easy to use. We have succeeded in developing a great product, and we can't wait to share it with our growing base of AirSelfie enthusiasts."
About AirSelfie
AirSelfie is the brainchild of Italian entrepreneur Edoardo Stroppiana, who helped form the British company AirSelfie Holdings Ltd. in 2016.
Your Comments