Apple Aperture 1.1 Update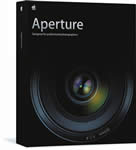 Apple Press Release
Aperture 1.1—the first Universal version of Aperture—offers increased computer and camera compatibility. The upgrade allows photographers to run Aperture on both PowerPC-based and the new Intel-based Macintosh computers, including MacBook Pro. Developed in consultation with pro photographers, Aperture 1.1—scheduled for release in March—will be available for $499. Current owners of Aperture 1.0 can upgrade to Aperture 1.1 via Software Update. In addition to enhanced compatibility, Aperture 1.1 also provides a variety of significant performance and feature enhancements.
These include:
1. Improved RAW Image Quality
Aperture 1.1 provides new, improved RAW decode algorithms that deliver next-generation RAW image handling.
Thanks to the improved default rendering of RAW images from supported cameras, Aperture 1.1 yields significantly better image quality, results you'll see in such areas as noise reduction, sharpening, and highlight recovery.
In short, RAW images have never looked better than they do in Aperture 1.1.
In order to maintain the image integrity of the existing photos in your Aperture library, Aperture 1.1 gives you the ability to retain the original 1.0 RAW decode. Or, if you prefer, you can selectively migrate images to the new 1.1 RAW decode.
2. RAW Fine Tuning
When you render images using RAW decode version 1.1, you'll also gain access to an entirely new set of RAW Fine Tuning controls available in the Adjustments HUD allowing you to tweak decode settings. These include:
  * Boost, which lets you intensify or reduce image contrast
  * Sharpening, which lets you either dial in the amount of sharpening you'd prefer to see applied to images in the RAW decode process or turn off sharpening altogether
  * Chroma Blur, which lets you opt for either Chrominance- or Luminance-based noise reduction
Using these fine tuning controls, you can tweak settings on an image-by-image basis, in effect creating a camera-based RAW decode profile on the fly. What's more, Aperture 1.1 lets you save your customized decode adjustments as a camera default, so they can be easily applied to newly imported images.
3. Auto Noise Compensation
Designed specifically to deal with noisy images resulting from high ISO or long exposures, Aperture 1.1's new Auto Noise Compensation option automatically applies the optimal settings for noise reduction to your image. A real time-saver, Auto Noise Compensation takes into account the unique noise characteristics of each camera and dials in the optimal settings to produce a high-quality result.
4. New Color Meter
Aperture 1.1 includes a built-in color meter you can use to sample the pixel values anywhere in an image and display them in RGB, LAB, or CMYK. Particularly useful when fine-tuning image exposure, color balance, and brightness parameters, you can use the color meter anywhere in Aperture — while editing, adjusting, arranging images on a Light Table, or laying out a book. In Aperture 1.1, you can display color values at any time in the Adjustments HUD or opt to display them right in the Loupe.
5. Enhanced Export Controls
In Aperture 1.1 the Export Versions command now includes a "Fit Within (Inches)" option and allows you to specify a resolution in dots-per-inch (dpi) for exported images, making it easier to output images at exactly the size you want. In addition, you can also specify the default dpi for images you'd like to open in an external editor. If, for example, you regularly open images for layering effects in Adobe Photoshop, you can now specify that Photoshop open them at 300 dpi (or another dpi of your choosing).
6. Dozens of Other Improvements
In addition to all of the above, Aperture 1.1 also offers dozens of additional reliability and performance improvements in such areas as image export, metadata handling, onscreen proofing, histogram, cropping, printing, web output, Query HUD, and others. You'll find performance improvements particularly noticeable in keyword searching and when using the Lift & Stamp tool.
Finally, for those of you who use Aperture hand-in-hand with Photoshop, you'll appreciate improved handling of layered Photoshop files. Aperture 1.1 now allows you to manage layered Photoshop files without having to needlessly create additional flattened versions.