Autosport International Amateur Motorsport Photographer 2012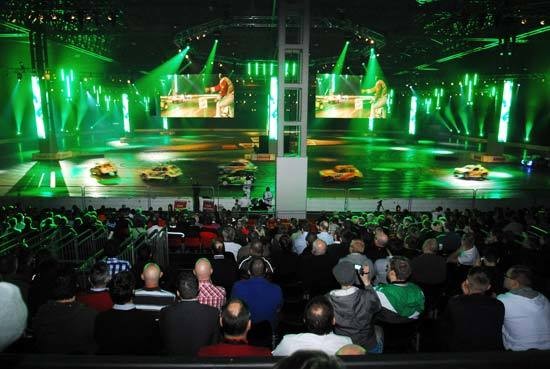 The fast-paced, glamorous world of motorsport is one of the most exciting and challenging environments for a professional photographer.
Autosport International, the world's greatest motorsport show, is offering one Photography Blog reader the unique opportunity to experience this thrill first-hand through its inaugural Amateur Motorsport Photographer competition.
The contest is open to any amateur photographer over 18 years old, who is invited to submit an original image on the theme of Motorsport. The winning entry will be selected by a panel of experts to receive a money-can't-buy prize: photography accreditation for the world-renowned Goodwood Festival of Speed.
The judging panel will feature a professional photographer from LAT Photographic, the largest motoring and motorsport photographic collection in the world, Photography Blog's editor Mark Goldstein and representatives from Goodwood circuit and Autosport magazine.
Five finalists will be chosen to attend Autosport International 2012, which takes place at the Birmingham NEC, UK, on 12-15 January, where they will enjoy a busy programme of spectacular live racing, race car exhibitions and appearances from personalities including F1's Paul Di Resta, Jake Humphrey and David Coulthard. For more information visit www.autosportinternational.com or follow @autosport_show on Twitter.
Autosport International will unveil the overall winner of the competition at the LAT Photographic exhibition stand, who will be presented with their prize: one-to-one tuition from a professional LAT photographer at the Goodwood Festival of Speed on 29 June - 1 July 2012.
To enter the competition, simply submit your photograph along with your name, address and contact telephone number to asi-pr@rsm-live.com no later than Sunday 1 January 2012.
Terms and Conditions
1.    Entry to any Competition may only be made in accordance with the specified instructions for entry published online in conjunction with the Competition.
2.    Unless otherwise stated, entrants may make as many entries to a Competition as they wish.
3.    No responsibility or liability will be accepted for entries which are not received or are lost in transmission for any reason. Proof of sending or transmision will not be accepted as proof of entry. Corrupted, damaged, unintelligible, inaudible or incomplete entries will be invalid.
4.    Employees of Haymarket Exhibitions, their agents or their families may not enter any Competition. Employees of any non Haymarket Exhibitions party involved with the running of a particular Competition, their agents or their families may not enter that Competition. The Editor's decision as to the eligibility of non Haymarket Exhibitions parties will be final.
5.    The winner's travel expenses are not included in the prize.
6.    Unless otherwise stated, Haymarket Exhibitions and Photo Blog accept no responsibility for the return of entries, photographs or other personal effects or for loss or damage to such items.
7.    Except where it is expressly stated that all Competition entries will be examined and the prize or prizes will be awarded to the entry/ entries the judges consider to be the best.
8.  The Editors reserve the right to change the rules applicable to any Competition or to void any Competition at any time and for any reason.
9.  In the event of an error of any nature howsoever caused and whether obvious or otherwise which affects a Competition in any way, Editors reserve the right to administer the Competition as though the error had not occurred. Where Editors deem it appropriate and/or feasible Haymarket Exhibitions and Photo Blog will notify entrants of the error and correct it either through the newspapers or through any other suitable medium.
10.  Entry to the Competitions is restricted to entrants of 18 years of age or over.
11.  No correspondence can be entered into on any matters arising from any Competition.
12.  Names of winners and results of Competitions will be available on receipt of a request by email and may be published on websites as space permits.
13.  Unless specifically stated otherwise, prizes are not transferable and no cash alternative to prizes will be offered.
14.  If the winner of a Competition is unable to take up a prize for any reason or in the event that time is of the essence and a winner cannot be contacted by Haymarket Exhibitions and Photo Blog within a reasonable period Haymarket Exhibitions and Photo Blog reserve the right to award the prize to an alternative winner, in which case the first winner chosen will not be eligible for any share of the prize whatsoever.
15.  Each winner must co-operate with Haymarket Exhibitions and Photo Blog photographers or reporters to publicise the win as TM deems appropriate.
16.  Failure to comply with any of these rules may result in the disqualification of the entry. Editors reserve the right to disqualify any entry at their absolute discretion.
17.  Editors' decisions are final in all matters concerning a Competition. It is a condition of entry to any Competition that the entrant agrees to be bound by these Rules whether or not they are published in the relevant newspaper or publication or website and that the decisions of Editors and judges on any matter whatsoever arising out of or connected with the Competition are final.
18.  Copyright in all materials remains with you but by participating you grant a perpetual license to Haymarket Exhibitions and Photo Blog and all of its subsidiaries, permitting publication of any and all materials submitted at any time in any manner determined by Haymarket Exhibitions and Photo Blog or any of its subsidiaries.
19.  All images are accepted in good faith.
20.  All pictures remain the property of Haymarket Exhibitions and Photo Blog and will not be returned.
21.  Haymarket Exhibitions and Photo Blog will only print images it feels are suitable.
22.  Haymarket Exhibitions and Photo Blog cannot be held responsible for any misspellings or for any missing/non-featured photographs.
23.  Trinity Mirror Midlands cannot be held responsible for the quality of photographic print.
Your Comments