Barbara Bordnick is Kingston Icon of Photography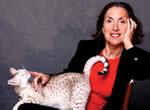 Kingston Technology Press Release
Fountain Valley, CA – September 18, 2006 – Kingston Technology Company, Inc., the independent world leader in memory products, announces that world-class portrait and fashion photographer Barbara Bordnick will provide a new series of tips and tricks to be posted on Kingston's Icons of Photography Website today.  Ms. Bordnick will offer some of the tips and techniques that have made her one of the premiere portrait photographers in the world. Kingston's "Icons of Photography" website profiles some of the world's most respected photographers. Each month the company spotlights an Icon photographer who provide tips and techniques as well as a gallery of images. Advice and anecdotes are shared for taking better pictures on topics ranging from lighting and backgrounds, to color profiling and making the most of equipment. Using 'try it yourself' terms, Icons explain how they tackle photography challenges.
This month's new profile focuses on two important skills: knowledge of your subject and lighting.  States Bordnick, "No matter what I shoot, I make it a point to get to know as much about the subject as possible in advance and recommend that every photographer do the same. If you are photographing people, search for those characteristics that most define their personality, and hone in on one or two traits such as eyes, hair, hands or smile."
Lighting is also essential, and Bordnick suggests experimenting with combinations of natural, strobe and fill. "I prefer strobe with a simple fill and natural light. I like to experiment with reflectors because even the slightest addition of bounced light can make a difference. And if you're shooting close up, pay extra attention to fine shadows."
A self-taught photographer, Bordnick's work has included such innovative projects as a Polaroid-commissioned calendar of Great Women in Jazz and three immensely celebrated books of beautiful digital photographs, Searchings: Secret Landscapes of Flowers Volumes I, II, and III.  Last year, her portrait of lyricist E.Y. "Yip" Harburg was made into a United States commemorative postage stamp, issued on April 28, 2005.  Most recently Bordnick was awarded the International Photographic Council's Leadership Award at the United Nations.
Bordnick lectures year round through an extensive photography workshop and presentations schedule. She is also an instructor at the School of Visual Arts in New York City. "Being a member of the Kingston Icons of Photography brings a unique opportunity for sharing my love of photography with aspiring photographers beyond the traditional instruction environment," she notes. "I rely on Kingston products and fully support the Icons program. I trust Kingston and they make it easy for me to concentrate on my photography, not technology."
Kingston will introduce a new "Icons" photographer on the 15th of each month. Other Kingston Icons of Photography include: Harry Benson, Colin Finlay, Douglas Kirkland, Gerd Ludwig, Peter Read Miller, and Chris Rainier. Visit www.kingston.com/digitalmedia/iop to read more about Bordnick and other Icons' work.
About Kingston Technology Company, Inc.
Kingston Technology Company, Inc. is the world's largest independent manufacturer of memory products. With manufacturing facilities operating in Fountain Valley, California; Malaysia; Taiwan; and China, Kingston supports all memory processing functions from receipt of wafer through to completed module. Kingston serves a network of distributors, OEMs, and retail customers in more than 3,000 locations worldwide. For more information, please call (800) 337-8410, or visit www.kingston.com