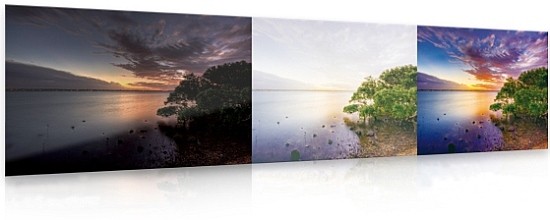 The BenQ E1420 and 1430 HDR cameras are two new 14-megapixel models with 3x optical zoom, 720p HD video and in-camera HDR imaging functionality. The E1420 and E1430 both come with blink detection, smart scene recognition, "Love Portrait" and "Beauty Enhancer" modes, and a 3-inch, 230,000-dot monitor on board. The E1420 comes in "Elegant Gray" and E1430 in "Cool Blue". Both will be available in China and Asia Pacific in August, Europe in September, and Latin America in October.
Benq Press Release
BenQ Unveils 14 Megapixels E1420 & E1430 HDR Camera
2010-08-19
TAIPEI, TAIWAN, August 18, 2010 – World-renowned provider of visual display innovation, BenQ, announced the expansion of its digital camera lineup today with the E1420 and E1430 High Dynamic Range (HDR) camera. Equipped with a generous 14 Megapixels Sensor; 3x optical zoom lens; capability of shooting 720p HD movies; a bright 3" LCD 230-pixels screen; advanced smart scene mode; friendly user interface and BenQ's own HDR image enhancement technology, E1420 and E1430 aims to bring the consumers cooler cameras with premium features.
Many people had experiences taking pictures during holidays or special occasions in situations where they only have a few moments to take a shot, only to find out that the position they have taken it from or the environment was not ideal, and their subjects appeared dark due to backlight. Those are the moments one cannot re-take, or be undone. With BenQ's HDR image enhancement technology, this undesirable image result can be avoided. It is designed to be more than just a backlight solution – It is the perfect tool to overcome high contrast lighting condition challenges. Users can use this ideal function to bring out the finest details in the darkest and brightest parts of an image – allowing you to generate stunningly faithful photos under even the highest contrast lighting conditions.
The E1420 and E1430 are equipped with BenQ's advanced smart scene modes. It comes with a range of preconfigured settings for particular types of scenes users need, and better yet, it is also smart enough to choose the right one automatically. These cameras' 720p HD movie recording capability allows users to record crisply detailed videos for the precious moments clearly without missing even a second. Tired of taking pictures of yourself or with your friends to find that a person's face was out of frame? The "Love Portrait" mode in E1420 and E1430 takes the guesswork out of taking pictures of oneself, either alone or with someone else, by automatically snapping when it detects one or two faces in frame. E1420 and E1430 also have "Blink Detection" mode that can be turned on, ensuring the users never to go home after an outing discovering one of the person in the group, had blinked in a group photo. The "Blink Detection" prompts the users when blink is detected so the photos can be re-taken right away. Cameras today can sometimes be too accurate, but with the "Beauty Enhancer" mode, users do not have to worry about the 'perfect' details taken, as it smoothens out skin tones for delightful facial photos without the need to re-edit them elsewhere.
The E1420 comes in "Elegant Gray" and E1430 in "Cool Blue". It will be available in China and Asia Pacific in August, Europe in September, and Latin America in October 2010. For more information, please visit www.BenQ.com
Your Comments