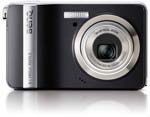 The BenQ E800 is a new 8 megapixel entry-level digital camera with a 2.7 inch LCD display, 3x optical zoom and ISO 1600. Advanced features include Smile Catch mode, Shake-Free mode, Auto Face Tracking and 13 different scene settings. A high ISO of 1600 lets users take pictures in dim lighting without having to use an artificial flash. The BenQ E800 will be available worldwide from the end of May.
BenQ Press Release
BenQ's New E800 Digital Camera Captures Every Smile Perfectly
Captivatingly Cool with ISO 1600, Smile Catch Mode & Auto Face Tracking
TAIPEI, TAIWAN, April 23, 2008 – BenQ announced today the launch of their latest digital camera, the 8-mega-pixel E800 featuring a 2.7-inch display, 3x optical zoom and ISO 1600.  A suite of intelligent features – including "Smile Catch" mode, Auto Face Tracking and 13 optimized settings – further distinguish this everyday-use camera with pictures that are automatically sharper, clearer and brighter.
Picture Perfect…Every Time
Introduced as an affordable, entry-level camera, the E800 nonetheless offers users numerous convenience and performance features beyond expectation.  An ingenious "Smile Catch" mode enables users to effortlessly capture every elusive smile by automatically shooting in rapid succession, stopping only when the shutter button is pressed.  This function is especially useful for taking pictures of young children or of spontaneous moments.  A Shake-Free mode complements for blur-free pictures.  Faces will consistently appear sharp, focused and in optimal color with the E800's Auto Face Tracking, which can fine-tune up to eight faces in one frame – perfect for action scenes with many people.  Professional-looking pictures have never been easier than with the E800's 13 settings, each customized to distinct scenarios.  Modes range from standard auto and video to more exact settings such as "Museum," "Party," "Beach" and "Fireworks."  When recording video, users are able to focus up close or capture greater scenery with a handy "Movie Optical Zoom"feature.
And for nighttime or dark settings, the E800 performs just as brilliantly.  A high ISO of 1600 lets users take pictures in dim lighting without having to use an artificial flash.  The results are naturally-lit, vibrant images that exhibit exceptional clarity and definition.
User-Friendly Conveniences
The E800's "Enjoyment Matters" spirit extends to thoughtful appointments that make this camera a delightful everyday companion.  A hassle-free recharging design ensures the E800 is always ready to go – users never have to unload the battery when recharging.  Simply recharge the E800 with a power cord or by directly connecting to a PC via a USB cable.  In addition, displaying pictures is a breeze with the E800's dual size formats:  3:2 resolution eliminates the need for cropping images when printing; 16:9 resolution is perfect for displaying on today's popular 16:9 widescreen TVs.
The E800 will be available worldwide end of May.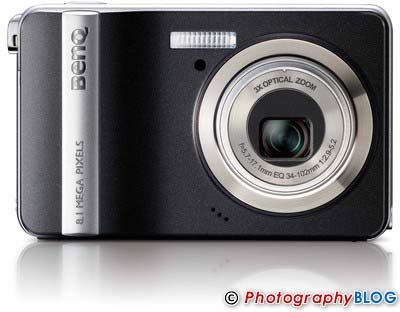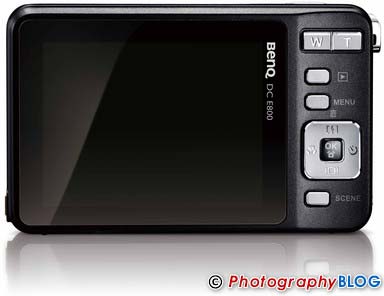 Your Comments