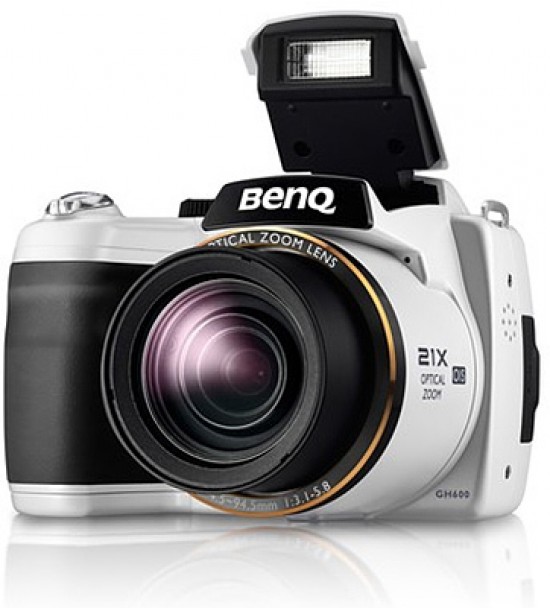 The BenQ GH600 is a 16-megapixel camera with 25-525mm equivalent zoom lens. Unlike its stablemate the BenQ GH700, the GH600 shoots 720p rather than 1080p video. uses a CCD rather than a BSI CMOS sensor, and features Tv and Av shooting modes in addtion to P and M. Otherwise the two models are quite similar, sharing the same 21x zoom lens, optical image stabilisation and 3" rear screen with a resolution of 460,000 dots. The BenQ GH600 is available in white and black colours.
Benq Press Release
Fun Things Up Wherever You Go –BenQ GH600 with 21x Super Zoom!
TAIPEI, TAIWAN, October 27, 2011 – Internationally-renowned provider of digital lifestyle innovations, BenQ, announces today the launch of its first bridge-type digital camera – the GH600. Combining the advantages of point-and-shoot camera and DSLR-like imaging effects, the GH600 boasts a powerful 21x super zoom lens; 16-Mpixel CCD sensor; 25mm wide-angle lens; O.I.S (Optical Image Stabilizer) system; a 3" 460K LCD display and a wide selection of shooting modes. Possessing a compact and ergonomic body whilst offering an affordable solution to young adults who love to share their own unique ideas captured in photos, and need something more than just another compact digital camera.
Providing the convenience of point-and-shoots and delivering innovative imagine effects, the GH600 brings users a sophisticated photography experience with added creativity. The 21x Super Zoom lens offers a broad focal range from 25mm wide angle to 525mm telephoto (equivalent on a 35mm camera), and with the O.I.S (Optical Image Stabilizer) system which compensates inadvertent camera shake and a high light sensitivity of up to ISO6400, the GH600 is able to capture crystal clear, blur-free images in the finest details. The 16-Mpixel camera also features the HDR image enhancement technology which automatically adjusts luminance and contrast under even the highest contrast lighting conditions.
The versatile GH600 shoots brilliantly crisp HD 720p videos at 30 frames per second with zoom for fluid movement in fast-action scenes from afar or close, and an interdependent recording button provides a quick access to start recording instantaneously so that no precious moment will be missed. Capturing close-up shots is easy with GH600's Super Macro mode which captures objects from as close as 1 cm, preserving incredible details and an intimate feel.
The GH600 further enhances the users'shooting experience with its wide selection of fun shooting modes; Color Accent allows a selected colour in the photo to stay whilst having the rest converted into black and white. The LOMO Mode adds artistic effects to photographs, turning them into artworks with unlimited creativity. The Fisheye Mode creates a hemispherical distortion view of the targeted shot. And the Web Auction Mode combines up to four photos and presents them in a collage-style layout. Other shooting modes include the P/Av/Tv/M Mode, the Panorama Mode, Speedy Burst, Beauty Enhancer and the Advanced Smart Scene Mode.
The BenQ GH600 is available in black and white and will debut worldwide in the end of October, 2011.
Your Comments