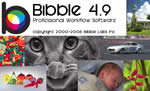 Bibble Labs Press Release
Bibble Labs Releases Version 4.9 Upgrade, Including Clone & Healing Tool, Sensor Correction and 5-Star Ratings - Last major upgrade before 5.0 supports Sony Alpha a100, Nikon D80, Canon 400D Rebel XTi, and localized interface. 
Photokina 2006 Cologne, Germany (Sept 22, 2006) - Bibble Labs, Inc announces the immediate availability of version 4.9 of Bibble Pro and Bibble Lite. This upgrade to the Bibble 4 product line includes the frequently requested Clone / Spot Healing tool, sensor defect correction, image rating and support for the latest cameras. Provided as a free upgrade download for all current Bibble 4 customers, version 4.9 represents the ultimate version of Bibble 4. Digital photographers have been asking for a single tool to perform all their image adjustments - not several tools for specific jobs. Adding Noise Ninja technology and one-touch image optimization with Perfectly Clear in releases 4.6 and 4.7 went a long way to building a single tool for all digital darkroom needs; and with the Cloning & Healing tool in 4.9, Bibble Pro and Bibble Lite now offer the most complete and self contained workflow. "Many customers were telling us that cloning to remove blemishes and dust spots was the only correction they needed to perform in another application" says Eric Hyman, president and CEO of Bibble Labs. "Including Cloning and Healing, lens distortion correction, and stuck-pixel removal in one RAW-enabled application makes Bibble Pro and Lite the one-stop-shop for the digital darkroom."
"Supporting new cameras is critical" says Hyman. "Folks buy these brand-new cameras, shoot RAW, and then have a limited range of software to choose from. Great image manipulation tools don't matter if your camera is not supported." Bibble 4.9 adds support for all the newest popular cameras including the Sony a100, Nikon D80, Canon 400D XTi, Panasonic FZ-50, LX2, L1, Leica's DMR and Leaf's line of Aptus and Valeo digital backs. Version 4.9 also includes sensor defect correction to remove "hot" or "stuck" pixels, updated Web Gallery output, 5-Star image rating and includes French, German and Dutch translations. Users of the recently discontinued Raw Shooter Professional will be pleased to find an included importer for moving their ratings and other simple settings into Bibble. 
Bibble Labs also officially announces the development of Bibble 5.0, planned to be the company's next major release. Bibble 5 is based upon 2 years of customer feedback from Bibble 4 and improves upon all aspects of the program, including workflow, speed, and image quality. Bibble 5 will support all current operating systems and platforms as well as 64-bit operating systems. Specific details regarding cost, availability and upgrade options will be announced at a later date, however anyone who purchases Bibble 4.9 will receive a free upgrade to Bibble 5 when it is released, even though Bibble 5 is expected to be offered at a higher price than Bibble 4.   
Availability
Bibble is available in both "Pro" ($129.95) and "Lite" ($69.95) versions for Windows, Macintosh (PPC/Intel as a Universal Binary) and Linux. Please visit our web site at http://www.bibblelabs.com for further details and to download a fully functional 14 day trial version. 
German language customers may now purchase localized copies of Bibble directly from our German distribution partner Application Systems Heidelberg. Please visit their website at http://www.application-systems.de/bibble.
Visit us at Photokina with our German distribution partner Application Systems Heidelberg in Hall 4.1 Booth D041. 
About Bibble Labs
Located in Austin, Texas, Bibble Labs Inc was founded in 2000 to develop technologies and software for high quality processing of raw files from a wide variety of digital cameras. Bibble Labs' stand-alone products are used by thousands of photographers all over the world to quickly and accurately process their raw photos. Bibble Labs' technologies and expertise are increasingly becoming the standard other companies turn to when they wish to embed raw image processing technology in their products. For more information, please visit our web site at http://www.bibblelabs.com. Licensing ,distribution and retail inquiries may be addressed to [email protected]