Bibble 4.9d Update Released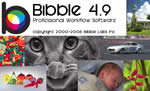 Bibble Labs Press Release
A minor maintence release of Bibble (4.9d) has been moved to the download area from the public testing section: http://download.bibblelabs.com/
This update fixes a number of issues with 4.9 including a severe problem with Sony A100 files. It adds support for the Lecia Dlux3, but mainly fixes problems and memory leaks. It is a recommended update for all users, but also, please keep a backup of your regular 4.9 install should you need it.
If you will be in NYC later this week, Drop by Photoplus Expo and visit us at the Bibble Labs booth #1368. You can also find Bibble staff f in the Eastman Kodak Booth answering questions about Bibble Labs raw support in Dp2 and proshots.
If any of your friends of collegues are interested in Bibble, Calumet Camera will be offering Bibble Pro at a discounted show special price in booth #500
Lastly, feel free to stop by Andrew Rodney's "Iron Chef :Raw processing" shootout which will have Bibble and other raw converters processing images in realtime with feedback from the pro's that shot the images. 9:00a-12:00a TA10
As always, thanks for your support.
The Bibble team
Things changed in 4.9d
Added Shooting Info back to PS plugin (Shift-f10)
Added: Support for Leica R8 + DMR
Added Photoshop Elements 5.0/4.0 install
Fixed bug in Noise Ninja support that could cause crashing
Fixed black line on right side of image when Noise Ninja is enabled
Fixed problem with PS Elements plugin "unsupported file"
Fixed import of IPTC info in photoshop plugin
Fixed DPI when using photoshop plugin.
Fixed missing ARW files in PS plugin.
Fixed bug that caused two JPEGs to be created when RAW+JPEG support is enabled (Linux)
Fixed bug preventing deletion/rename of Sony A100 files.
Fixed bug that vignetted heal spots in the preview image.
Fixed bug that caused the D70s not to be recognized by lens correction.
Fixed bug with selecting "close" Noise Ninja profiles when the exact profile isn't available.
Fixed bug with spot cursor mode and selecting the white/gray/black points.
Fixed bug with HR slider not updating the image preview.
Fixed bug with batch queue JPEG settings and German language translation.
Fixed bug with tool reset not being saved if the reset was the last correction.
fixed gallery bug: safari and Row style, no horz scroll bar
fixed gallery bug: IE and Row style, occasional jump back to first image
fixed hotkey issue: had to press CTRL+O twice to open
fixed localization issue: Batch Settings panels not fitting in translated versions
fixed localization issue: Many additional translation strings added
Fixed bug when batch queue destination was "relative" and path had a drive letter (Windows)
Fixed memory leak and crash related to generating thumbs.
Fixed memory leak related to BlackAndWhite plugin (even if not used)
Fixed d2hs FW2.0 camera white balance
Fixed black line on 400d xti
Fixed memory leak/crash related to sony a100 files
Fixed problem with D200 Fw2.0 cams.(And probalby d2x as well)
Fixed problem with Sony A100 and Leica DNG files on macintosh.
Lens Correction
Added Pentax K100D and K110D cameras
added Tamron 70-300mm f/4-5.6 LD