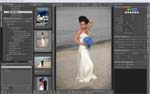 Bibble 5 will be officially launched at Photokina next week. The latest version of this RAW conversion software includes improved performance (up to twice as fast as Bibble 4), complete non-destructive selective editing including multiple layers, and an advanced and fast Digital Asset Management system. Bibble 5 Pro will be available in Q4 of 2008 at an initial price of $199.95, and will continue to be offered for Windows, Mac OSX, and Linux. Customers who purchase Bibble 4 now will receive a free upgrade to Bibble 5 when it is available.
Bibble Labs Press Release
Bibble Labs to Introduce Bibble 5 at Photokina
Austin, Tx, Sept 15th, 2008: Bibble Labs is thrilled to be officially introducing Bibble 5 at Photokina on Sept 23rd. Bibble 5 is the culmination of years of development and draws on Bibble Labs 8-year heritage as a leading developer photographic workflow and RAW conversion software. Bibble 5 improves upon all aspects of photographic workflow, offering finer control over image quality and adjustments, huge speed gains, and flexible workflow and usability.  Come see the future of photographic workflow at Hall 4.1, Booth D-51.
Workflow at the Speed of Light
Bibble 5 brings a new level of speed to your photographic workflow - with amazingly fast imports, exports and on-screen performance. Overall application responsiveness and real-time editing are essentially unaffected by background operations like importing or exporting, so photographers can multi-task and move through thousands of photos with lightning speed.
With our advanced, priority-based scheduling system, taking full advantage of multi-core and multi-CPU computers, Bibble 5 brings unparalleled efficiency to your photographic post-processing. At up to 88 times faster than competing applications on high-end hardware, Bibble 5 allows you to spend less time waiting and more time creating.  Bibble 5 also works up to twice as fast as Bibble 4 on less powerful computers and laptops.
Complete Selective Editing
Bibble 5 provides complete and uncompromised selective editing, allowing photographers to selectively apply essentially any image adjustment with Bibble 5's Layers & Regions control, providing maximum creative freedom.  Create multiple layers with circular, polygonal, curved or painted regions that include any of Bibble 5's expansive editing tools to hone in on the look you want.  Bibble 5's Selective Editing is completely non-destructive, and isn't limited to a small set of tools.  Selective Editing is tightly incorporated into a complete Bibble 5 workflow: Copy & paste Regions from image to image, and add, delete, rename, and re-order Layers & Regions in the Layer Manager.
Asset Management
Bibble 5 includes an advanced and fast Digital Asset Management system to help photographers organize and catalog their work, while allowing flexibility and openness like no other application on the market. Photographers may search, browse, and edit in multiple catalogs simultaneously with images stored on local, external or network drives. Sorting, filtering, tagging, rating, and keywording hundreds or thousands of images is painless and fast - making Bibble 5 the ideal culling and sorting application.
As powerful and complete as Bibble 5's asset management framework is, we understand some photographers already have an organizational system that works for them. With this in mind, Bibble 5's Asset Management system is entirely optional and supports the 'direct from the file-system' approach, so photographers that already have a tried-and-true method of folder-based organization are not forced into importing and cataloging their work. Bibble 5 also supports 3rd Party Asset Management tools - offering the most flexible workflow in the industry.
Highly Refined Workflow
Based on 8 years of feedback from professional photographers from around the world, overall usability in Bibble 5's User Interface has been greatly improved. Bibble 5 allows you total freedom to design your workflow to match your needs and demands. Some of Bibble 5's workflow features include:
Image Comparison View: View one or several images at a time. 'Lock' several displays together to zoom and pan images to choose among similar images, or 'Unlock' the displays to focus on different portions of different images.
Simultaneously Browse & Seach one or more Catalogs using shooting info (EXIF), IPTC data, Ratings and Keywords
Presets that can include image settings & metadata which work alone or as part of a batch import or export. Simple but powerful Preset creation and management tools.
Image Edit History to easily see what adjustments have been applied to your images Sort by name, date, rating, tag, label, ISO, shutter speed, aperture, or custom sort order
Multiple versions per master image to apply many treatments to a single photo
Hotkey editor allowing you to assign shortcuts to your favorite functions
Intelligent renamer works during import, export or while browsing your Library
Group images into Stacks to prevent clutter and speed your workflow
Keyword Sets and Hotkeys simplify keywording. Keyword Manager to import, export, and manage keywords and keyword sets
Includes the industry's only RAW-level plug-in interface
The Most Complete Non-Destructive Editing Toolset
From World-Class Noise Reduction with Noise Ninjatm Technology to One-Touch image optimization from Perfectly Cleartm, Bibble 5 has integrated some of the best technology in the industry into a single workflow application. Every adjustment – including 3rd Party Plugins - is non-destructive, applied in real-time, undoable, and logged in your Edit History.
Bibble Labs at Photokina
Come see Bibble 5 in action at Photokina, where Bibble Labs developers, staff, and partners will be demonstrating the power, speed, and ease of use of Bibble 5: Hall 4.1, Booth D-051.
Pricing & Availability
Bibble 5 Pro will be available in Q4 of 2008 at an initial price of $199.95, and will continue to be offered for Windows, OSX, and linux.  Bibble version 4 will continue to be available until Bibble 5 is released, and purchasers of Bibble 4 will receive a free upgrade to Bibble 5, when available. Visit http://bibblelabs.com for further details and to download a fully functional 14 day trial version of Bibble 4. New licensees of Bibble 4 will receive a free upgrade to Bibble 5, once available.
About Bibble Labs
Located in Austin, Texas, Bibble Labs Inc was founded in 2000 to develop technologies and software for high quality processing of raw files from a wide variety of digital cameras.  Bibble Labs' stand-alone products are used by thousands of photographers all over the world to quickly and accurately process their raw photos. Bibble Labs' technologies and expertise are increasingly becoming the standard other companies turn to when they wish to embed raw image processing technology in their products. For more information, please visit our web site at http://bibblelabs.com .  Licensing, distribution, and retail inquiries may be addressed to [email protected]
Download the latest version of Bibble 4 from http://bibblelabs.com/download
Bibble Labs, Bibble Pro and Bibble Lite are trademarks or registered trademarks of Bibble Labs, Inc. Noise Ninja is a trademark of Picture Code LLC. Perfectly Clear is a registered trademark of Athentech Technologies, Inc. Camera brands and models are trademarks or registered trademarks of their respective companies.
Your Comments