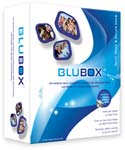 Blubox 4 claims to be the world's most advanced software compression application for digital images. It can apparently compress photos by up to 95% without sacrificing picture quality. Blubox 4 can also encrypt and protect pictures using 256-bit AES encryption technology. Blubox V4 is available now for £19.99.
Blubox Software Press Release
DON'T GET YOURS CAUGHT IN THE ZIPPER!
QUICKLY COMPRESS AND DE-COMPRESS YOUR DIGITAL PHOTOGRAPHS BY UP TO 95%, MAKING IT EASIER AND SAFER TO SHARE THEM THAN EVER BEFORE!
Ever wondered what happens when you 'zip' a digital photograph?
Try it and you are guaranteed to be surprised by the fact that very little happens.  ZIP - the ubiquitous compression solution originally designed for PC nearly 20 years ago, is simply not designed to compress or secure the rich media file formats of the 21st century.
Launched by Blubox Software Limited 'Blubox V4' is the world's most advanced software compression application for digital images available today.  Designed to use a variety of compression algorithms Blubox supports all 'Zip' formats, Blubox offers unprecedented compression of digital photograph formats, with bullet proof security. 
Blubox is an exciting new software application which combines state of the art data compression technology with industry standard encryption.  Blubox has been designed for the digital camera and Internet consumer market; allowing a user to dramatically improve the digital photo sharing experience over the Internet and ensuring the protection of private and personal information.  Blubox users can:
- Compress photos by up to 95% without sacrificing picture quality
- Encrypt and protect pictures using 256-bit AES encryption technology
- Dramatically reduce the time taken to send photos by email and FTP.  Send a whole album in the time it usually takes to email a couple of photos!
-    Unlike other compression products, Blubox lets you view pictures while they are still compressed and encrypted
- Print directly from within the Blubox program or extract and then print
- Organise and store photos inside Blubox archives saving disk space and protecting private information from intruders
- Extract images back to their original file format for use in other programs
Too many of today's computer and Internet users are getting their data caught in the Zipper! Users habitually 'zip' digital photographs believing that they are reducing the digital photo file size for easier Internet use…..this is simply not the case.  For most, getting caught in the zipper can be an embarrassing and sometimes painful experience.
"While working on a major healthcare project we discovered that 'Zip' compression utilities simply could not compress digital photos which led us to investigate the 'Zip' formats in more detail" explains Peter Boswell, CEO, Blubox Software.  "After extensive research we realised that there was a massive gap in the market for software that could offer compatibility with the existing 'Zip' products but go much further by offering the user the ability to significantly shrink their digital photos without sacrificing the Hi-Resolution quality of the original image file."
For most PC users, the file formats that usually require compression are the memory hungry digital photos and video files.  The unprecedented growth of digital image file sizes over the last 3 years has been partly driven by the consumer's desire for higher mega pixel CCD capacity for their personal digital cameras and mobile phones.  'Zip' provides acceptable compression for text based files, but has been unable to cope with the demands of the modern file formats.
By storing digital images in a Blubox container the user is ensuring that these priceless memories are held in a protected stable digital environment suitable for efficient storage and communication.

Blubox V4.0 has been developed by Blubox Software Limited, part of the ROK Group of Companies.  It will be available from 1st December 2007 for £19.99.  It can downloaded from the Blubox website http://www.blubox.com
System Requirements
PC running Windows 2000, XP or Vista; Microsoft .NET framework version 2.0 or higher; License registration requires a connection to the Internet; We also recommend that you have at least a 400 MHz processor, 64 MB RAM and 15 MB free disk space on your hard drive.
About Blubox Software
Blubox Software Limited, formed in 2006, has already established itself as a leading innovator as an independent software application and technology development company specializing in the design and development of encryption and compression desktop and mobile software applications and utilities.
Your Comments