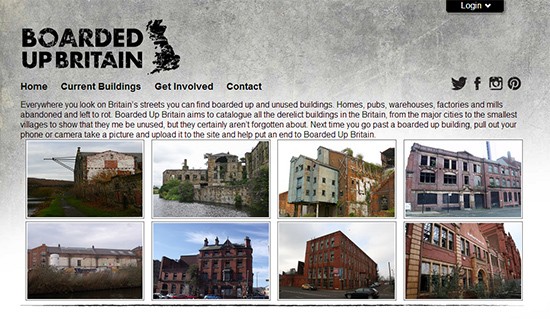 Boarded Up Britain, a website aimed to document all of the boarded up buildings in Great Britain will be launched on 26th November and members of the public are now being encouraged to upload pictures of derelict buildings in their area to help raise awareness of them. Matthew Dyas, Boarded Up Britain coordinator said: "No matter where you look nowadays you'll find an empty building. Homes, pubs, warehouses and mills abandoned and left to rot. You can't even escape it on the high street, with over 1 in 10 shops now lying vacant… If you're sick of that derelict building up at the end of your street, [photograph it and] upload it to the website and let's try and do something about it."
Website: Boarded Up Britain Launching on 26 November 2012
Boarded Up Britain Press Release
'Boarded Up Britain' Launched To Catalogue Unused and Unloved Buildings of the UK
Public Invited to Add Buildings to Help Draw Attention to Derelict Building in Their Area
Boarded Up Britain, a website aimed to document all of the boarded up buildings in Great Britain will be launched on 26th November 2012 and members of the public are now being encouraged to upload derelict buildings in their area to help raise awareness of them in the hope that something will be done about them.
Boarded Up Britain was founded by affordable property developer FreshStart Living who want to draw attention to the UK's boarded up buildings so they can be transformed into affordable properties.
Research suggests that unless 300,000-330,000 new homes are built every year, the UK will fail to deal with a backlog of two million few homes. Last year 390,000 new households formed - yet only 114,000 new homes were built. FreshStart Living believe the answer lies with the UK's existing boarded up buildings which can be transformed quickly and cost effectively into affordable properties.
Matthew Dyas, Boarded Up Britain coordinator said:
"No matter where you look nowadays you'll find an empty building. Homes, pubs, warehouses and mills abandoned and left to rot. You can't even escape it on the high street, with over 1 in 10 shops now lying vacant.
"We want to draw attention to these buildings and put an end to Boarded Up Britain, but we need the public's help to do it. If you're sick of that derelict building up at the end of your street, upload it to the website and let's try and do something about it.
"Through Boarded Up Britain we want to collect information on all the derelict buildings across Britain so we can find out who owns them and put pressure on them to do something about it. We want to take a use it or lose it stance, why have a building sat there when it could be transformed into something that would be more useful such as affordable housing or even a community centre."
Charlie Cunningham, CEO of affordable property developer FreshStart Living said:
"Here at FreshStart Living we think Boarded Up Britain is a fantastic idea and we pledge to add all of our pipeline developments to the site so residents in the area can keep updated on the building in their area.
"When we go looking at new sites and developments we often get residents coming up to us and saying 'It's about time you're doing something with this building' and I have to explain that we aren't the owners. Boarded Up Britain will help to solve this problem by allowing people to find out more about the derelict buildings in their area.
"What's more, it will also help them to raise awareness of buildings that have been sat there unused for years and show the current building owners that the local residents are sick of being surrounded by these derelict buildings and they want something done about it."
By using social media to spread the word about individual buildings it is thought that the power of the crowd can be utilised so the owners of the buildings can be held to account and something will be done about the building.
There are already several buildings uploaded to the website including FreshStart Living's residential developments Trafford Press and Empress Mill but now Boarded Up Britain are encouraging members of the public to upload more buildings by visiting www.boardedupbritian.com.
Your Comments