Breathing Color Launches "Go Lyve" Photo Competition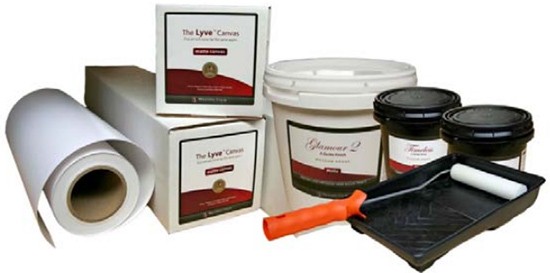 Breathing Color recently launched the "Go Lyve" international print competition with $10,000 worth of prizes. Entrants are required to purchase a roll, box or trial roll of of Breathing Color's Lyve Canvas between 15 August through 31 December 2011, print their favourite image on it at a size of 16x20 inches or less, and send the print to Breathing Color, Att: "Go Lyve Print Contest", 18552 MacArthur Blvd., Suite 100. Irvine, California, 92612. For contest rules and a detailed list of prizes, visit the website below.
Website: Breathing Color Blog
Press Release
GO LYVE OFFERING $10,000 REWARD FOR BEST PHOTO…on Canvas Contest Brought By Breathingcolor.com
www.breathingcolor.com/blog/go-lyve
IRVINE, CA AUGUST 15, 2011 – Award-winning inkjet paper and canvas manufacturer BreathingColor.com is looking for the best Photo on Canvas and is offering a $10,000 reward to find it.  "Go Lyve" is the name of the international contest, and each entrant is to print their best photo on Breathing Color's, Lyve Canvas and submit it to Breathing Color on or before Dec. 31st 2011.
The winning print will receive the following prizes:
? 5 days at Maui's Kaanapali Beach Resort ($1000 value)
? $1000 worth of Breathing Color Inkjet Media
? A Canon IPF6300 24" printer ($3500 value)
? A complete collection of Nik Software ($600 value)
? An X-Rite ColorMunki & Color Checker Passport ($600 value)
? One of two Tamron SP Zoom lenses ($650 value)
? A 4-hour guided photo tour on Maui with well-known photographer Michael Gilbert ($2650 value)
The sponsors of this contest include:
Canon, X-Rite, Nik Software, Tamron & Breathing Color.
Photographers and printmakers can get more information and entering the contest by
visiting: www.breathingcolor.com/blog/go-lyve
Your Comments