Breeze Systems PSRemote 1.5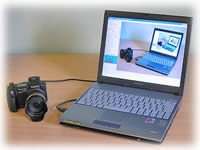 Breeze Systems Press Release
New Breeze Systems PSRemote 1.5 supports Canon PowerShot A620, S80, S2 IS and S3 IS cameras and improves exposure control
16th March, 2006: Breeze Systems today announced PSRemote 1.5. Photographers can now use Breeze Systems' highly regarded software to control the Canon PowerShot A620, S80, S2 IS and S3 IS cameras as well as many other PowerShot models. Improve exposure control in tricky lighting conditions with PSRemote's unique ability to auto bracket a sequence of up to 15 images with a Canon PowerShot camera. PSRemote 1.5 allows auto bracketing by varying the shutter speed or the aperture and is ideal for capturing high dynamic range images (HDR).
PSRemote enables Canon PowerShot users to:
  * See high resolution previews of shots on a PC within seconds
  * Gain unrivalled control of settings for Canon PowerShot cameras when tethered to a PC
  * Display a live viewfinder view on the PC screen
  * Store images directly onto the PC's hard disk
  * Remember camera settings and restore them when PSRemote is next used
  * Take better online auction photographs
  * Take time lapse sequences by specifying the number of shots and interval between shots
New post processing options in PSRemote 1.5 can resize, auto level and sharpen images making it ideal for product photography and online auction photographs.
PSRemote 1.5 also adds the ability to use motion detection from the live viewfinder images to automatically take pictures when motion is detected. This has many uses including wildlife photography and security work. Please note the motion detection requires Webcam Zone Trigger software which must be purchased separately.
PSRemote is software developed and sold by Breeze Systems for Canon PowerShot cameras. The program runs on Windows and is available on a free trial. PSRemote is available from Breeze Systems' website www.breezesys.com for US $49. This release is a free upgrade for all existing registered customers of PSRemote.
Professional photographers and Canon EOS digital SLR users can control their cameras using Breeze Systems DSLR Remote Pro software.