Calumet Chief Pledges to Help 'Stranded' Jessops Customers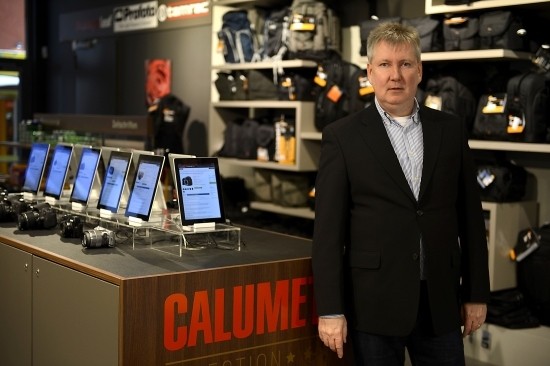 Calumet has made an offer of free help to any Jessops customer left stranded with warranty repair issues following the recent collapse of the high-street retailer. Christof Bergmann, MD at Calumet Europe, said: "Customers experiencing these problems can walk into any Calumet store with their appropriate receipt and our staff will handle the dispatch and return of the product along with all the necessary paperwork – and we will make no administration fee for this service."
Calumet Press Release
Calumet chief pledges to help 'stranded' Jessops customers
Calumet has made an offer of free help to any Jessops customer left stranded with warranty repair issues following the recent collapse of the High Street retailer.
In a message to the UK photo-community Christof Bergmann, MD at Calumet Europe, said Calumet's doors were open across the country to provide professional assistance with manufacturers' warranty repair issues.
He said: "Customers experiencing these problems can walk into any Calumet store with their appropriate receipt and our staff will handle the dispatch and return of the product along with all the necessary paperwork – and we will make no administration fee for this service."
Bergmann said that Jessops had over many years had a strong impact in promoting photography to the general public.
He added: "They may have been a major competitor for us but the fact that they enabled many photographers to handle products in a showroom environment across so many cities contributed substantially to the incredible increase in the popularity and use of digital DSLR cameras in recent years. We have the greatest sympathy for their staff at this time and we wish them well."
In the statement Bergmann underlined the paradox of failed retailers and growing popularity and enthusiasm for photography.
He said: "We have now witnessed two high profile companies, Jacobs and Jessops, falling into administration in the last year - and we have seen others reducing store numbers and blaming the internet for sales declines. But the fact remains that photography is more popular than ever and manufacturers continue to launch and market many new products to satisfy those with a passion for photography. Other retailers continue to expand thanks to the environment they offer customers. The key is to create engaging surroundings that cannot be replaced by the internet. We believe that the experience of touching and trying products, whilst interacting with highly knowledgeable people, can never be replaced."
Bergmann said he believed the key to ongoing success in the imaging retailing world would lie in flexibility and responding quickly and professionally to customers' needs.
"Every photographer has different needs and requires different solutions. This is why at Calumet we have extensive rental departments and a 'try before you buy' service. We have introduced live studios and workflow solutions in-store, enabling photographers to use products in real-life shooting environments.  Of course we also understand the importance of the internet to our customers - so we make choosing online easy and we offer free shipping for orders over £100. Additionally, we offer extensive workshop and seminar programmes across many photo-disciplines. 
We aren't just selling boxes, we are thinking outside those boxes too. It is about adding value. This must be the future for our industry."
Your Comments