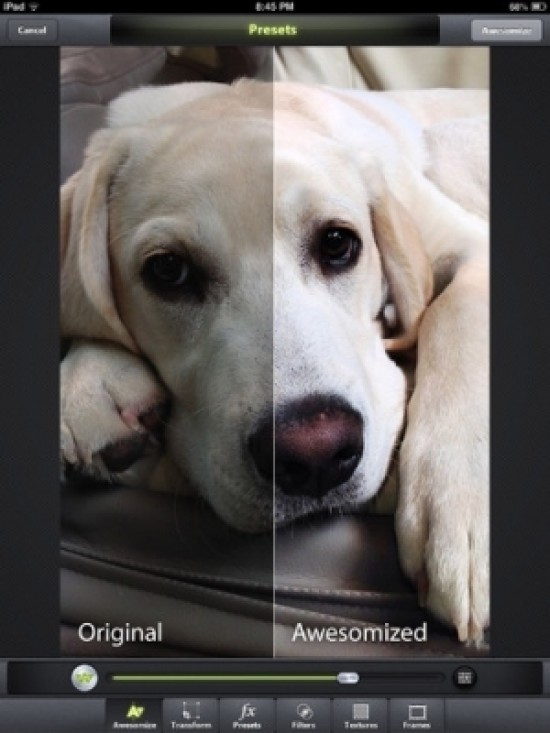 SmugMug's little photo app, Camera Awesome, has just turned one year old. This app enables users to capture images faster, and offers features like a built-in electronic level and the ability to focus on one spot and set exposure on another. Additionally, it allows for a wide range of one-tap adjustments including filters, borders and special effects. Photos can then be shared via email, or uploaded to Facebook, Twitter, YouTube, SmugMug, Flickr, Picasa and Photobucket. According to SmugMug, the free app has been downloaded from iTunes by nearly thirteen million people
Smugmug Press Release
Camera Awesome Celebrates First Birthday and Toasts to Millions of Users
Nearly 13M Users and 250M Photos Taken with the Popular iOS Photo App
MOUNTAIN VIEW, Calif., March 5, 2012 – One year ago today, online photo-hosting and sharing leader, SmugMug released a little photo app called Camera Awesome. Today, nearly 13 million people have downloaded the app and used it to capture, "awesomize" and share 250 million beautiful photos. 
Available for free in the App Store, Camera Awesome pumps photos up to the next level by shooting faster and taking sharper, better-exposed shots. The app makes memories come alive with hundreds of gorgeous effects and allows users to share photos with friends and family on their favorite online sites. The top five most popular Camera Awesome presets are: Blue Pill (17%), Goddess (14%), Road Trip (12%), More Wang (11%) and More Cowbell (11%).
"What started as a passion project to create a quality photo app, Camera Awesome has grown to exceed every expectation for us and our amazing users," said Don McAskill, CEO and Chief Geek of SmugMug. "We couldn't be more thankful to the millions of people around the world who have tapped, snapped, filtered, cowbelled, and scooticorned us all the way to top of the iTunes store charts. And we're not stopping there – stay tuned for our Android app launching very soon."
Here are some of Camera Awesome's biggest milestones over the past year:
?    February 2013: Happy first birthday Camera Awesome! Also added volume shutter button and a fix for exporting photos to Instagram
?    December 2012: Introduced Tumblr integration and iPhone 5 optimization + 9M users and 200M photos taken
?    November 2012: Camera Awesome's infographic http://smu.gs/15REy2Y  
?    October 2012: Launched Camera Awesome for iPad + 7M users and 160M photos taken
?    March 2012: Released $9.99 preset bundle, Instagram integration + 4M users, 2M of which downloaded the app in the first week
?    February 2012: Camera Awesome was born on 2/27 at 3:33pm PT!
With nearly 300 different special effects, presets, filters and frames to choose from, Camera Awesome offers endless ways for users to awesomize their photos, then share them through email, SMS or on any of the following social sites: Facebook, Twitter, YouTube, SmugMug, Flickr, Picassa, Photobucket, Instagram and Tumblr.
Camera Awesome is free and available for iPhone and iPad users at the App Store. Learn more at http://www.awesomize.com/ or view a slice of the Awesomverse on SmugMug here: http://smu.gs/Z0gwh2
About SmugMug?
What's missing from online photo/video hosting and sharing? Passion. Meet SmugMug, with billions of happy photos and millions of passionate customers. A photo sharing service with unmatched security, unlimited uploads, originals archiving, customizable privacy controls and heroic support. We're committed to providing a fun, safe and simple experience for as little as $5/month or $40/year. Archive, share and print the photos you love with SmugMug. Learn more at www.smugmug.com.??
Your Comments