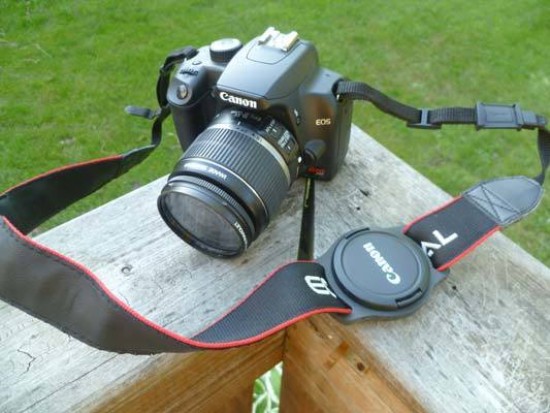 The Camera Lens Cap Holder makes sure that you won't lose a lens cap again. Mark Stevenson's lens cap holder allows you to securely attach a camera's lens cap to your neck strap or camera bag. Initially there will be ten lens cap sizes. 52mm, 55mm, 72mm & 77mm for Nikon, Pentax, Fujifilm, Sony, Pro-series and vintage lenses, 46mm, 58mm & 67mm for M4/3, Cannon and Nikon lenses, and 40.5mm, 49mm & 62mm for M4/3, Olympus and vintage lenses.
The Camera Cap Holder secures your camera's lens cap to the neck strap or camera bag. 
The design is elegantly simple; a single part that threads onto a camera's neck strap.  A circular recess in the body allows a lens cap to be attached just like putting it on the lens.  Just press the release mechanism already in your lens cap and engage or disengage with the Lens Cap Holder.  The cap holder does not require any modification to the camera or lens cap, while keeping the lens cap secure and out of the way.  The Lens Cap Holder comes in 10 different lens cap sizes and is currently looking for investors over at Kickstarter.  A $15 donation gets you a preproduction holder. 
Check it out at: http://kck.st/k8NzWw
Your Comments