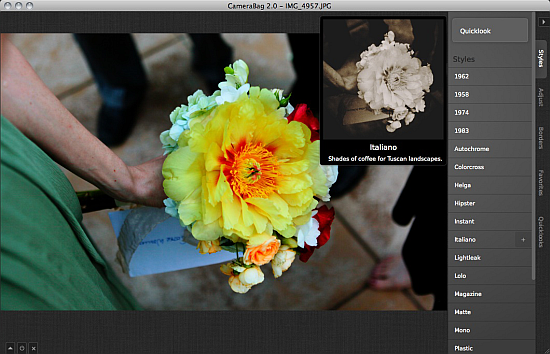 Nevercenter has announced that a free, fully-functional public beta of CameraBag 2 Desktop, a Mac/Windows program which allows you to simulate the look of many classic film types and techniques, is now available for download. "[The software[ is much like those apps that add instant filters to your photos, but CameraBag 2 Desktop has a much higher level of control, allowing you to adjust the levels, combine filters and layer effects," the company says. "It's intended to bring back the feeling of film, but without all the hassle of developing your own Photoshop filters." You can download CameraBag 2 from the website below.
Website: CameraBag Desktop
Nevercenter Press Release
CameraBag 2 Public Beta Released
December 6, 2011
A free, fully-functional public beta of CameraBag 2 for Mac and PC is now available at nevercenter.com/camerabag/beta. Use it as much as you like – no restrictions – throughout the beta period, and then let us know what you think.

The new CameraBag handles all photo tasks, from basic adjustments and cropping to powerful high-end controls, and it features the modern and vintage styles we're known for. But it's also more than that. We've rethought what photo editing means, how it should work, and why, of the billions of photos taken each year, nearly every shot looks much, much worse than it should.

That's a lot of ugly photos.

So how did we do? Try it out, and let us know. We'll be designing to your specifications. The beta will remain fully functional and freely available to all throughout the holiday season. Do it for the ugly ones.

Visit nevercenter.com/cb2 to download, or follow these links to get it directly from Amazon CloudFront: bit.ly/cb2betamac (Mac version) or bit.ly/cb2betawin (Windows version).
More About CameraBag 2

A Whole New Approach To Photo Editing
CameraBag 2 redefines what it means to work with photos, melding vintage and modern styles with advanced photographic control in a stunning, and stunningly simple, new interface.

Freedom To Play
The best results come from the freedom to play. With CameraBag 2 you can immediately start playing with your photos even when you don't know what look you want in the end. Instantly compare both vintage and modern versions of your photo in dozens of styles, side-by-side, with beautiful full-screen previews. The innovative Remix slider lets you smoothly try out infinite variations without having to worry about the details, bringing back the "happy accidents" of analog film. Of course, if you do want to worry about details, the new CameraBag has those covered too.

Advanced Control
CameraBag 2 features a full suite of advanced photographic controls, from simple contrast and exposure adjustments to vignette simulation, color correction, and curve editing. Applied styles and adjustments appear as tiles in the bottom tray, where they can be edited and rearranged at any time. You can save any filter combinations you've created directly into the interface to reuse, so CameraBag 2 grows more powerful, and more tailored to you, as you use it.

Revolutionary Workflow
With the new CameraBag's stylish, innovative interface, you'll enjoy working with photos as much as you love the results. It's easy to do everything from basic adjustments to complex effects with large, high-detail sliders and a non-destructive tile-based layering system. Photo editing should have always been this simple. It's easy to add your own created styles to the menu right next to built-in effects. Camerabag 2 grows and adapts as you use it, and you never have to do the work twice.

The Analog Engine
At CameraBag 2's core is the brand new Analog Engine: high-fidelity, 32 bits-per-channel, non-destructive, multi-threaded image processing. In other words, it's fast, and even the most heavily-modified photos retain smooth film-like colors (especially if you're working with RAW files). The new CameraBag stands up to and often surpasses the processing power and fidelity of dramatically more expensive professional photo software.
Your Comments