Canon Announces Sure Shot 150u Film Compact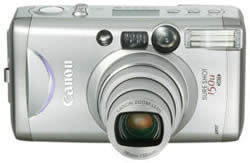 Canon USA Press Release 09/02/04
CANON'S NEW SURE SHOT 150u CAMERA PUTS MORE FUN, FEATURES AND AFFORDABILITY IN COMPACT, LIGHTWEIGHT, EASY-TO-USE POINT & SHOOT
New Pocket-Sized 35MM Point & Shoot Camera for Price Point Savvy, Quality-Conscious Consumers
LAS VEGAS (PMA, BOOTH # E11), Feb. 9, 2004 - Shooting primo pictures with the new Canon Sure Shot 150u camera is the absolute soul of simplicity. Whether capturing for posterity baby?s first haircut or any of a thousand other meaningful milestones, the Sure Shot 150u camera ensures that Moms and Dads, doting Grandparents and any other member of the extended family can focus on snapping a phenomenal photo without worrying about the picture taking process. Indeed, its outwardly simple design is literally a cover for inner workings so smart that the Sure Shot 150u camera captures brilliant images with little more than a click of the shutter button.
With its sleek lines, uncluttered instrumentation, smooth 3.9x, 38-150 mm optical zoom lens and a light and durable aluminum case packed with a flock of features, this newest entrant into the line of Sure Shot u-series lens shutter cameras arrives in stores this April with an estimated selling price under $150.
?We are delighted to bring this extremely intuitive, uncomplicated 35mm compact camera to consumers seeking superior image quality, a comprehensive range of features and do so at a very reasonable price point,? states Yukiaki Hashimoto, senior vice president and general manager of the consumer-imaging group at Canon U.S.A. ?The Sure Shot 150u camera is an extraordinary example of how far the film camera has come and how simple to use it has become.?
Smaller in width and height than its Sure Shot siblings ? the models 130u and Z155 ? and weighing in at less than seven ounces, the Sure Shot 150u camera nonetheless offers some heavyweight photo features including wide area 7-point/3-zone passive AiAF Auto Focus system that switches automatically as the lens is zoomed to preserve off-center coverage even when the lens is at its wide-angle zoom setting. In short, this ?Smart? autofocus system knows how to keep the subject in focus even when the subject is not in the center of the frame.
Simply Advanced
Among the camera?s distinguishing characteristics ? and underscoring its simple operation ? is the total absence of controls on the back of the camera. All controls, including a small but easy to read LCD display, are located on the top of the camera. What?s more, the Sure Shot 150u?s five Programmed Image Control (PIC) modes are selected from the camera?s LCD display, dispensing with the need for a separate mode dial. The PIC automatically set the camera?s autofocus, exposure metering and film advance for optimum results based on which of the five shooting modes the user selects. Examples of PIC?s intelligent innovations are the Portrait mode that automatically zooms the camera to maintain head-and-shoulders composition as the lens focuses on the subjects and the Action mode, which engages a continuous servo autofocus that follows moving subjects. The remaining PIC settings are landscape, close-up and night scene modes.
Genuine Canon Optics
The Sure Shot 150u camera?s built-in 38-150mm optical zoom lens carries on the Canon tradition of optical excellence, born of generations of lens making experience and expertise. This nine element zoom ? constructed using high quality Canon glass ? is designed with two aspherical elements for low distortion, excellent optical quality and clarity and compact size.
Among the Sure Shot 150u camera?s other advanced capabilities are the Light Guide Flash that automatically fires in low light and backlit conditions to ensure proper exposure under virtually any shooting conditions. The Light Guide Flash also provides even illumination throughout the camera's zoom range and can be set to AUTO (with and without red-eye reduction), Flash ON, Flash OFF and Slow-Sync for combining flash photography with natural light. The camera also employs a CMOS light-metering sensor with automatic backlight detection capability and even offers users the option of manually setting their own exposure compensation up or down 1.5 stops.
For additional flexibility, the Sure Shot 150u compact 35mm camera also offers users a menu of five custom options that suit their individual preferences, habits and style of shooting. This custom menu features settings for real time shutter release, to save flash modes when the flash is turned off, to cancel the automatic rewind at the end of a roll of film, to limit the autofocus to the center point only and finally, continuous one frame per second shooting.
Canon U.S.A., Inc. delivers consumer, business-to-business, and industrial imaging solutions. The Company is listed as one of Fortune's Most Admired Companies in America, and is ranked #39 on the Business Week list of "Top 100 Brands." Its parent company Canon Inc. (NYSE:CAJ) is a top patent-holder of technology, ranking second overall in the U.S. in 2003. Canon Inc. achieved global revenues of $29.9 billion in 2003; $9.8 billion of which came from Canon Americas. For more information, visit http://www.usa.canon.com.