Canon Digital IXUS 800 IS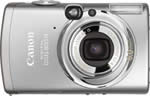 PMA 2006: The Canon Digital IXUS 800 IS is announced today. 6 megapixels, image stabilized 4x zoom lens (first time on an IXUS), ISO 800. The Canon IXUS 800 IS will be available from April 2006, priced at £399.00 / €589.99.
Canon UK Press Release
Canon's new Digital IXUS 800 IS: A new class of IXUS (called the Canon PowerShot SD700 IS Digital ELPH in the USA).
 
Canon is pleased to announce the launch of the Digital IXUS that advanced photographers have been waiting for – the 6.0 Megapixel Digital IXUS 800 IS. Redefining the boundaries of compact camera design, the new flagship of the Digital IXUS range fits a 4x optical zoom lens and Canon's optical Image Stabiliser (IS) technology into an incredibly slender body. "IXUS is synonymous with distinctive style and leading technology," comments Mogens Jensen, head of Canon Consumer Imaging Europe. "The Digital IXUS 800 IS adds another dimension to the range with a new level of functionality that will thrill serious photo enthusiasts.
Exquisitely styled with a unique 'Curvature and Stream' design, the camera incorporates a host of cutting-edge features and shooting options to satisfy the most demanding of photographers, including:
- ISO 800 and optical IS for flash-free indoor shooting
- Canon's DIGIC II image processor, iSAPS and 9-point AiAF
- Wide viewing angle 2.5" LCD screen
- 16 shooting modes
- My Colors photo effects
- Widescreen (16:9) stills recording
- 30fps VGA movies
4x optical zoom with Image Stabiliser
Smaller, lighter camera bodies are more susceptible to camera shake from handheld shots, especially in low light situations. The Digital IXUS 800 IS employs the same optical Image Stabiliser (IS) technology used in Canon's professional EF lenses to reduce the image blur caused by camera shake. IS allows for sharper flash-free shooting by enabling photographers to shoot at shutter speeds up to 3 stops slower. It also allows for steadier macro shooting when using the camera's 2cm Macro mode.  To incorporate this technology into such a compact space, a new IS processor chip was developed by Canon's engineering team. The new chip accurately controls the movement of lens elements, delivers fast, precise shake correction – processing up to 4000 signals per second – and contributes to lower power consumption.
The 4x optical zoom lens incorporates an Ultra-High Refractive Index Aspherical (UA) lens to achieve a focal length range of 35-140mm (35mm equivalent) while allowing the camera to maintain a slender profile. The camera retains a real-image optical viewfinder despite its compact size, enabling users to frame without the LCD and further extend the camera's impressive 240-shot battery capacity.
Increased ISO speed
The Digital IXUS 800 IS incorporates ISO 800 to facilitate flash-free shooting indoors - ideal in low-light environments where the use of flash is not desirable or appropriate, such as churches and concerts. A new High ISO Auto setting automatically sets exposure using the higher range of ISO sensitivities, prioritising faster shutter speeds to avoid blur from camera shake or moving subjects.
New design
In keeping with its status as a new class of IXUS, the Digital IXUS 800 IS has a resolutely unique appearance that sets it apart from its predecessors. In an evolution of the Perpetual Curve design found on the Digital IXUS 750, the camera's elegant contours are accentuated by a striking tri-coloured design – 'ice metal' silver and 'moonlight' silver in satin and glossy finishes, complemented by an ebony black gloss surrounding the LCD screen. Designer Kosei Takahashi has dubbed his concept 'Curvature and Stream', a reference to the elliptic curves of each coloured segment and the bold, flowing lines that appear where segments meet.
The large 2.5" LCD screen gracing the back of the camera features a wide viewing angle for easy sharing of images. A selectable Grid Line Display helps with image composition, while Night Display aids screen visibility after dark. The camera's mode dial is embedded into the body of the camera, leaving thumb space clear for an easier grip.
Creative shooting
Canon's My Colours photo effects can now be applied to images both before and after shooting, offering users more opportunities to customise their creations without having to connect to a PC. The Digital IXUS 800 IS offers 16 shooting modes including Manual mode. Preset scene modes assist with tricky lighting conditions, including an Underwater mode for shooting underwater with the optional Waterproof Case.  Colour Accent and Colour Swap modes enable dramatic colour effects to be applied to both images and movies.
A new Widescreen recording mode (2816 x 1584 recording pixels) allows for still image capturing in 16:9 format – perfect for viewing images on widescreen television or printing wide photos with a SELPHY CP series Compact Photo Printer .
The camera's powerful movie features enable recording of 30fps VGA movie clips of up to 1GB . A 60fps QVGA mode is ideal for recording fast action sequences and analysing them in slow motion, while the handy Compact mode records up to three minutes of footage in low resolution for easy sharing via email.
Printing and other new features
A new Print menu simplifies printing of multiple images. Full PictBridge support means users can print directly to any PictBridge compatible printer without the need for a PC. The camera's ID photo and movie stills features are also available when connected to a SELPHY CP Compact Photo Printer. A Print/Share button allows one-touch printing and easy uploads to Windows or Mac systems.
The camera's menu system now features support for Arabic, bringing the total number of supported languages to 23.
Pricing and availability
The Digital IXUS 800 IS will be available from April 2006, priced at £399.00 RRP inc. VAT/ €589.99 RRP inc. VAT.
Reader enquiries
UK – 08705 143723 / www.canon.co.uk    
Eire – (01) 2052400 / www.canon.ie
Software and CANON iMAGE GATEWAY
The Digital IXUS 800 IS comes bundled with the following Canon Software:
- ZoomBrowser EX 5.6 (Windows), ImageBrowser 5.6 (Macintosh): For organizing and editing images, movies and slideshows, or creating and printing digital photo albums.
- PhotoStitch 3.1: For creating panoramic photos from multiple images (Windows and Macintosh).
The software package also includes ArcSoft's photo manipulation software, PhotoStudio.
The bundled software supports Windows 98 SE, Me, 2000 (SP4), XP (SP1/2) and Macintosh OS X v10.2-v10.4. The Digital IXUS 800 IS supports PTP for driverless transfer to Windows XP and Macintosh OS X.
Purchasers of the camera are eligible for membership of CANON iMAGE GATEWAY , 100MB of online 'personal gallery' space for sharing stills and video with family and friends.
Optional Accessories
An optional Waterproof Case (WP-DC5) allows users to bring the camera to a depth of up to 40 metres for compelling underwater shots. Specially designed Weights (WW-DC1) are available to control camera buoyancy. Other accessories include:
- High Power Flash HF-DC1
- Soft Leather Case (DCC-70)
- Digital IXUS Metal and Leather Neck Straps
- Compact AC Power Adapter (ACK-DC30)
The camera is compatible with MMC/SD cards, and comes supplied with a 16MB Canon memory card.
Technologies Explained
DIGIC II
Canon's purpose-built DIGIC II (DIGital Imaging Core) image processor links all primary camera functions for maximum efficiency. High-speed processing results in outstanding responsiveness, rapid auto focus and extended continuous shooting ability. Advanced image processing algorithms deliver superb image detail and colour reproduction with accurate white balance and minimal noise. DIGIC II operates efficiently to extend battery life, for longer shooting on a single charge.
iSAPS
iSAPS (Intelligent Scene Analysis based on Photographic Space) automatically optimises key camera settings before every shot. Each scene is analysed and cross-referenced against Photographic Space – a vast in-camera library of photographic data. This enables the camera to make optimal adjustments to auto exposure, auto focus and auto white balance before image capture occurs.
9-Point AiAF
Canon's 9-point AiAF (Artificial Intelligence Auto Focus) automatically scans and selects subjects from a set of nine focusing areas across the scene. This ensures accurately focused images even when subjects are not in the centre of the frame.
Optical Image Stabiliser
Canon's optical Image Stabiliser (IS) technology uses special vibration sensors to detect and correct slight camera shakes that can cause image blur. It allows photographers to shoot at shutter speeds up to 3 stops slower with no perceptible increase in image blur. IS is extremely helpful in low light situations, at full zoom and when shooting macro photography.
Ultra-High Refractive Index Aspherical (UA) lens technology
Canon's UA lens was the world's first ultra-high refractive index glass moulded aspherical lens. Made from glass with a higher refractive index than other aspherical lenses, it allows for an exceptionally slim and compact lens unit. The glass moulded aspherical shape delivers remarkable image quality and avoids the image aberrations that can occur with spherical lens designs.
About Canon (UK) Limited
Canon is a world-leading innovator and provider of imaging and information technology solutions for the home and office environments.

Canon has a global philosophy of Kyosei - living and working together for the common good, which clearly demonstrates commitment to customers, staff and the environment shared by all.
Canon (UK) Ltd is the UK marketing and sales operation for the US$33 billion global company based in Tokyo, Japan.  In the UK Canon employs over 2,000 people in various locations including Ireland and has achieved sales of £522m in 2004.
The main business focus for Canon (UK) Ltd, covers two clearly defined market segments: Business Solutions covering both the office and professional printing environments (including: multifunctional printers, IT consultation and peripherals: photocopiers, printers, fax machines, document management hardware & software, multimedia LCD projectors) and Consumer Imaging (input solutions: film and digital cameras, camcorders, binoculars and scanners; and output solutions: Ink Jet printers, fax machines, desktop multifunctionals and multimedia projectors).
IMAGE SENSOR
Type 1/2.5" CCD
Effective Pixels Approx.6.0M
Colour Filter Type Primary Colour
IMAGE PROCESSOR
Type DIGIC II with iSAPS technology
LENS
Focal Length 5.8 - 23.2 mm (35mm film equivalent: 35 – 140mm)
Zoom Optical 4x, digital approx. 4.0x (6), combined approx. 16x
Maximum f/number f/2.8 – f/5.5
Construction 7 elements in 5 groups (2 aspherical elements, including 1 UA element)
Image Stabilisation Yes (shift-type)
FOCUSING
Type TTL
AF System/ Points 9-point AiAF, 1-point AF (Fixed centre)
AF Modes Normal, Macro, Infinity
AF Lock On/Off Selectable
AF Assist Beam Yes
Closest Focusing Distance 2cm
EXPOSURE CONTROL
Metering modes Evaluative, Centre-weighted average, Spot (centre)
AE Lock On/Off Selectable
Exposure Compensation +/- 2 EV in 1/3 stop increments
ISO Speed Equivalent AUTO, High ISO Auto, 80, 100, 200, 400, 800
SHUTTER
Speed "15 – 1/1,600 sec
(Shutter speeds of 1 sec. and more, available in Long Shutter Mode only. Shutter speeds of 1.3 sec. and more operate with noise reduction)."
WHITE BALANCE
Type TTL
Settings Auto, Daylight, Cloudy, Tungsten, Fluorescent, Fluorescent H, Custom
VIEWFINDER
Viewfinder Real-image zoom, optical viewfinder
LCD MONITOR
Monitor 2.5" P-Si TFT, approx. 173,000 pixels
Coverage 100%
Brightness Adjustable to one of fifteen levels
FLASH
Modes Auto, Manual Flash On / Off
Slow Sync Speed Yes
Red-eye Reduction Yes
Flash Exposure Lock Yes
Built-in Flash Range 50cm-3.5m (W) / 2.0m (T) (at ISO AUTO equivalent)
External Flash Canon's High Power Flash HF-DC1
SHOOTING
Modes Auto, Manual, Digital Macro, Portrait, Night Snapshot, Stitch Assist, Movie, Special Scene (Foliage, Snow, Beach, Fireworks, Underwater, Indoor, Kids & Pets, Color Accent, Color Swap)
Photo Effects My Colors (My Colors Off, Vivid, Neutral, Sepia, Black & White, Positive Film, Lighter Skin Tone, Darker Skin Tone, Vivid Blue, Vivid Green, Vivid Red, Custom Color)
Drive modes Single, Continuous, Self-Timer
Continuous Shooting Approx. 2.1 fps(1) (until memory card becomes full)(2)
RECORDING PIXELS / COMPRESSION
Image Size (L)2816 x 2112, (M1)2272 x 1704, (M2)1600 x 1200, (S)640 x 480, (W)2816 x 1584, (Postcard Date Imprint) 1600 x 1200
Compression Superfine, Fine, Normal
Movies (L)640 x 480, 30/15fps (M)320 x 240, 60/30/15fps (S)160 x 120, 15fps
Movie Length "Up to 1GB (640x480, 320x240, 30/15fps) (2)
Up to 3 mins (160x120) (2)
Up to 1 min (320x240, 60fps) (2)"
FILE TYPES
Still Image Type JPEG compression, (Exif 2.2 [Exif Print] compliant) / Design rule for Camera File system, Digital Print Order Format [DPOF] Version 1.1 compliant
Movies AVI [Motion JPEG compression + WAVE (monaural)]
Sound Files WAVE (monaural)
DIRECT PRINT
Canon Printers Canon SELPHY Compact Photo Printers and PIXMA Printers supporting PictBridge (ID Photo Print, Movie Print supported on SELPHY CP printers only)
PictBridge Yes
OTHER FEATURES
My Camera Start-up image and camera sounds customisation
Sound Memo Up to 60 sec per image
Intelligent Orientation Sensor Yes
Histogram Yes
Playback zoom Approx. 2x – 10x
Self Timer Approx. 2 or 10 sec. or Custom
Menu Languages English, German, French, Dutch, Danish, Finnish, Italian, Norwegian, Swedish, Spanish, Simplified Chinese, Chinese (traditional), Japanese, Russian, Portuguese, Korean, Greek, Polish, Czech, Hungarian, Turkish, Thai, Arabic
INTERFACE
Computer USB 2.0 Hi-Speed (Mini-B, PTP)
Other A/V output (PAL/NTSC)
MEMORY CARD
Type "Secure Digital (SD) Card, MultiMediaCard (MMC),
16MB Memory Card supplied"
SUPPORTED OPERATING SYSTEM
PC Windows 98SE / Me / 2000 SP4 / XP / XP SP1-2
Macintosh OS X v10.2 - 10.4
SOFTWARE
Browsing & Printing ZoomBrowser EX / ImageBrowser
Other PhotoStitch
Drivers TWAIN (Windows 98 / 2000), WIA (Windows Me)
Image Manipulation ArcSoft PhotoStudio
POWER SOURCE
Batteries Rechargeable Li-ion Battery NB-5L (battery and charger supplied)
Battery life "Approx. 240 shots (4)
Approx. 360 min. playback "
A/C Power Supply Optional, AC adapter kit ACK-DC30
ACCESSORIES
Case Soft Leather Case DCC-70, Digital IXUS Metal (Neck) Strap
Waterproof / Weatherproof Case Waterproof Case (40m) WP-DC5, Waterproof Case Weights WW-DC1
Flash High Power Flash HF-DC1
Power Supply & Battery Chargers "AC Adapter Kit ACK-DC30
PHYSICAL SPECIFICATIONS
Operating Environment 0 – 40 °C, 10 – 90% humidity
Dimensions (WxHxD) 90.4 x 56.5 x 26.4mm (excluding protrusions)
Weight (body only) Approx. 165g