Canon Donates $150,000 to Cancer Research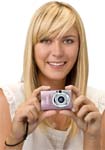 During October Canon U.S.A. will contribute $150,000 to the American Cancer Society in recognition of breast cancer awareness month. Canon have teamed up with tennis superstar Maria Sharapova to create a special "bundle", including a PowerShot SD1100 IS Digital ELPH camera and a SELPHY CP760 Compact Photo Printer, both in pink melody, a pink ribbon charm and a mammogram reminder magnet. "Breast cancer is an important issue that affects too many women and it is critical to generate awareness, educate people about this disease and the importance of early detection and yearly mammograms," said Maria Sharapova.  "I am proud to partner with Canon on this cause."
Canon USA Press Release
TENNIS GREAT MARIA SHARAPOVA AND CANON U.S.A. FORM A DOUBLES TEAM TO RAISE AWARENESS FOR BREAST CANCER
Canon Contributes $150,000 to the American Cancer Society® to Honor 10-years of Support in the Fight against Breast Cancer
LAKE SUCCESS, N.Y., October 1, 2008 – Did you know that an estimated one in eight American women will be affected by breast cancer in their lifetime?  Canon U.S.A., Inc., a leader in digital imaging, and tennis superstar Maria Sharapova today announced, the Company's "Pink" campaign, which will help raise awareness of breast cancer.  Canon has created a special "bundle," including a PowerShot SD1100 IS Digital ELPH camera in pink melody, a SELPHY CP760 Compact Photo Printer, also in pink melody, a pink ribbon charm and a mammogram reminder magnet, provided by the American Cancer Society® (the Society).
The Company's "Pink" campaign celebrates Canon U.S.A.'s 10-year support of the American Cancer Society Making Strides Against Breast Cancer®.  For the month of October, Canon U.S.A. will contribute $150,000 to the American Cancer Society® in recognition of breast cancer awareness month, which will benefit the Society's breast cancer awareness, research, patient service and advocacy programs.
"Breast cancer is an important issue that affects too many women and it is critical to generate awareness, educate people about this disease and the importance of early detection and yearly mammograms," said Maria Sharapova.  "I am proud to partner with Canon on this cause."
"We are proud to be a 10-year supporter of the American Cancer Society, working together on such an important cause," said Yuichi Ishizuka, senior vice president and general manager, Consumer Imaging Group, Canon U.S.A.  "The Society's commitment and dedication to fighting cancer through prevention, research, education and service is unparalleled."
To learn more about Canon U.S.A.'s continued commitment to fighting breast cancer, visit www.usa.canon.com.  To purchase a bundle kit of your own, while supplies last, visit the Web site at www.canonestore.com.  For additional information about breast cancer, visit www.cancer.org.
About Canon U.S.A., Inc.
Canon U.S.A., Inc. delivers consumer, business-to-business, and industrial imaging solutions.  Its parent company, Canon Inc. (NYSE:CAJ), a top patent holder of technology, ranked third overall in the U.S. in 2007†, with global revenues of $39.3 billion, is listed as one of Fortune's Most Admired Companies in America and is on the 2007 BusinessWeek list of "Top 100 Brands."  To keep apprised of the latest news from Canon U.S.A., sign up for the Company's RSS news feed by visiting www.usa.canon.com/pressroom.
Your Comments