Canon EF 85mm f/1.2 L II USM Lens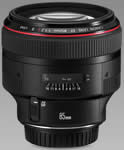 PMA 2006: The EF 85mm f/1.2 L II USM portait lens is announced today. The EF 85mm f/1.2 II USM will be available from April 2006, priced at £1629.99 / €2359.99.
Canon UK Press Release
Canon introduces its EF 85mm f/1.2 L II USM lens; ideal for portraits and low light

Canon is pleased to announce the launch of its latest professional L-series prime lens: the exceptionally fast EF 85 mm f/1.2 L II USM. With the widest aperture of any lens in the current EF range, the new model becomes Canon's definitive portraiture lens, offering extremely fine control over depth of field and consummate low light performance. With vastly improved auto focus speed, the lens replaces the popular EF 85mm f/1.2 L USM. As with all L-series lenses, the EF 85mm f/1.2 L II USM incorporates the very finest standards of precision optics.
The EF 85mm f/1.2 L II USM features:
- Canon's finest standards of image quality
- Latest Ultrasonic Motor (USM) for fast and near silent auto focus
- Full-time electronic manual focus override
- Super Spectra coatings and optimised lens element shaping to suppress flare and ghosting
- Large circular aperture diaphragm for good background bokeh and 'removal' of distracting backgrounds
- Distance information passed back to the new E-TTL II flash algorithm of all current model digital EOS cameras
- Lens hood and pouch included in the box.
L-series construction
The L-series is Canon's flagship professional lens range, designed and built to meet the needs of the most demanding professional photographers. The superb optics of the EF 85mm f/1.2 L II USM and other L-series lenses represent the pinnacle of optical performance, enabling focal length/speed/quality combinations not readily attainable using traditional optical technologies.
Portrait photography
The combination of an almost circular aperture diaphragm for attractive bokeh (evenly graduated blurring of out-of-focus areas) and the extremely narrow depth of field at its widest aperture combine to make this an ideal portraiture and studio lens. With the lens' aperture at f/1.2, photographers can create dramatic effects such as keeping a model's eye sharp while blurring the eye lash ends.
Low light shooting
The maximum f/1.2 aperture is the widest in Canon's current range and provides for shooting in low light conditions without the need for flash or slow shutter speeds. With improved auto-focus speed from Canon's latest Ring-type Ultrasonic Motor (USM), the lens is expected to be popular with professional photographers shooting indoor sports. The USM holds the lens with precision and accuracy, the instant it arrives at the correct focus and without overshoot, and features full-time electronic manual focus override . Super-fine control over depth of field afforded by the lens' large aperture allows sports photographers to deliberately 'blur out' crowds, hoardings and other distracting backgrounds.
Aspheric element
Wide aperture lenses using traditionally manufactured elements suffer from spherical aberration which causes an overall softening and optical 'smearing' of the image. To ensure high corner-to-corner sharpness and contrast of in-focus subjects throughout the focus range and at wide apertures, the EF 85mm f/1.2 L II USM incorporates a large aspherical lens element with precise variable curvature and a floating group construction.
Super Spectra coatings
In addition to optimised lens shapings to reduce reflections and the use of anti-reflective material inside the lens barrel, the EF 85mm f/1.2 L II USM employs Canon's patented Super Spectra lens element coatings. These suppress flare and ghosting – more prone to occur with digital cameras due to reflection off the image sensor. By increasing light absorption, coatings reduce reflections off lens element surfaces to deliver crisp, undistorted images with natural colour balance.
E-TTL II flash integration
The EF 85mm f/1.2 L II USM transmits distance information to the E-TTL II flash system of all current model digital EOS cameras, improving flash exposure metering when used in conjunction with Canon's range of EX Speedlite flash units.
The EF 85mm f/1.2 L II USM comes with a cylindrical lens hood and lens pouch.
In keeping with Canon's Kyosei philosophy of living in harmony with the environment, the lens features only lead-free glass.
Pricing and availability
The EF 85mm f/1.2 II USM will be available from April 2006, priced at £1629.99 RRP inc. VAT/ €2359.99 RRP inc. VAT
Reader enquiries
UK – 08705 143723 / www.canon.co.uk    
Eire – (01) 2052400 / www.canon.ie
About Canon (UK) Limited
Canon is a world-leading innovator and provider of imaging and information technology solutions for the home and office environments.

Canon has a global philosophy of Kyosei - living and working together for the common good, which clearly demonstrates commitment to customers, staff and the environment shared by all.
Canon (UK) Ltd is the UK marketing and sales operation for the US$33 billion global company based in Tokyo, Japan.  In the UK Canon employs over 2,000 people in various locations including Ireland and has achieved sales of £522m in 2004.
The main business focus for Canon (UK) Ltd, covers two clearly defined market segments: Business Solutions covering both the office and professional printing environments (including: multifunctional printers, IT consultation and peripherals: photocopiers, printers, fax machines, document management hardware & software, multimedia LCD projectors) and Consumer Imaging (input solutions: film and digital cameras, camcorders, binoculars and scanners; and output solutions: Ink Jet printers, fax machines, desktop multifunctionals and multimedia projectors).
Product specifications: EF 85mm f/1.2 L II USM

Image size -
35mm film equivalent focal length (mm) -
Angle of view (horizontal, vertical, diagonal) 24º,
16º,
28º 30'
Lens construction (elements/groups) 8/7
No. of diaphragm blades 8
Minimum aperture 16
Closest focussing distance (m) 0.95
Maximum magnification (x) 0.11
Distance information Yes
Image stabilizer No
AF actuator Ring USM²
Filter diameter (mm) 72
Max. diameter x length (mm) 91.5 x 84.0
Weight (g) 1025
Magnification with Extension Tube EF12 II 0.25-.015
Magnification with Extension Tube EF25 II 0.42-0.33
Lens hood ES-79 II
Soft case LP1219
G.F. Holder III (hood III*) (4)
G.F. Holder IV (hood IV*) (4)
Extenders EF1.4x II and EF2x II Not compatible
² Mechanical full-time manual focussing built-in.
* Maximum number of Hood III/IV attachable. In the case of zoom lenses, the maximum number applies to the shortest focal length.
**  Product specifications subject to change without notice.