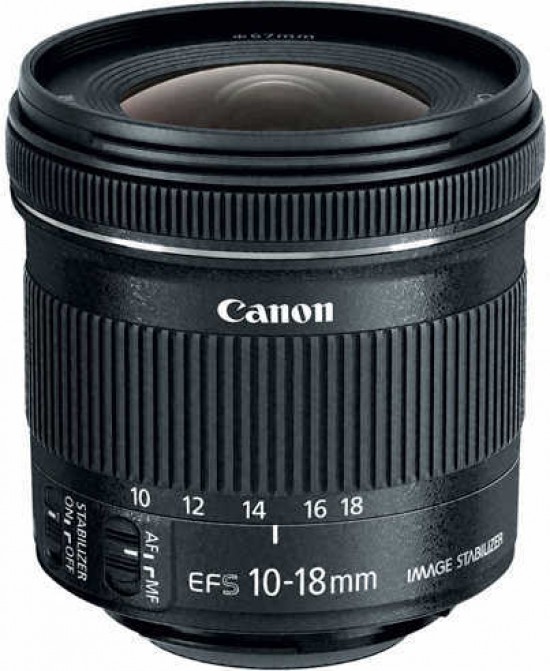 The Canon EF-S 10-18mm f/4.5-5.6 IS STM is a new ultrawide-to-wide zoom for dSLRs with APS-C sized sensors. Offering a 35mm equivalent focal range of 16-29mm, the Canon EF-S 10-18mm f/4.5-5.6 IS STM features both a UD lens element and a range of optimised lens coatings, as well as a quiet STM focus motor, 4-stop image stabiliser and a circular iris diaphragm. The EF-S 10-18mm IS STM will be available from May 2014 with an SRP of £299.99 / €349.99 / $299.99.
Canon Press Release
Go wide with Canon's new ultra wide-angle zoom lenses – the EF 16-35mm f/4L IS USM and EF-S 10-18mm f/4.5-5.6 IS STM
United Kingdom, Republic of Ireland, 13 May 2014 – Canon today introduces two new high-performance, wide-angle zoom lenses to its EF range – the EF 16-35mm f/4L IS USM and EF-S 10-18mm f/4.5-5.6 IS STM. Designed for experts and enthusiasts, the EF 16-35mm f/4L IS USM is a professional quality L-series lens, offering exceptional performance throughout the zoom range. The compact and lightweight EF-S 10-18mm f/4.5-5.6 IS STM is for Canon's consumer range of APS-C sensor EOS DSLRs, and ideal is for people who want to expand their view and get more into each shot – with both optical IS and STM technologies helping to deliver consistently sharp and crisp wide-angle stills and HD movies.
High-precision, high-performance, wide-angle view – the 
EF 16-35mm f/4L IS USM
The EF 16-35mm f/4L IS USM provides greater versatility for professionals and keen enthusiasts who regularly capture wide-angle perspectives – such as landscape or architecture photographers – or those who typically shoot in confined spaces. The lens offers wide-ranging flexibility, with first-class optical construction and a fixed f/4 aperture providing clear, sharp results even in the most challenging situations.
The new EF 16-35mm f/4L IS USM is Canon's first ultra-wide L-series lens to feature Canon's signature optical Image Stabilizer (IS) technology, which offers a four-stop advantage over non-IS lenses and helps to ensure that shots are always captured with precision detail. The newly-designed IS system also features a number of additional improvements, including gyro sensors for greater accuracy in traditional shooting or when capturing panning motion.
First class optical technologies and design
Photographers can quickly achieve focus using the powerful, fast and silent autofocusing (AF) performance of Canon's pioneering ring-type Ultrasonic Motor (USM) – ideal when shooting in AI Servo AF mode. Complete control over image composition is also possible using the lens's full-time focus ring in manual and AF modes, giving photographers the freedom to fine tune focus on demand.
Designed to deliver the highest image quality, the lens's optical structure includes two Ultra-low Dispersion (UD) elements to minimise chromatic aberration and eliminate colour blurring. Super Spectra Coatings reduce ghosting and flare, while fluorine coatings on the front and rear elements prevent dust and water drops sticking to each element. Photographers can also enjoy beautiful background blur and bokeh thanks to the lens's 9-blade circular aperture.
The lens's exterior is optimised to provide exceptional ease-of-use and professional performance. The high-grade design includes a compact and lightweight shape that's comfortable to hold, whilst providing intuitive access to the zoom and focus control. A leather-texture coating also provides a professional feel.
See more, capture more – the EF-S 10-18mm f/4.5-5.6 IS STM
The new EF-S 10-18mm f/4.5-5.6 IS STM is the ideal lens for people looking to widen the range of their existing kit and get more into every shot. The lens's impressive ultra-wide 10-18mm focal range provides the freedom to capture a diverse range of scenes, from holiday snaps of vast, sweeping landscapes and cityscapes, to wide group shots in confined spaces at parties and celebrations. Using Canon's expertise in optics, the wide focal range is packed into an impressively compact and lightweight lens, which can comfortably fit into kitbags, or even small handbags and backpacks when travelling.
Consistently sharp and steady handheld results are provided by a four-stop optical Image Stabilizer. Additionally, Canon's STM technology ensures high-performance AF when shooting stills, and near-silent AF when capturing movies. Combined with EOS DSLRs that support AF during movies, STM technology provides fluid continuous focus, ideal for tracking moving subjects, and providing smooth transitions as focus shifts between subjects. Quiet focusing also prevents unwanted noise interfering with movie soundtracks, ensuring that recorded sound is both crisp and faithful to the original scene. The EF-S 10-18mm f/4.5-5.6 IS STM features both a UD lens element and a range of optimised lens coatings to deliver outstanding image performance at all focal lengths.
EF 16-35mm f/4L IS USM key features:
L-series construction and optics
Constant f/4 maximum aperture
4-stop optical Image Stabilizer
Fast, silent AF
Superb image quality
9-blade circular aperture
Full-time manual focusing
Minimum focusing distance of 0.28m
Non-rotating front element
Water and dust resistant
EF-S 10-18mm f/4.5-5.6 IS STM key features:
Ultra-wide angle zoom for APS-C EOS DSLRs
Lightweight and compact
Smooth, near-silent STM focusing
4-stop optical Image Stabilizer
Superb image quality
Super Spectra Coating
Minimum focusing distance of 0.22m
Manual focus ring
Circular aperture
Optional lens hood
Pricing and availability
The EF 16-35mm f4L IS USM will be available from June 2014 with an SRP of £1,199.99/€1,399.99
The EF-S 10-18mm IS STM will be available from May 2014 with an SRP of £299.99/€349.99
Your Comments