Canon Female Photojournalist Award 2006 Winner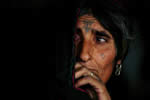 Canon UK Press Release
Véronique de Viguerie wins the Canon Female Photojournalist Award 2006
French photographer Véronique de Viguerie has become the sixth woman to win the Canon Female Photojournalist Award for her project on Communist Militiawomen in Nepal. The award, which includes a Canon grant of €8000, will be given by the French Association of Women Journalists (AFJ) at the 18th International Festival of Photojournalism Visa pour l'Image in Perpignan, France, on 9th September 2006.
The Canon Female Photojournalist Award was initiated in 2001 by the AFJ and Guy Bourreau, Marketing Director of Canon Communication & Image in France. It aims to support and highlight the work of female photographers around the world. "With women making up only 11% of the world's photojournalists, the original objective of the award was to address the under-representation of women in this field," explained Bourreau. "Now in its sixth year, the award has also proven to be a valuable way to discover new talent." The Award sets the seal on Véronique de Viguerie's growing reputation as one of the most committed and talented female photojournalists working today.
Funding for the future
The € 8000 grant de Viguerie received from Canon enables her to pursue a new photography project –  during the coming year she will spend time living with an all-female division of the People's Liberation Army in Nepal, following their everyday routine and training as they fight to change their political situation. De Viguerie will be given the opportunity to present her completed project at next year's Visa pour l'Image.
Véronique de Vigeurie
Véronique de Viguerie is 28 years old. French by birth, she studied photography in England before becoming a freelance photojournalist in 2004. Her work includes reports from Pakistan, and a number of in-depth reports on Afghanistan, a country she first visited for a newspaper assignment in 2003. In 2005 she narrowly escaped death in a suicide bombing on a Kabul café - the man sitting next to her was killed outright. Her work has been published in Newsweek, The New York Times, LIFE, The Daily Telegraph, The Times, Le Monde and Libération.
Picture for exclusive usage as part of the 2006 Canon Female Photojournalist award © Veronique de Viguerie