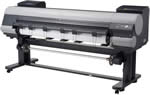 The Canon iPF9000S and iPF8000S 60- and 44-inch large format printers offer a 40 percent increase in speed. The new S-series printers can render an A0-sized print (32.5" x 40.6") in 4.9 minutes in Standard Mode on glossy photo paper.Both the Canon iPF9000S and Canon iPF8000S feature a high-capacity 80 GB hard drive so printers can queue more print jobs. Available in October 2007, the Canon iPF9000S and Canon iPF8000S will cost $14,995 and $5,995 respectively.
Canon USA Press Release
"S" IS FOR SPEED - CANON INTRODUCES NEW imagePROGRAF S-SERIES LARGE FORMAT PRINTERS FOR PRODUCTION ENVIRONMENTS
New Eight-Color Canon Large Format Printers Boast Up To A 40 Percent Increase In Print Speed Addressing The Needs Of Production Environments
CHICAGO, September 9, 2007 – Canon U.S.A., Inc., a leading provider of office imaging systems, inkjet technology and digital photography equipment, today announced the new imagePROGRAF S-series large format printers, providing exceptionally rapid print speeds for high-volume production environments. The S-series of imagePROGRAF printers will launch with two models, the imagePROGRAF iPF9000S and iPF8000S printing at 60- and 44-inches respectively. The new imagePROGRAF S-series printers will be on display at Graph Expo 2007 in the Canon booth, # 2400.
Canon's imagePROGRAF large format printers are already known for their fast print speeds, end-user replaceable print heads, and high-quality images, and now the S-series raises the bar on speed and performance. Boasting up to a 40 percent increase in speed over the imagePROGRAF iPF9000 and iPF8000, the S-series printers can render an A0-sized print (32.5" x 40.6") in 4.9 minutesi in Standard Mode on glossy photo paper. Adding to the printers' productivity is the ink sub tank feature which allows operators to replace empty ink tanks on the fly without interrupting the printing process. The imagePROGRAF iPF9000S and iPF8000S will allow production printers to produce more quality prints per day and help increase productivity for print shops across the country.
"Our research indicates that the top feature print service providers – who already have wide format printers – consider in new equipment purchases is greater print speed," said Tim Greene, director, Wide Format Technologies, InfoTrends.
The new Canon imagePROGRAF S-series printers each feature a high-capacity 80 GB hard drive so printers can queue more print jobs without burdening networked computer systems. Another new feature of the imagePROGRAF S-series is media skew correction. The printer will detect when paper is not properly aligned and shift the media's edge to correct alignment and ensure even prints, especially critical for labor-saving 4-sided borderless printing (up to 42" wide) to reliably print borderless printing with razor sharp precision. The printers also feature Kyuanos, a feature that allows operators to adjust print tones to various ambient light conditions to help provide favorable color under various conditions.
"In today's digital world, printers are pressured to turnaround print jobs faster than ever before. The imagePROGRAF S-series is Canon's answer to those client demands, allowing printers to produce jobs faster with outstanding quality and consistency," said Jim Rosetta, vice president and general manager, Imaging Systems Group, Canon U.S.A.
The new imagePROGRAF S-series printers uses a set of an eight-color LUCIA pigment inks with Cyan, Photo Cyan, Magenta, Photo Magenta, Yellow, Black, Matte Black and Gray ink tones. Using a dual print head system, the S-series printers employ 30,720 nozzles – the same number as the other Graphic Arts models – but using an eight-color ink set, the printers are able to employ up to 5,120 nozzles per color – the most nozzles per color in the industry.
The imagePROGRAF S-series newly developed eight-color ink system symmetrically arranges the nozzles for Cyan, Photo Cyan and Photo Magenta so that ink droplets of those three colors will be fired in the same sequence in both forward and reverse passes. The sequence of bi-directional printing for these three colors helps reduce subtle color variations that can come with ink firing sequences. This system allows for faster printing with fewer passes, and better color evenness.
With a maximum print resolution of 2400 x 1200 dpi, the new imagePROGRAF S-series is ideal for production print shops looking to produce posters, signage and display materials faster than ever before, as well as commercial printers, in-plant facilities, print-for-pays, tradeshow exhibit builders, and signage shops. The S-series still incorporates Canon's advanced professional features such as built-in color calibration for color stability, automatic clogged nozzle detection and compensation for reliability; 330ml and 700ml selectable ink capacity sizes for versatility; and a large, backlit LCD panel for ease of use.
Canon's new PosterArtist 2007 is available for purchase with imagePROGRAF large format printers. The Windows only software includes an Auto Design feature, where users simply designate images to be incorporated into a poster, and PosterArtist 2007 will automatically arrange the images into a poster template to create professional-looking posters quickly and easily.
The imagePROGRAF iPF9000S and imagePROGRAF iPF8000S printers are scheduled to be available through authorized Canon U.S.A. dealers in October 2007 with a manufacturer's suggested retail price of $14,995 and $5,995 respectively.
About Canon U.S.A., Inc.
Canon U.S.A., Inc. delivers consumer, business-to-business, and industrial imaging solutions. The Company is listed as one of Fortune's Most Admired Companies in America and is on the 2006 BusinessWeek list of "Top 100 Brands." Its parent company, Canon Inc. (NYSE:CAJ), is a top patent holder of technology, ranking third overall in the U.S. in 2006†, with global revenues of $34.9 billion. To keep apprised of the latest news from Canon U.S.A., sign up for the Company's RSS news feed by visiting www.usa.canon.com/pressroom.
† IFI Patent Intelligence, January 2007.
All referenced product names, and other marks, are registered trademarks of their respective owners. Prices, availability and specifications subject to change without notice. Actual prices set by individual dealers and may vary.
i Printing conditions are as follows. Operating system: Windows XP, SP2; processor: Pentium 4, 3.2 GHz; RAM: 1 GB; application: Adobe Photoshop 7.0; interface: USB 2.0 Hi-Speed; data used: Japan Association of Graphic Arts Technology ISO/JIS-SCID No. 5; output image size: A0 (827 x 1,033.8 mm). Based on Canon research.
Note that printing times do not include data transfer. Note also that the printing speed may vary depending on the data volume/size, computer, application, software, and connection method.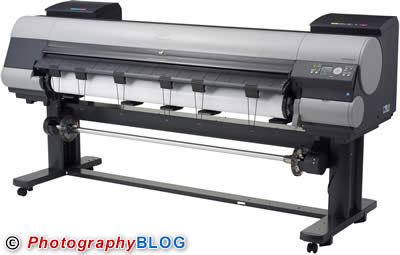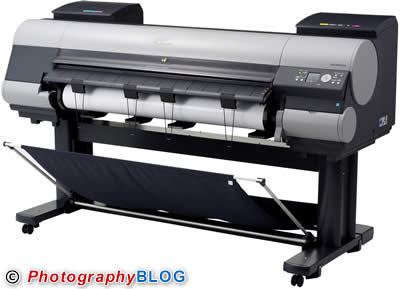 Your Comments