Canon PIXMA MP830 and Canon PIXMA MP530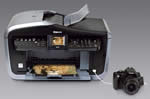 PMA 2006: The Canon PIXMA MP830 and Canon PIXMA MP530 all-in-ones are announced today. The PIXMA MP830 and PIXMA MP530 will be available from May 2006, priced at around £329.00 / €475.00 and £249.00 / €360.00 respectively.
Canon UK Press Release
Canon targets small business market with new multifunctionals; the PIXMA MP830 and MP530
Canon is pleased to announce the launch of two new multifunctional products aimed at the small business market: the PIXMA MP830 and PIXMA MP530. The new products are fully featured to meet office requirements, while also continuing in the PIXMA tradition of producing high speed lab-quality photo prints – achieved with Canon's FINE (Full-photolithography Inkjet Nozzle Engineering) technology , which lies at the heart of PIXMA's photo lab performance. Both deliver 4-in-1 functionality with rapid, high quality prints for documents and graphics, as well as high-speed copy, scanning and fax functions. In addition to the new multifunctionals, Canon launches two new printers that also target the small business market: the PIXMA iX5000 and PIXMA iX4000. The new products strengthen the PIXMA range by bringing the sub-brand's core values – designer styling and advanced technology for high quality, high speed photo printing – into the important small office and home office segment. "At a time of converging home and office life, and increased use of digital imaging in business communications, Canon's engineers have evolved PIXMA technology to meet business needs," explained Mogens Jensen, Head of Canon Consumer Imaging Europe.
The PIXMA MP830 and PIXMA MP530 feature:
- Fast document print speeds –30 ppm mono/24 ppm colour for A4 with the PIXMA MP830, 29 ppm/19 ppm with the PIXMA MP530
- High speed copying – 29 cpm mono/24 cpm colour in the PIXMA MP830, 28 cpm mono/19 cpm colour in the PIXMA MP530
- Super G3 high-speed fax1
- Auto Document Feeders with sort copy – 30 page capacity with the PIXMA MP530, 35 page capacity with Auto Duplex with the PIXMA MP830
- Advanced media handling2 with integrated auto duplex unit (for printing), DVD/CD printing and two-way paper feeding
- Scanners – 2400 x 4800 dpi scanning with dual CCD in the PIXMA MP830; 1200 x 2400 dpi CIS scanner in the PIXMA MP530
- FINE2 high-density print heads with 1 pl ink droplets3 and 9600 x 2400 dpi resolution for lab quality, high-speed photo prints
- ChromaLife1002 technology for long lasting fade-resistant prints
- PictBridge2 for direct photo prints (and memory card slots on PIXMA MP830)
- Canon's efficient 'Transparent' Single Ink system2, with ContrastPLUS inks2
In addition to faster print and copy speeds, superior scanning and larger capacity ADF, the PIXMA MP830 features memory card slots for direct photo printing, and a 6.3 cm colour LCD screen. The PIXMA MP830 is the top of the range multifunctional device, replacing the MP780. The PIXMA MP530 is a new product, expanding Canon's range offering to small business market.

Crisp business documents in a flash
For professional business documents without delay, the new PIXMA models both benefit from the FINE print technology's speed advantage, with high density print heads. The PIXMA MP830's FINE print head has more than 3500 Micro-Nozzles, placing more ink on the page in less time. Document text results are guaranteed with use of high optical density pigment black ink.
Photolab quality, without the wait
The PIXMA MP830 and PIXMA MP530 profit from FINE technology, which produces photolab quality prints at exceptional speeds. The PIXMA MP830 produces a 10 x 15 cm (4" x 6") lab quality borderless photo print in just 36 seconds; the PIXMA MP530 in 51 seconds. Canon's ContrastPLUS technology delivers high contrast, lustrous photo prints.
Both models are PictBridge ready, offering camera direct photo printing. The PIXMA MP830 also features a mermory card slot for direct printing from all popular cards .
To support direct printing without a computer, the PIXMA MP830's 6.3cm colour LCD screen can be used to preview images, apply image effects and page layouts, print directly onto DVD/CDs and preview image trimming or cropping.
For simplified card direct printing, the Photo Index Sheet function provides a printout of the memory card's photos as thumbnails. Users simply tick the images and layout they want, scan the sheet and the PIXMA MP830 will produce the prints.
Professional All-in-One productivity
In addition to prints, the PIXMA MP830 and PIXMA MP530 deliver fast, high quality colour and mono copies. Auto Intensity (AE)  copy technology ensures optimal exposure is achieved.
The ADFs (35 page capacity in the PIXMA MP830, 30 pages in the PIXMA MP530) are included for added convenience, for printing integrated duplex units and two-way paper feeding mean large documents can be printed and copied efficiently – even borderless copying is possible . The PIXMA MP830's auto-duplex ADF allows full duplex copying and scanning.
The Super G3 fax includes 100 coded speed dials and stores up to 250 incoming pages in the PIXMA MP830; 40 coded speed dials and storage of up to 150 pages for the PIXMA MP530. The PIXMA MP830 also has one-touch speed dialling for up to 8 locations.
Both multifunctionals employ USB 2.0 Hi-Speed connections to ensure the high speed print and scan engines are always at full productivity.
High quality scanning and copying
For fast, superior quality scans, the PIXMA MP830 incorporates a Dual CCD scanner with 2400 x 4800 dpi resolution and 48/24 bit (in/out) scanning depth for accurate colour reproduction. The PIXMA MP530 features a 1200 x 2400 dpi resolution CIS scanner. Both models offer Push-scan, Multi-scan and scan to PDF functions, along with a range of photograph correction features, including Fading correction, Grain correction and Backlight correction.
Canon's advanced image processing technologies ensure faithful reproduction of both photo and document originals, while pigment (mono) and colour dye inks are used to give best results on both plain paper and special photo media.
Software
A comprehensive range of quality software is bundled with the PIXMA MP830 and PIXMA MP530, allowing users to make full use of their functionality. For details see Additional Information.
Media
Canon's growing range of media extends the creative and practical applications of the products. For details see Additional Information.
Pricing and availability
The PIXMA MP830 and PIXMA MP530 will be available from May 2006, priced at around £329.00 inc. VAT/ €475.00 inc. VAT and £249.00 inc. VAT/ €360.00 inc. VAT respectively.
Reader enquiries
UK – 08705 143723 / www.canon.co.uk    
Eire – (01) 2052400 / www.canon.ie
Software
The PIXMA MP530 and PIXMA MP830 are bundled with the following software:
- MP Navigator 2.2 – helps users get immediate optimum results with minimum fuss. Users simply select the required process and desired output. Version 2.2 features: improved PDF functionality; batch scanning; improved zoom window for scanned images; additional buttons and controls for greater usability; and options to scan from colour magazines
- Easy-PhotoPrint – provides three easy steps to printing photos. Assisting with options such as media selection and scaling, it includes features such as Face Sharpening for out-of-focus face correction, Red Eye Correction and Digital Face Smoothing to reduce the appearance of wrinkles.
- Easy-WebPrint – (Windows only) sits on the Explorer toolbar and takes the frustration out of web page printing, saving time, ink and paper by correctly scaling output to prevent the common problem of having the right-hand side of web pages cut off.
- CD-LabelPrint – simplifies printing directly onto print-ready CD-Rs and DVDs
• ScanSoft OmniPage SE – Optical Character Recognition application that converts scanned text into characters for editing or storage as a searchable text file.
• NewSoft Presto!PageManager7 – an electronic document management and filing system that assists with scanning, sharing and organising photos and documents, by automatically linking to over 100 possible popular applications.
Compatibility
The products are compatible with Windows 98/Me/2000/XP, Mac and OS X (PIXMA MP830: v10.2.4 or later; PIXMA MP530: v10.2.8 or later).
Matching media
Canon's competitive advantage in printer hardware technology is fully realised when genuine Canon photo grade media and inks are used. The diverse and growing range of Canon media is developed specifically to work in combination with Canon's FINE ink jet print technology. Photo papers and media are available in a wide range of formats (including mini stickers), finishes (from matt to semi-gloss to full gloss) and sizes (from credit card to A4). A new 8 x 10" (20 x 25 cm) version of SG-101 and PR-101 is now available. The flagship Photo Paper Pro (PR-101) offers the highest grade professional results with ultimate durability. A double-sided photo paper (PP-101D 5 x 7cm and PP-101D A4) is also available.
Technologies Explained
FINE
Canon's patented FINE semi-conductor manufacturing technique creates extraordinary print speeds for both photo as well as document printing by producing exceptionally long print heads with exceptionally high nozzle count and density. These get more ink on the page in less time than is possible with traditional inkjet technology, delivering fast borderless photo prints up to A4 size.
FINE also achieves virtually grain free photolab quality by delivering millions of microscopic 1 pl ink droplets each second with extremely high consistency and accuracy from 9 ?m diameter Micro-Nozzles.
ChromaLife100
For improved fade resistance, the printer supports Canon's ChromaLife100: a system of genuine Canon dye-based inks, which deliver exceptionally broad colour gamut, and specialised photo paper designed to work together with FINE print heads. This technology 'triangle' of nozzle design, ink and media produces prints that rival silver halide quality and longevity. Prints resist fading for 100 years when album-stored, 30 years when displayed under glass and 10 years when exposed to the effects of the air .
ContrastPLUS
ContrastPLUS technology works together with FINE to generate exceptionally crisp, high contrast results with lustrous colours. In addition to three colour dye inks (cyan, magenta and yellow), the system includes a dye-based black ink for sharper contrast.
A pigment-based black ink is used for crisp, sharp document printing.
Super G3 Fax
Transmitting at 33.6 kbps, a Super G3 fax can send a mono page in a blistering 3 seconds (approximate) and a colour page in approx. 1 minute 20 seconds .
Auto Intensity (AE) Copy
The AE function pre-scans documents placed on the glass and analyses them to determine the correct image processing parameter for optimum copying. The main correction functions are:
- Cleans backgrounds and emphasises characters in text documents
- Prevents show-through of images/text from the back side of the sheet
- Provides optimised contrast for the image to be printed
- Corrects images with blacked out portions and light areas (overexposed images)
Single Ink
The PIXMA MP830 and PIXMA MP530's individual ink tanks ensure that only those inks which run out need to be replaced. They feature LEDs that only light when the tanks are installed correctly. To provide ink level monitoring information during stand-alone use that would normally be displayed on the computer screen, LEDs flash slowly to warn when the tank runs low, and more rapidly to indicate when the tank is empty.
PictBridge
The vendor independent PictBridge standard provides direct cable connection photo printing with contemporary digital cameras and digital video cameras, without the need for a PC.
Advanced media handling
These PIXMA All-in-Ones incorporate Canon's Advanced Media Handling system with dual paper trays – so they can be loaded with plain paper and photo media simultaneously – as well as auto duplex printing and integrated DVD/CD printing.
About Canon (UK) Limited
Canon is a world-leading innovator and provider of imaging and information technology solutions for the home and office environments.

Canon has a global philosophy of Kyosei - living and working together for the common good, which clearly demonstrates commitment to customers, staff and the environment shared by all.
Canon (UK) Ltd is the UK marketing and sales operation for the US$33 billion global company based in Tokyo, Japan.  In the UK Canon employs over 2,000 people in various locations including Ireland and has achieved sales of £522m in 2004.
The main business focus for Canon (UK) Ltd, covers two clearly defined market segments: Business Solutions covering both the office and professional printing environments (including: multifunctional printers, IT consultation and peripherals: photocopiers, printers, fax machines, document management hardware & software, multimedia LCD projectors) and Consumer Imaging (input solutions: film and digital cameras, camcorders, binoculars and scanners; and output solutions: Ink Jet printers, fax machines, desktop multifunctionals and multimedia projectors).