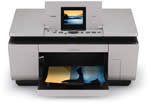 Canon USA Press Release
Canon Unveils New Flagship PIXMA MP960 Photo AIO That Combines Exceptional Photo Lab Capabilities with Elegant Look and Feel
LAKE SUCCESS, N.Y.—(BUSINESS WIRE)—Sept. 14, 2006—In any lineup, there can only be one flagship model. Canon's new PIXMA MP960 Photo All-In-One (AIO) is a premium device that provides all the features needed for an exceptional photo experience in the home. As the only seven-color photo all-in-one on the market using the ChromaLife100 system, discerning consumers can now produce long-lasting(1) vivid photo lab quality prints. Because Canon's focuses on developing easy-to-use and elegantly designed products, the PIXMA MP960 Photo AIO also features the revolutionary Easy-Scroll Wheel user interface to complement the bright 3.5-inch high-definition TFT screen. For the photo enthusiast who wants the best equipment for a variety of uses, from reprinting photos to scanning slides and negatives, the MP960 Photo AIO (estimated selling price $399.99(2)) is the answer.
"The Canon PIXMA MP960 model combines all of the best features from our PIXMA line of high quality printers and all-in-one devices, and is truly the ultimate home photo kiosk," said Yukiaki Hashimoto, senior vice president and general manager of the consumer imaging group at Canon U.S.A., Inc. "Thanks to the Easy-Scroll Wheel interface and a big, bright TFT screen, work becomes fun whether you are printing, copying or scanning."
Faster Than Driving to the Photo Lab
The Canon PIXMA MP960 Photo All-In-One can print up to 9600 x 2400 color dpi(3) for sharp and detailed prints. It even takes creativity to a new level, by allowing users to produce beautiful prints on a variety of Canon photo papers from the glossy Photo Paper Pro to the thicker Fine Art Photo Rag paper. The FINE technology print head makes quick work of photos and text with a next-generation 3,584-nozzle print head that ejects precise droplets as small as one picoliter. The advanced seven-color ink system incorporates six dye-based inks, including photo cyan and photo magenta colors perfect for life-like photos, as well as a pigment-based black ink that produces laser-quality text for business documents. All of those ink tanks and nozzles means speedy printing, as the MP960 Photo AIO can print a borderless 4 x 6- inch photo lab quality print in approximately 35 seconds(4). While copying documents, this device shines as a home office companion, coping up to 30 pages per minute for black and white documents and up to 22 pages per minute for color documents. To save time and paper, the MP960 can also automatically duplex, producing double-sided documents and photos. With two standard paper trays, consumers can conveniently load plain paper in one tray and photo paper in the other, avoiding the hassle of switching papers for different print functions.
As a photo or document scanner, the high resolution maximum 4800 dpi color CCD scanning element with vibrant 48-bit color depth, designed for scanning up to eight slides, twelve negatives and film using the built in adapter. Consumers can also make photo reprints and enlargements directly from film or prints without using a computer.
The Design and Interface - Minimalist to the Max
The design of the MP960 Photo AIO exudes sophistication, while focusing on function, with a scanner design that appears to "float" above the unit. The metallic exterior is a welcome addition to any home or office decor, but what lies underneath the bright flip out 3.5-inch TFT screen is the best part. The PIXMA MP960 Photo AIO is the third model in Canon's photo AIO lineup to feature the new Easy-Scroll Wheel interface. This wheel will be very familiar to users who have popular portable digital music players, helping them immediately understand the operations that this wheel controls including editing, copying, printing and scanning options. What's more, Canon has added the "HOME" and "NAVI" buttons to this device's operational panel. When consumers push the NAVI button, it displays the machine's on-screen guide, which includes how-to recommendations for the most common functions. The HOME button allows users to return to the main menu, regardless of where they are in the sub-menus, assuring users that home is always just a click away. By adding the Easy-Scroll Wheel, HOME and NAVI buttons, Canon has been able to reduce the number of total buttons by approximately half compared to competing multifunction models.
The MP960 Photo AIO also includes a large, bright, high-definition TFT-type LCD screen, which consumers can use to preview images before printing and photo editing. The screen is viewable at a 170-degree angle, so everyone around the unit can enjoy what is displayed, rather than just the person sitting directly in front of the AIO.
Advanced Copy Technology
The PIXMA MP960 Photo AIO employs advanced copy technology to help give the user amazing reproductions of original images and documents. Dual Color Gamut Processing Technology improves color accuracy by independently controlling brightness, hue, and other elements to make sure that there are minimal differences between the original and the copy. In addition, with Text and Image Separation Technology, the system can actually differentiate text from an image, making black text and fine lines darker and sharp. Now when black text appears over an image, the text on the following generations of copies can be virtually as clear as the first. These technologies plus hardware improvements in scanning and printing can help make a copy almost indistinguishable from the original.
Get Connected - With or Without Wires
When used with a supported Canon digital SLR, the PIXMA MP960 Photo All-In-One support the user-friendly Canon-to-Canon Direct Advantage. Connected via the PictBridge port, the Canon-to-Canon connection allows users to brighten faces, print shooting information on a print, or even print a contact sheet with up to 35 images all directly from the camera controls without a PC. The Canon-to-Canon workflow allows consumers to take advantage of added convenience and the power to produce outstanding image quality directly from the camera to the printer without the need for a PC. This model also supports wireless infrared printing from enabled cell phones(5), and the consumer can purchase the optional Bluetooth adaptor for even faster wireless printing from various Bluetooth-equipped devices(6). With built in card slots, users can print from supported memory cards, or entertain with a slide show.
ChromaLife100 System
This new PIXMA MP960 Photo AIO uses the Canon ChromaLife100 system, including the FINE print head technology for great photo printing. When using select genuine Canon photo papers and inks, prints can resist fading for up to 100 years when stored in an archival quality photo album(1). The up to 100-year-lifespan rivals that of many traditional film based photos, long considered by consumers to be the benchmark for image permanence. Prints produced on Canon Photo Paper Pro with ChromaLife100-compatible inks have an up to ten-year gas fastness when exposed to open air(1). ChromaLife100 prints when created using genuine Canon photo paper like Photo Paper Pro or Photo Paper Plus Glossy, have up to 30-year lightfastness when displayed under glass(1).
Canon Creative Park
Looking to extend creativity beyond just photos and documents? Consumers can now try Canon's new Creative Park website at www.canon.com/c-park. The site offers 3-D paper craft projects, scrapbooking templates, novel greeting cards, educational materials, and the opportunity to learn more about digital photography. Using the various templates available on Creative Park, and 4 x 8-inch Canon All Occasion Photo Cards, consumers can transform ordinary photos into extraordinary cards for family and friends during the most popular holidays and occasions.
Canon U.S.A., Inc. delivers consumer, business-to-business, and industrial imaging solutions. The company is listed as one of Fortune's Most Admired Companies in America and is rated #35 on the BusinessWeek list of "Top 100 Brands." Its parent company Canon Inc. (NYSE:CAJ) is a top patent holder of technology, ranking second overall in the U.S. in 2005, with global revenues of $31.8 billion. For more information, visit www.usa.canon.com.
All referenced product names, and other marks, are trademarks of their respective owners.
Specifications and availability subject to change without notice.
(1)Based on accelerated testing by Canon under controlled temperature, humidity, and gas conditions. For the 100 year figure, Canon simulated storage in an album with plastic sleeves. For the 30 year lightfastness figure, Canon simulated display of a photo in a glass frame in an indoor location without direct sunlight or other high intensity light. The 10 year gas fastness figure is based on a testing ratio of gases typical to an indoor air composition (O3::NOx:SOx=3:19:1) with 100 times concentration in order to accelerate color fading. Canon cannot guarantee the longevity of prints; results may vary depending on printed image, drying time, display/storage conditions and environmental factors. See www.consumer.usa.canon.com/ChromaLife100 for additional details.
(2)Pricing subject to change at any time. Actual prices are determined by individual dealers and may vary.
(3)Resolutions may vary based on printer driver settings. Ink droplets can be placed with a horizontal pitch of 1/9600 inch at minimum.
(4)Photo print speeds are based on the default mode driver setting using photo test pattern(s) and select Canon Photo Paper. Print speed measured as soon as first page begins to feed into printer and will vary depending on system configuration, interface, software, document complexity, print mode, types of paper used and page coverage. CPM copy speeds are based on fast mode setting using plain paper. Copy speeds will vary depending on system configuration, interface, software, document complexity, print mode, types of paper used and page coverage. See www.usa.canon.com/printspeed for additional information.
(5)JPEG files 3MB or smaller only. Requires mobile phone with IrDA port and support for IrMC version 1.1 protocol, with phone positioned no more than 7.9 inches from printer.
(6)Bluetooth v1.2 with optional Canon Bluetooth Unit BU-20. Bluetooth operation depends on the devices and software version used. Operating distance is approximately 10 meters but may vary due to obstacles, radio signals, locations where radio interference occurs, magnetic fields from microwave ovens, device sensitivity and/or antenna performance.