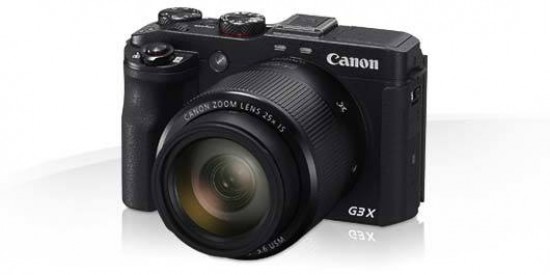 The Canon PowerShot G3 X is Canon's first superzoom compact camera to feature a 1.0-type back-illuminated 20.2 MP CMOS sensor. Other key features of the Canon G3 X include a 25x, 9 blade f,/2.8-5.6 aperture zoom lens, continuous shooting at 5.9 shots a second, Full HD movies with variable frame rates from 24p up to 60p, a 3.2" tilt touch screen, dust and drip-proof body, and wi-fi and NFC connectivity. The Canon PowerShot G3 X retails for £799 / $999.
Canon UK Press Release
The ultimate superzoom powerhouse – Canon unveils the PowerShot G3 X
United Kingdom, Republic of Ireland, 18 June 2015 – Canon today unveils a powerful addition to its prestigious PowerShot G-Series – the PowerShot G3 X. Canon's first superzoom compact camera to feature a 1.0-type back-illuminated CMOS sensor, the PowerShot G3 X delivers stunning image quality, whether you have a passion for stills or video, and helps you reach new levels of creativity never before seen in a compact camera. Merging Canon's first class optics, a versatile 25x optical zoom range, and DSLR-levels of manual control, the PowerShot G3 X gives you the freedom to get closer to subjects as you travel, explore and shoot on the move. Ideal for stunning nature shots, or capturing all the detail of a sports game, the PowerShot G3 X is the must have choice for expert photographers who demand impeccable results.
Premium superzoom for professional quality shots
Expertly crafted to deliver image quality photographers can be proud of; the PowerShot G3 X combines Canon's most powerful compact superzoom specification yet. Easily capture exquisite detail and colours with the 1.0-type back-illuminated 20.2 MP CMOS sensor, which when paired with the 9 blade, f/2.8-5.6 aperture lens, helps you create images with beautiful background blur. Whether you're at a sports match or tracking wildlife running through a forest, the camera's 25x optical zoom helps you get even closer to subjects, without losing the stunning clarity needed for truly beautiful shots.
For the responsiveness and performance advanced photographers demand, the PowerShot G3 X is powered by Canon's DIGIC 6 processor, delivering extreme speed, and for confident shooting in challenging light, the camera's HS system can render beautiful vivid detail in low light with up to ISO 12,800. Designed to keep up with fast subjects, the PowerShot G3 X offers continuous shooting at 5.9 shots a second, ensuring you catch all the action wherever you are. In addition, the camera's fast autofocus ensures every shot is crisp and in focus.
Take to the director's chair
Aspiring videographers can create stunning Full HD movies, and with a level of control usually found in professional camcorders, the PowerShot G3 X lets you shape your scenes with variable frame rates from 24p up to 60p, as well as manual control of the aperture, shutter and ISO. Capable of recording crystal clear sound with expanded dynamic range, the camera also features dedicated microphone and headphone jacks as well as a live HDMI output, so you can view your footage on external monitors as you shoot. Keep your footage steady, whether you're shooting as you walk down a city street, or travelling in high-speed transport, with Intelligent IS and the advanced 5-axis Dynamic IS mode.
For more spontaneous and casual film making, Short Clip Movie helps you create four, five or six second clips with a variety of playback options, while Story Highlights mode intelligently selects photos and movies of certain people, events or dates, before combining them into one short and easy to share movie. 
DSLR levels of expert control
Compact without compromising on features; the PowerShot G3 X gives you all the control you need to capture the perfect shot. Frame your scene from any angle with the large, 1.62 million dot resolution, 8.0cm (3.2") tilt touch screen, and swipe through your favourite settings and modes with the EOS-like interface. For added control, the smooth action Lens Control Ring can be assigned to different functions, such as focus, while Full Manual Control plus RAW shooting and Bulb exposure mode put you firmly in the driving seat. Come rain or shine, you can keep shooting with the PowerShot G3 X thanks to the dust and drip-proof body, and for DSLR-like handling, the hot shoe allows you to attach a high-resolution electronic viewfinder as well as a range of Canon's Speedlite flashes.
Creativity and connectivity without boundaries
Ideal for shooting in quirky situations and at unusual angles for unique perspectives, remote shooting via Wi-Fi and the new Camera Connect app let you control the camera's key functions from your smart device, including access to full manual control. When you're ready to share your results, Dynamic NFC simplifies image transfers to a Canon Connect Station or to your smart device, while the Image Sync functionality means you can back up all your images to the cloud, including directly to Canon's cloud storage service irista, for complete peace of mind.
PowerShot G3 X key benefits:
Large sensor performance combined with 25x superzoom lens
Create, connect and share easily
Advanced movie features for aspiring filmmakers
Expert controls help you express your creativity
Shoot like an expert in any environment
Advanced Dynamic Image Stabilizer
The PowerShot G3 X's advanced 5-axis Dynamic Image Stabilizer (IS) compensates for very strong movements caused when walking, travelling in a car or even when running. This helps to produce steady, Full HD movie footage that looks cinematically smooth when viewed on a large screen.
Intelligent IS constantly detects subjects and adapts the optical IS to match the scene, while the latest Dynamic IS iteration gives users a choice of settings, including; Low for optical correction only, Standard for optical and digital correction, or High for optical and strong digital correction. Tailoring the setting to the shot, users are now afforded more control, ensuring they get the best images and movies whatever the scenario.
Canon 24mm, 25x optical zoom lens (f/2.8 – 5.6)
The PowerShot G3 X includes a newly designed 24mm lens with 25x optical zoom, providing an extensive range of focal lengths, perfect for everything from ultra wide angle landscapes to long range close ups. The bright aperture range, f/2.8 – 5.6, allows users to shoot with faster shutter speeds in low light conditions, as well as take advantage of increased flexibility for strong background blur effects.  In addition, a high-precision micro USM II is utilised within the zoom mechanism, which is superior at silent operation and ideal for shooting high-quality movies.
Designed in the style of interchangeable lenses, by utilising a six lens group construction the lens' positive and negative are combined three times, significantly shortening the overall length of the lens, perfect for a compact design. Additionally, to minimise aberration caused by focal length increases, both UD lenses and aspherical lenses are included in the design, reducing aberration fluctuations throughout the full zoom range, for beautiful shots every time.
Camera Connect App
With the new Camera Connect App, Canon has merged a number of apps to offer users the opportunity to connect any type of Canon Wi-Fi camera, including their DSLR and DSC devices, to their mobile device using one central application. The new app lets DSC users shoot remotely with improved functionality and gives access to a host of advanced features, including Touch AF and a range of creative modes.
Image Gallery
Click on a thumbnail to see the full version.
Your Comments