Canon PowerShot G3 X Interview
June 18, 2015
|
Mark Goldstein
|
Comment
|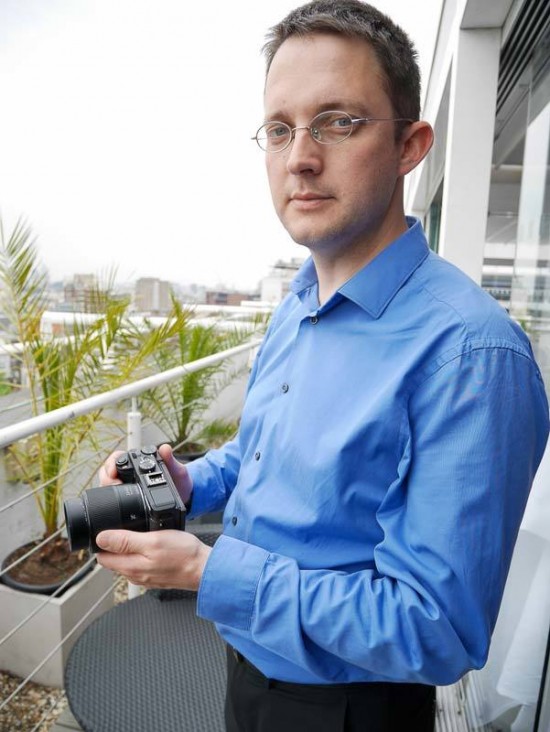 Photography Blog recently sat down with Canon UK's Product Intelligence Professional David Parry to hear more about the features of the new Canon PowerShot G3 X camera, due out in mid July.
'3' of a kind from Canon
After teasing its development with a technical announcement back in February, Canon has properly unveiled the G3X, which goes on sale this July. The premium end, large lens sporting compact is notable for a maximum 20.2 megapixel resolution from a one-inch sensor and a 25x optical zoom that stretches up to the equivalent of 600mm at the telephoto end. This has inspired Canon to claim that the G3X offers the longest focal length on the market for a camera with a one-inch sensor. Not surprisingly the company sees its possible audience as including wildlife photographers. The suggested UK pricing for the reassuringly solid feeling camera is £799.
Attendant features of the dust proof and drip proof zoom model include a tilting or flip-up 3.2-inch screen with 1.62-million dot resolution – again, something Canon claims is the highest spec in its class. Also included on this model to please enthusiasts are a focus peaking feature and, since what's missing here is an eye level viewfinder, it's compatible with the optional EVF-DC1 accessory which can be picked up for £249 in the UK. Full HD movies, plus Wi-Fi and NFC connectivity also feature, as does 5.9 frames per second continuous capture (for up to the available capacity of the card in use) for anyone thinking of the larger zoom for shooting sports. Battery life is around 300 shots from a full charge.
Photography Blog sat down with Canon UK's Product Intelligence Professional David Parry to hear more about the features of the camera, and exactly who it is aimed at. Unfortunately on the day Canon only had two pre-production samples so we weren't allowed to take any pictures with the new camera – just pictures of it!
David Parry: The G3X sits between the G7X and the G1X Mark II so we're expanding on that high-end enthusiast targeted camera segment. The G7X has the one-inch sensor and 4.2x zoom and then we have this, which has a one-inch sensor and 25x optical zoom.
PBlog: OK, so it's a fixed lens…
David Parry: Yes, it's a fixed lens that's from 24mm f/2.8 to 600mm f/5.6 – which I think is an awesome range to have on a one inch sensor camera of this type. I haven't seen anything that is bigger than this, in terms of focal length, with a one-inch sensor. Where it fits in the Canon range is that you have the G7X that fits in your pocket, we have this one with the big zoom, and then we have the G1X Mark II for the ultimate image quality. I feel that the G3X would be really useful for people who do wildlife photography They may have an SLR at the moment, but this would be a great back up or second choice, because in comparison it's really small and lightweight and will give you the kind of image quality and depth of field that you associate with an SLR. I also feel it could be really useful for people who maybe find SLRs intimidating, but would like a similar specification to a bridge style camera, albeit with an image quality that is a little more 'serious'.
Maybe their primary interest is bird watching and wildlife and photography is a secondary interest. This will help them enjoy their hobby a bit more. Also, a 600mm lens on a SLR will cost you around £4,500, whereas here you're getting that range is something much smaller and more lightweight for a lot less money. It's £799 this model.
PBlog: When's the G3X actually out to buy?
David Parry: Sales start mid July. I also think this will be of interest to camera clubs members. Not only is it small and light but you can do all types of photography with it, thanks to the wide focal range. You can shoot landscapes or portraits, play around with it to shoot sports or action and wildlife photography as well.
On the back we have a 3.2-inch screen with the highest resolution that we offer of 1.62 million dots. It's a huge, huge screen. It's also vari-angle, tilting 180° upwards – same as the EOS M. It's also a capacitive type touch screen as well. So you can do touch focus and change the settings very quickly. It's very similar to EOS in its control layout and feel which I think is quite nice because once you've got to grips with this it would be quite easy to step up to the EOS range eventually. Something else that is really interesting is that the control ring that can be used for focus. We also have focus peaking, which is really for video but I've been using it for stills all the time. By using focus peaking you can fine tune the focus to get it just how you want; it works really nicely.
PBlog: Can the control ring also be used as a zoom ring, for that 'hands on' feel?
David Parry: No, it can't, although the G7X has that feature. That may have been nice but what I find is that it's really hard to be accurate. With a manual zoom you can turn it quite precisely, whereas it's very hard to do that with an electronic motor. It night work, but I don't think it would work in the way that people might like it to. It would be a motored step rather than a fine tune.
PBlog: And obviously no eye level viewfinder?
David Parry: Not built in, no, but it does work with the EVF that goes with the G1X Mark II (EVF-DC1). You can use that. Recommended retail is £249 but there's deals going on…
The video capability inside here is Full HD movies at 60P. The bit rate is 35 M/bits per second, which is quite impressive and gives you really smooth video. I was photographing some water with this and the lack of noise the level of detail is just really, really nice.
PBlog: What do you guys think about the push towards including 4K in consumer level cameras?
David Parry: I think 4K is really interesting and a technology to keep our eye on. We've got 4K in our professional level cameras such as the XC10. So that the moment we're looking at the pro end for 4K. I shot a load of 4K on the XC10 and brought it back home and realised I actually had nothing capable of processing the footage and outputting it. I do wonder whether there are a lot of people in that situation. It would be nice to have it in terms of future proofing – in terms of shooting 4K now and in five years time it will be OK. Potentially it could be something we will bring in – but how far behind is 8K? I don't know. At the moment it's widely accepted that everyone's got the capability to process Full HD.
PBlog: So would you plug the G3X as a 'hybrid' camera – or is it very much stills first and video second?
David Parry: There's no doubt about it that this camera is as capable as a video product as it is a stills product. The AF is incredible in movies. You've got face detection and can track subjects, as well as full manual control over movies. For audio there is headphone and microphone input as well. This is a very capable video product. And it's the first time every that we have a slot at the base for a pin, for if you're using the camera on a video tripod so you can get a really smooth pan and there's no way the camera will actually move. I do wonder if we've done this for the camera to be used with drones; because the rigs that you get for drones also have these features. I've been playing around with a drone using the Legria Mini.
Something else it has got is Wi-Fi and NFC. The NFC is very quick and easy to execute. You can control the camera remotely with the aid of NFC, which I think could greatly aid someone using it for wildlife photography. You could set this camera up and point it at a badger set or something like that, before retiring to a safe distance behind a tree or something and also zoom in and zoom out.
PBlog: And what about using this for your kids' sports day? Presumably it has continuous shooting…
David Parry: Yes, it's 5.9fps in JPEG mode and that is continuously until the memory card is full. Which I think is really important. And the nice think about that is that if you shoot, take your finger off the shutter and then press it again it will start back up again. There's none of this buffering, which I think is really useful – because you're never sure when the key action is going to happen. This will just keep on going until the memory card is full. If you're shooting Raw it will be different of course.
PBlog: And what is the full resolution of the camera?
David Parry: It's exactly the same as the G7X, which is 20.2 effective megapixels. It's the same sensor that is in the G7X. Something we haven't mentioned yet is that this is the first camera of its type that we are claiming is dustproof and drip proof – we've never said that before. Which really makes me think that we should start talking to people who do outdoor pursuits – whether they do walking or wildlife photography. The weatherproofing that you get on here is very similar to the 70D. It's the same kind of level.
And the battery inside is the MB10L which is the same battery as in the SX60, so it's well tried and tested and very powerful as well. We're saying at least 300 shots from a full charge. The controls are very similar to an EOS and the menus are very similar to an EOS as well and there's the built in flash. There's a manual focus button on the lens barrel and a zoom frame assist as well, also on the SX60. The idea that if you zoom in on an aircraft in flight and it falls outside your framing you can push this button and zoom back out, re-compose your shot and it zooms back in.
PBlog: Finally David, what would be the three key features of this camera that you would zero in on and flag up to someone considering buying it?
David Parry: I would tell them about the zoom range. Really there's two things in one: that zoom range with a one inch sensor, which is essentially the best image quality you can get out of what's essentially a compact camera. You couple that with this 25x zoom and that's giving you a focal range that would be quite hard and expensive to match if you wanted to do that on an SLR.  The third thing that is really exciting is the movie capability. Because of the one-inch sensor the movies that you can get from it are absolutely stunning. You can get that cinematic look and blur the background as well as control the audio. If you're someone who is really into trains, then the audio to those guys – the different sounds that the trains make – is as important as the video. You can put a different microphone on there and the video capability is the next thing that is really interesting on this camera. People who really enjoying fishing also really love the concept of the flip-up LCD screen so they can get a 'selfie' with the fish they've landed. And with wink detection they can wink at the camera and it will take their picture. The reaction is "Oh my God, that's amazing. And that sells it to them." But for this sort of camera the ability to shoot selfies isn't quite so important: it's more about the versatility of the flip up screen for shooting a multitude of subjects – or if using the camera on a tripod. I can do a video piece to a camera talking about the product and I can see myself as I'm talking. It's really useful for that. Getting a different angle on something can change the perspective massively and is fab, isn't it. The 180° capability is not just for selfies – you can use it for great compositions as well.
 
Your Comments