Canon Powershot G-Series Cameras R.I.P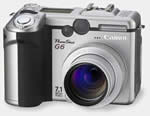 PMA 2006: Conspicuous by its absence amongst the tens of new products that Canon have announced today is a G-Series camera. At a press conference this morning, Canon UK representatives confirmed our worst fears by stating that there will be no more G-Series Canon cameras, which makes the Canon Powershot G6 (pictured) the last of its kind. The S-series cameras and the falling prices of Canon's DSLRs have effectively replaced what has been a venerable, popular and best-selling series of cameras.
28th February 2006: Yesterday I attended a meeting with representatives from Canon Japan's digital compact camera division. When asked if the Canon G-Series had officially ended, they replied that although there were no new G-Series models in the recently announced Spring 2006 range of Canon products, the G-Series may return in the future, if market conditions allow. So Canon G cameras could make a comeback, although the absence of any kind of bridge-style camera in Canon's new line-up would suggest that the chances are slim, as DSLRs get ever cheaper and compacts ever more fully-featured.