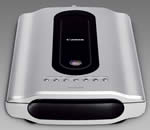 The CanoScan 4400F is available from September 2006 with a street price of approximately £79 (€114) RRP INC VAT with the CanoScan 8600F available from October 2006 with a street price of around £149 (€215) RRP INC VAT.
Canon UK Press Release
Canon today announces the launch of two 4800 dpi scanners: the CanoScan 8600F and CanoScan 4400F. Both are high-speed devices that provide exceptional productivity, while Film Adapter Units (FAU) are incorporated for high quality, convenient film scanning. Bundled software packages extend the functionality of both scanners, with the CanoScan 8600F featuring SilverFast SE from LaserSoft for advanced control of the scanning process and extended creative options. The CanoScan 8600F is positioned below the CanoScan 9950F and replaces the CanoScan 8400F, while the CanoScan 4400F offers high performance 4800 dpi scanning at an economical price point.
The scanners feature:
- 4800 x 9600 dpi resolution with 48-bit colour
- FAUs – 35 mm strip, 35 mm slide and 120 format film for the CanoScan 8600F; 35 mm strip and 35mm slide for the CanoScan 4400F  
- FARE Level 3 dust and scratch removal (CanoScan 8600F only) and QARE Level 32 automatic photo enhancement
- High speed scan engines, USB 2.0 High Speed connections and 7 EZ buttons for exceptional productivity
- Comprehensive software suites including ArcSoft PhotoStudio, ScanSoft OmniPage SE and Presto! PageManager with CanoScan 8600F also including Adobe PS Elements and LaserSoft SilverFast SE.
Outstanding resolution, accurate colour
With 4800 x 9600 dpi CCD sensors capturing incredible detail, the CanoScan 8600F and CanoScan 4400F produce superb, crisp images suitable for enlargement and high-resolution printing. Both products bring higher resolutions to lower price points. For exceptionally accurate colour reproduction both scanners feature 48-bit colour depth.
Convenient film scanning
Providing high quality images staright from film originals, the scanners are epuipped with built in Film Adapter Units (FAU). The CanoScan 4400F can take up to 6 frames of 35 mm film or 4 slides, while the CanoScan 8600F can accommodate a variety of different film formats – 12 frames of 35 mm film, up to 4 mounted positive or negative transparencies, and 120 format film.
Automatic correction
Hours of manual retouching are saved with the scanners' automatic image correction and enhancement capabilities. The CanoScan 8600F's highly advanced FARE Level 3 technology corrects imperfections such as dust and scratches, counteracts the effects of fading colours in old photographs, improves graininess, and has a backlight correction function. The QARE Level 3 found in both scanners provides similar functionality to FARE Level 3, to correct reflective scans of photo prints.
Exceptional productivity
Super fast scan engines in the scanners ensure optimum productivity – the CanoScan 8600F yields a preview in approximately 4 seconds, the CanoScan 4400F in approximately 5. USB 2.0 Hi-Speed connections provide fast data transfer, so even scans at the highest resolutions are received quickly.
The convenient new 7 EZ buttons in each model save time by offering simple one-touch operation for common scanner tasks – and users can configure the buttons to suit their individual needs, enhancing the scanners' usability. Four of the buttons are dedicated to PDF file creation. Fast Multi-Photo mode scans multiple photos in a single pass, and saves them as individual files.
Mac compatible, advanced software
Both scanners are compatible with Macs as well as PCs – an improvement over the CanoScan 4400F's predecessor, the CanoScan 4200F. They are bundled with user-friendly, high quality software packages for powerful functionality for imaging, creative and business applications. The CanoScan 8600F includes Adobe PhotoShop Elements and the advanced, professional-level SilverFast SE package, while both models offer ArcSoft PhotoStudio. Both include new, improved versions of the ScanGear driver and ScanGear Toolbox, as well ScanSoft OmniPage SE and NewSoft Presto! PageManager.
Availability and reader enquiries
CanoScan 4400F is available from September 2006 with a street price of approximately £79 (€114) RRP INC VAT with the CanoScan 8600F available from October 2006 with a street price of around £149 (€215) RRP INC VAT
Reader enquiries
UK – 08705 143723 / www.canon.co.uk    
Eire – (01) 2052400 / www.canon.ie
Software
ScanGear CS 12.0 – manages workflows in either 'Simple' or 'Advanced' modes – in the latter floating palettes allow fine adjustment of Histogram, Brightness & Contrast, Tone Curve and Gamma. New features include: Gutter Shadow Correction for eliminating the spine shadow when scanning books; Saturation/Colour Balance; an Enlarge Preview Area funtion for even more precise control of grey balance and highlight shadow correction; and improved Dust and Scratch Removal.
CanoScan Toolbox 5.0 – easy to use application allows customisation of EZ buttons – setting preferred resolution and scan mode for common tasks such as Scan to PDF or OCR. New features include: support for the 7 EZ buttons; Direction Auto Correction to automatically detect and correct pages in a document that are facing in the wrong direction; improved PDF file creation; Document Slant Correction up to 10 degrees; prevention of showthrough for the scanning of thin pages; and JPEG Compression Rate Selection – offerring a choice of High, Standard or Low.
SliverFast SE (CanoScan 8600F only) – advanced software driver created by LaserSoft Imaging AG, with enhanced scanning functionality, intelligent automatic operations, and highly controllable colour from preview. It incorporates advanced interfaces for gradation curves and histograms, selective or global colour correction, and NegaFix for advanced options when scanning from a film negative.
For further information see http://www.canon-europe.com/silverfast/ 
Adobe PhotoShop Elements 2.0 (CanoScan 8600F only) – award winning software based on Adobe's professional series PhotoShop. Powerful yet easy-to-use image editing software for print, e-mail, and the Web.
ArcSoft PhotoStudio 5.5 – digital image editing software including features such as cropping, red-eye removal, creation of animated 3D text and fast & easy photo browsing.
Omnipage SE – powerful Optical Character Recognition application allows scanned text to be converted into recognisable text characters/data.
NewSoft Presto! PageManager – scans documents to PDF format and automates creation and management of resulting document database.
Technologies Explained
FARE
When scanning film, visible light is used to generate the image, but this also captures the dust and scratches. FARE (Film Automatic Retouching Enhancement) works by also using infrared (non-visible) light. Infrared passes through the surface imperfections, creating a 'map' of defects. Intelligent software then corrects these defects virtually eliminating the effect of dust and scratches.
Reconstruction of colour corrects the effects of aging by resaturating faded colours in old photographs and a grain correction function reduces graininess resulting from the use of fast (high ASA) film. To improve images with heavy backlighting, FARE Level 3 uses a backlight correction function to detect precisely which areas of the image need correction. It adjusts only the gamma of those areas, resulting in superior quality, more balanced images.
QARE
QARE uses intelligent software to provide similar functionality to FARE, but for reflective scan, such as photo prints.