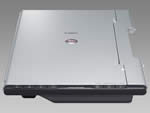 The CanoScan LiDE 70 and the CanoScan LiDE 600F will be available from October and September 2006 Respectively. Prices will be £59 (€85)RRP inc VAT and £129 (€186) RRP inc VAT respectively.
Canon UK Press Release

Canon today announces the launch of two new LIDE scanners – the CanoScan LiDE 600F and CanoScan LiDE 70. Replacing the CanoScan LiDE 500F and CanoScan LiDE 60 respectively, both scanners offer increased resolution – the CanoScan LiDE 600F is the first CIS (Contact Image Sensor) scanner capable of scanning at 4800 dpi. Each scanner expresses the compact style of the LIDE design sensibility, and features a stand for vertical scanning. The stand is integrated in the CanoScan LiDE 600F, which boasts an advanced three-way design and offers Drop-in vertical scanning. "With the launch of two new designer CanoScan LIDE scanners, Canon continues to lead the way with CIS scanners," said Mogens Jensen, Head of Canon Consumer Imaging. "The increased resolution of both models puts quality scanning within everyone's reach."
The CanoScan LiDE 600F and CanoScan LiDE 70 feature:
- Compact and sleek LIDE styling, the CanoScan LiDE 600F with 3-way design
- Increased resolution 4800 x 9600dpi and 2400 x 4800dpi respectively
- Powered USB 2.0 Hi-Speed connection
- FARE Level 31 (CanoScan LiDE 600F only) and QARE Level 31 automatic dust and scratch removal
- EZ buttons for one touch operation
- Scanning direct to PDF
The CanoScan LiDE 600F is the flagship, top of the range CanoScan LIDE scanner; the CanoScan LiDE 70 sits below the CanoScan LiDE 600F, and above the CanoScan LiDE 25.
LiDE Design
The stylishly slim and compact CanoScan LiDE 600F and CanoScan LiDE 70 offer increased operational flexibility. Both scanners feature a stand, which is integrated in the design of the CanoScan LiDE 600F, to allow for vertical operation – freeing up precious desk space. In addition, the CanoScan LiDE 600F's unique 3-way design means that the scanner can also be opened by 180 degrees thanks to the double-hinged lid. Both the double-hinged lid on the CanoScan LiDE 600F and the Z-lid on the CanoScan LiDE 70 allow for scanning of oversized or bulky items.
Greater resolution
Canon continues to push boundaries in the scanner market, with the CanoScan LiDE 600F being the first CIS scanner to feature 4800 x 9600 dpi optical resolution with 48-bit colour depth. Such colour depth allows for more accurate colour reproduction, while high resolution means that image quality can be retained when making enlargements from small originals. The CanoScan LiDE 70 features 2400 x 4800dpi resolution to capture a high level of photographic detail, and enhances the LIDE line-up so that it offers a complete choice of resolutions.
USB power
The CanoScan LiDE 600F and the CanoScan LiDE 70 draw all of their power from their USB cables, reducing clutter on the user's desk or operating space. USB power also makes the scanners more portable, as they can be used just about anywhere when connected to a laptop.
Both scanners utilise USB 2.0 Hi-Speed for ultra quick scan times.
Scan correction
The CanoScan LiDE 600F boasts a Film Adapter Unit (FAU) making it fully equipped for high quality enlargement of 35 mm film. The CanoScan LiDE 600F also features FARE level 3 correction for 35mm film.
Both scanners also feature QARE level 3 scan correction, which automatically removes dust and scratches and restores faded colours in photos. This and FARE scanner technology saves the user hours of retouching time, and can be utilised by novice or expert.
EZ buttons
Easily configurable to suit individual user needs, each of the scanners features EZ buttons for simple one-touch operation of commonly used scanner tasks. The CanoScan LiDE 600F has 7 EZ buttons, while the CanoScan LiDE 70 has 4.
Scan directly to PDF
Both the CanoScan LiDE 600F and CanoScan LiDE 70 speed up workflows by enabling scanning direct to PDF (Portable Document Format). Users are able to create PDFs from original documents without having to use conversion software. Pages are easily ordered and can be readily inserted into PDF files previously created with the scanner. Featuring automatic OCR (Optical Character Recognition), text is embedded into the PDF file for convenient editing and searching. When utilising the new PDF EZ buttons on the CanoScan LiDE 600F users can create multiple page PDF documents at a touch, without having to interface with any software.
Comprehensive software suite
The scanners are bundled with high quality software packages for increased functionality and creative applications. Both include ScanSoft OmniPage SE , ArcSoft PhotoStudio and NewSoft Presto! PageManager. As well as the bundled software, the scanners are supplied with the new CanoScan Toolbox V5.0 and Scanter V12.0 driver.
Availability and reader enquiries
LiDE 70 and the LiDE 600F will be available from October and September 2006 Respectively. Prices will be £59 (€85)RRP inc VAT and £129 (€186) RRP inc VAT respectively.
Reader enquiries
UK – 08705 143723 / www.canon.co.uk    
Eire – (01) 2052400 / www.canon.ie
Software
Omnipage SE – powerful Optical Character Recognition application allows scanned text to be converted into recognisable text characters/data.
ArcSoft PhotoStudio 5.5 – digital image editing software including features such as cropping, red-eye removal, creation of animated 3D text and fast & easy photo browsing.
CanoScan ScanGear 12.0   – manages workflows in either 'Simple' or 'Advanced' modes – in the latter floating palettes allow fine adjustment of Histogram, Brightness & Contrast, Tone Curve and Gamma. New features include: Gutter Shadow Correction for eliminating the spine shadow when scanning books; Saturation/Colour Balance; an Enlarge Preview Area function for even more precise control of grey balance and highlight shadow correction; and improved Dust and Scratch Removal.
CanoScan Toolbox 5.0 – easy to use application allows customisation of EZ buttons – setting preferred resolution and scan mode for common tasks such as Scan to PDF or OCR. New features include: Direction Auto Correction to automatically detect and correct pages in a document that are facing in the wrong direction; improved PDF file creation; Document Slant Correction up to 10 degrees; prevention of showthrough for the scanning of thin pages; and JPEG Compression Rate Selection – offerring a choice of High, Standard or Low.
NewSoft Presto! PageManager – scans documents to PDF format and automates creation and management of resulting document database.
Technologies Explained
LiDE (LED Indirect Exposure)
LiDE scanners use LEDs, sensors and custom-made lenses in a unique way, placing sensor and light source very close together. The result is ultra-thin, compact and lightweight scanners that never sacrifice image definition. Using a single USB connection for both power and data, power consumption is low and installation easy.
FARE
When scanning film, visible light is used to generate the image, but this also captures the dust and scratches. FARE (Film Automatic Retouching Enhancement) works by also using infrared (non-visible) light. Infrared passes through the surface imperfections, creating a 'map' of defects. Intelligent software then corrects these defects virtually eliminating the effect of dust and scratches.
Reconstruction of colour corrects the effects of aging by resaturating faded colours in old photographs and a grain correction function reduces graininess resulting from the use of fast (high ASA) film. To improve images with heavy backlighting, FARE Level 3 uses a backlight correction function to detect precisely which areas of the image need correction. It adjusts only the gamma of those areas, resulting in superior quality, more balanced images.
QARE
QARE uses intelligent software to provide similar functionality to FARE, but for reflective scan, such as photo prints.